by Joe Mis
Staff Writer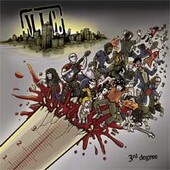 International rockers M.I.C. (Made In China) have recently released their third studio album, entitled 3rd Degree. This quintet of talented performers plays music that spans genres from early '80s classic rock to modern power-pop and delivers 12 tracks of pure fun. Like a summer "popcorn" movie, you don't need to take them too seriously or think hard about their music or message as their material harkens back to a simpler time. This album is simple, basic rock and roll.
Fronted by Canadian singer/songwriter/guitarist Yvon Serre, M.I.C. delivers radio-friendly, inoffensive and consistently upbeat rock influenced by classic rock acts from AC/DC to Green Day. The band's roots stretch back to 2004 when Serre spent some time touring China, and M.I.C. released their first album in 2008. After some personnel changes the group released a follow up album in 2010, and now presents 3rd Degree in 2011. Despite numerous lineup changes, the band's basic sound has remained the same — kind of like Van Halen meets the Romantics.
Serre has a decent voice for the music, a bit dry and somewhat raspy. He uses it well and stays nicely within his natural range, but has a tendency to yell "Wooooo! Yeah!" just a bit too often. He is a decent guitarist, laying down some big hooks and catchy rhythms — and he can hold his own during the relatively short solos. Serre has also done the majority of the songwriting for the band. He is ably backed up by Japanese bassist Uchida Yuuji and British drummer Tommy Burke, and the three of them are the real core of the band. Yuuji is an amazingly talented bass player and the album's mix brings his bass lines to the fore. Burke is a solid drummer, not overly flashy and always in control. Slightly less obvious are the contributions of keyboard player Dave Smith and vocalist Angela Renzetti. Both are also very good at what they do, but not every song features keys or female vocals.
Big guitars and bouncy bass open "Always On My Mind," and there is a definite Van Halen feeling about the track, particularly during the chorus. Yuuji's bass drives the very poppy (think "head-bobbing" instead of "head-banging") "What You Do To Me." "Barbie Lady" is a very pop-rock tune featuring some of the best guitar work on the album and some rather contrived rhymes in the lyrics (e.g. late / Kate / mate / great). "I Am Ready" is a fast old-school bluesy rocker, and would be a great party anthem, while "My Baby's Going" is a bass and drum driven slow rocker with the best vocal performances on the release. "Judy Don't Go" is a solid guitar driven piece with a great hook and a sing-along chorus.
Mellow keyboards, great drum work and duet vocals by Angela Renzetti and Serre are the highlight of "I'll Be Back," while a really cool Dokken-esque rhythm line kicks "I Want To Live" nicely along – Serre sounds vaguely like Eddie Money on this one. "Off The Throne" is a gritty blues rocker with a strong bass line. "Teenage Rock Star" sounds exactly like one would expect from the title – a little tedious at times and borderline "happy rock". "It's Been A While" is another bass driven pop rock track, while "The Only One" closes out the CD as a nice mid-tempo rocker with a kicky bass / drum line.
Nicely mixed and engineered, 3rd Degree is easy on the ears. The vocals and instruments are well balanced and clear throughout, and the bass is prominent but not dominant, emphasizing the rhythm lines without being a distraction. No one performer takes over the music (although Yuuji's bass talents come close), and the CD as a whole has a warm and natural tone. The songwriting is acceptable, but not spectacular, and some of the lyrics seem "empty" and rhymes forced as is the case with many pop songs, but everything on 3rd Degree is done with enthusiasm so these little flaws are easy to overcome.
M.I.C.'s 3rd Degree should appeal to any fan of classic 80s rock or pop rock. There are no dark themes, creepy lyrics or negative concepts here; it is good-time, upbeat rock music for music's sake. If you want something light that is easy to hum along to then this is the album for you. If you want heavy, definitely look elsewhere. Like a good summertime movie, you can sit back, turn off your analytical mind and just listen. Toe-tapping is heartily encouraged!
Genre: Melodic Hard Rock
Band:
Yvon Serre (vocals, guitar)
Angela Renzetti (vocals)
Tommy Burke (drums)
Uchida Yuuji (bass)
Dave Smith (keyboards)
Guest musicians: Scarlet Rose (violin on "Barbie Lady"), Guang Er (keyboards on "I'll Be Back")
Track Listing:
1. Always On My Mind
2. What You Do To Me
3. Barbie Lady
4. I Am Ready
5. My Baby's Going
6. Judy Don't Go
7. I'll Be Back
8. I Want To Live
9. Off The Throne
10. Teenage Rock Star
11. It's Been A While
12. The Only One
Label: Independent
Website: http://yvonserre.com/mic/
Hardrock Haven rating: 7.5/10