by Franco Cerchiari
Staff Writer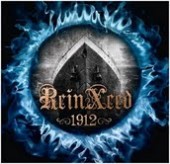 After the release of the extraordinary Majestic just a mere 10 months ago, it was a huge hope that this great Scandinavian power metal quintet would come back even stronger with a release that firmly would set this band as one that could keep up with any of their European Power Metal equals. With a concept album that tells the tragic tale of the doomed ocean liner Titanic, Tommy Johansson and company blast their way through this metal outing with an almost reckless abandon, with layers upon layers of galloping guitars, feverishly played drums, symphonic keyboards and a mountain-sized wall of harmonic vocals.
The tracks are well written, and what is heard is a gifted ensemble of players who seemingly rush their way through this compilation, barely allowing listeners to catch their breaths. After a listen, it's obvious that ReinXeed is hell bent to capture their place within the metal genre.
However, as painful as it is to say, there is little here that is completely original. Taking the story of Titanic and making it into a concept album aside, after such a fantastic showing as Majestic was, and as quickly as it grabbed you, 1912 seems to do just the opposite. It wasn't until after several spins, that the tracks finally seemed to take hold. But, as has been said, first impressions are everything. The tracks, while indeed melodic with vocals that one swears will reach the heavens, the power metal, heart-shaking heaviness that can be heard on previous releases was seemingly missing. And the far-off sound that previous efforts had is absent here. The CD is not as loud and as pompous as previous efforts.
With all that said, it is important to understand that there are no tracks on this compilation that are "bad." 1912 is well played. Within the realm of power metal, ReinXeed certainly is one of the good ones. Guitars rule the tracks, the vocals are harmonious, the sound, for the most part, is clear, and the mixing is done well. While it's true that the tracks barely differ in sound from one track to the next and sound formulaic, this wouldn't be so bad if it weren't for the endless mile-a-minute riffs and breakneck speed double bass drums that do little to hold the listener's interest.
Standout tracks include the title track, "1912," with an intro that sounds similar to "Deep Under Sea" from Majestic,"Terror Has Begun," "Challenge the Storm," "The Final Hour," "Through The Fire," and "Farewell," all of which show the neo-classical guitar shredding for whichTommy Johansson has become known. And the 1:28 short, "Lost At Sea," with sounds of crashing waves, gives one reason for reflection, as it pays homage to those whose spirits were lost on the fateful night.
Musically, for those fans of Symphony X, Keldian and Power Quest, ReinXeed, can undeniably be placed in the same list as a power metal band and as a force to be reckoned with. The songwriting of 1912 is well done, the guitars are superb, the keyboards are impressive, especially as those heard on "The Voyage." It is a deep-set hope that the heaviness and punch that was heard on Majestic is brought back. And perhaps it is this that was missing. The powerful, commanding punch of power metal that reaches deep into the soul of the listener, slaps him silly and makes him instantaneously want to reach for the volume knob was not as present here, and the tracks get lost instead of staying with the listener long after the CD ends.
ReinXeed is a remarkable band, led by one of the true guitar talents of our time. So they strayed a bit here – it can happen to the best of them. And while it isn't always fair to compare a band to previous outings, as each individual CD adds to the repertoire that is a band, but bring back the ReinXeed that released the awesomeness that was Majestic.
Genre: Power Metal
Track Listing:
1912
The Final Hour
Terror Has Begun
Spirit Lives On
Through The Fire
The Fall of Man
The Voyage
We Must Go Faster
Challenge the Storm
Reach For the Sky
Farewell
Lost At Sea
Musicians:
Tommy Johansson – vocals, guitars, keyboards, bass guitar
Mattias Johansson – guitars, backing vocals
Calle Sundberg – guitars, backing vocals
Nic Svensson – bass guitar
Viktor Olofsson – drums
Label: Rivel Records
Hardrock Haven rating: 7.8/10