by Justin Gaines
Staff Writer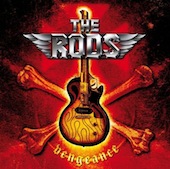 New York heavy metal heroes The Rods are back from the grave with the aptly-titled Vengeance (as in "back with a"), their first album in 25 years. The too often overlooked band had a lot to do with developing the American heavy metal sound in the early '80s, but has been largely absent from the scene since 1986's Heavier Than Thou. Now the band is back – with its original lineup of David "Rock" Feinstein, Carl Canedy and Gary Bordonaro – and as Vengeance immediately proves, they're as strong as ever.
Vengeance is an album that's instantly recognizable as a Rods record. It's heavy, in your face, biker metal with just enough melody to keep it accessible. Half Motorhead and half Judas Priest, The Rods stick to the basics and do it well. It's wall-to-wall chugging riffs and heavy rhythms, plus shout-along choruses about rocking, fighting and living fast, preferably on a motorcycle. And if it's not always easy to believe these old guys are really living the lifestyle portrayed in "Raise Some Hell" and "Ride Free or Die," well, that's easy to forgive since the songs are so damned metal and so much fun. This is the kind of metal that anyone raised on Motorhead, Saxon, Judas Priest and the like will immediately find familiar, and in an era with increasingly isolated sub-genres of metal, it's good to hear an album that only requires a one-word classifier: METAL.
Vengeance is also (perhaps most) noteworthy for one song in particular. "The Code" features the talents of the late, great Ronnie James Dio, who is Feinstein's cousin and former Elf bandmate. This is Dio's last recorded vocal performance, and it's a really good song at that. A heavy, speedy number, "The Code" is perfect for Dio's voice, but as good as it is, it's bittersweet knowing that this is the final time we'll hear that voice on a new recording.
If you're already a Rods fan, then you already know Vengeance is a must-have album from a band whose return was long overdue. Serious Dio fans will want to pick it up for "The Code" alone, though the rest of the album ought to satisfy them as well. Beyond that, anyone with an ear for old school heavy metal that hits hard and is rough around the edges owes it to themselves to check out what The Rods are all about. Turn it up and bang your head; The Rods are back!
Genre: Heavy Metal
Band:
David Feinstein (g) (v)
Gary Bordonaro (b) (v)
Carl Canedy (d) (v)
Track Listing:
1. Raise Some Hell
2. I Just Wanna Rock
3. Rebels Highway
4. Ride Free or Die
5. The Code*
6. Livin' Outside the Law
7. Let It Ripp
8. Fight Fire With Fire
9. Madman
10. Runnin' Wild
11. Vengeance
Label: Niji Entertainment
Website: www.therods.com
Hardrock Haven rating: 8.25/10