by John Kindred
Staff Writer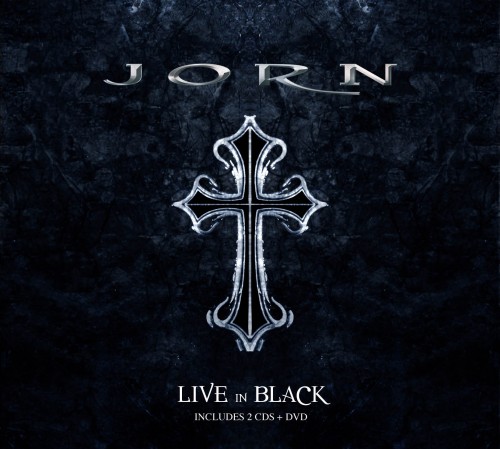 If the late Ronnie James Dio, the voice of hard rock and metal, were to pass the "metal" torch to anyone then he most certainly passed it to Jorn Lande, to keep the flame burning brightly for all to see and hear. He was indoctrinated with the honor of taking the stage with the voice of rock, Glenn Hughes, at the final Heaven & Hell concert in Victoria Park, London. Joining Heaven & Hell (Black Sabbath) the founding fathers of metal on stage, he lifted his voice in tribute, to the then recently departed Mr. Ronnie James Dio.
Yes, the torch has been passed. It most certainly has gone to a man with a resume to be proud of. After starting his career with Ronni le Tekro in the band Vagabond in the '80s, Jorn Lande then dived head-first into the world of music. Lande has appeared on many CDs and on stage with many of today's top-flight music-acts such as, Millenium, Ark, Avantasia, Beyond Twilight and Brazen Abbot. He has worked with Russell Allen on three successful CDs. Teamed with guitarist Roland Grapow (former Helloween), Lande is the voice and frontman in Masterplan. With all this notoriety and success, Lande has had a successful career fronting his own band on eight critically acclaimed studio releases.
Following up on Jorn's last studio album, '09s Spirit Black, the band delivers its second live opus, titled Live in Black. Recorded two weeks prior to Lande's appearance with Heaven & Hell, Live in Black was captured on video and audio at the Sweden Rock Festival in Solvesborg. In front of 20,000 crazed metal fans, Jorn Lande and his current band lineup, comprising guitarists Tore Moren and Tor Erik Myhre, bassist Nic Angileri and drummer "Wild" Willy Bendiksen, delivered 14 songs that were culled from his catalog of music. The set lists also included guitar solos by Tore Moren and Tor Erik Myhre (got to love these Viking names) and a drum solo from "Wild" Willy Bendiksen.
All of Lande's band mates are high-caliber musicians from prominent hard rock and metal European acts. Tore Moren has worked with Rain, Carnivora and Arctutus. He currently is working on releasing solo material on Shredguy Records. Tor Erik Myhre founded the Norwegian band Symphony, which later became Northwind and has been a part of Norway's music scene for years. Nic Angileri is a rock/fusion bassist who has worked as a side/session bass player. He has an extensive resume that features TV projects, clinics and endorsements. "Wild" Willy Bendiksen is kind of a cult figure in his home country of Norway. Lending his name to the band Wild Willy's Gang, the group is a revolving door for some of Norway's top musicians. The group released a studio album in '05 titled Camouflage. With TNT's own Ronni le Tekro on guitars, this is a first-rate heavy metal CD you definitely should check out.
Live in Black captures Lande and his band mates in fine form as they rip through their set of heavy, hard rock anthems. This set list is strictly originals, except for the inclusion of Thin Lizzy's "Are You Ready." Fans are treated to heavy doses of majestic hard rock compositions in the guise of songs, such as "Road of the Cross," "We Brought the Angels Down," "Stormcrow," "Tungur Kniver," and many, many more. A review of the double CD release means that not much is revealed in regards to the visual energy of the masses that was gathered before the band. Knowing what was delivered on the Live! In America DVD helps build the mental image of 20,000-plus fans pumping their fists in the air. A must-have for fans? Yeah. You know it. Hopefully reviews such as this helps reveal the brilliance of Jorn Lande to the shores of the U.S.A., as North Americans truly have no idea what they have been missing.
Genre: Hard Rock / Heavy Metal
Band:
Jorn Lande: Vocals
Tore Moren: Guitar
Tor Erik Myhre: Guitar
Nic Angileri: Bass
Willy Bendiksen: Drums
Label: Frontiers Records
Web: www.jornlande.com
Track Listing:
CD 1
1. Road of the Cross
2. Shadow People
3. Below
4. We Brought The Angels Down
5. Stormcrow
6. Spirit Black
7. The Inner Road
8. Man of the Dark
CD 2
1. Blacksong
2. Guitar Solo (Tore Moren)
3. Tungur Knivur
4. Guitar Solo (Tor Erik Myhre)
5. Rock and Roll Angel
6. Drum Solo
7. Soul of the Wind
8. Are You Ready
9. War of the World
DVD
1. Road of the Cross
2. Shadow People
3. Below
4. We Brought The Angels Down
5. Stormcrow
6. Spirit Black
7. The Inner Road
8. Man of the Dark
9. Blacksong
10. Guitar Solo (Tore Moren)
11. Tungur Knivur
12. Guitar Solo (Tor Erik Myhre)
13. Rock and Roll Angel
14. Drum Solo
15. Soul of the Wind
16. Are You Ready
17. War of the World
Features:
Bonus Material: Song for Ronnie James (videoclip), Man of the Dark (videoclip).
Stereo mix 2.0 / 5.1 – Screen 16:9
Format: NTSC Region Free
Hardrock Haven rating: 9/10