Love.Might.Kill | Brace for Impact
by Nikiforos Skoumas
Staff Writer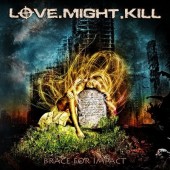 A new member in the "Firewind" family of bands has debuted! Love.Might.Kill is the hard rock/metal band of prodigal drummer Michael Ehre who joined "Firewind" in 2010. Issued by Massacre Records, Brace for Impact is the group's debut album where Ehre is joined by long time friends Christian Stover and Stefan Elerhorst both on guitars, bassist Jogi Sweers plus Italian vocalist Jan Manenti.
While attempt to define the sound of Love.Might.Kill one's job is made a lot easier by acknowledging that the album was produced by Victory guitarist Tommy Newton. Arguably anything touched by Newton is bound to sound like Victory; which bares truth for the case of Brace for Impact.
Much like Victory, Ehre and co. seem to understand the importance of having a non-German front man which is bound give the group an international appeal while also breaking any 'German metal' labeling that some would use to describe the band- which is clearly an oversimplification.
Musically you can expect thick guitar riffs, twin guitar melodies incredible rhythm section and a vocalist who flawlessly combines technique with style and feeling, resulting in surprisingly colorful vocal performance. Upon a few more plays the attentive listener will probably notice that performance-wise Brace for Impact is impeccable. The tempo is, at all times, immaculate-whether performing a groovy hard rock tune ("Pretty Little Mess") or a power metal song ("Calm before the storm") Ehre and Jogi demonstrate super-human precision. In addition the guitarists are just as accomplished and precise proving a perfect match for the rhythm section with all riffs melodies, harmonies and lead breaks coming through crystal clearly. Finally Jan seems to have a natural talent in putting his heart and soul in a song, no matter how technically demanding the composition might be; indeed there is a strong AOR essence emanating from his performances and if Ehre is to be described as the heart of Love.Might.Kill then Manenti is definitely the soul of the group.
Power metal attack, melodic metal drama, heartbreaker ballads, all included on Brace for Impact. The sole disadvantage this release bares is to be found on the 3rd track "Pretty Little Mess," quite possibly the greatest melodic hard rock song of 2011, which effectively obscures the rest of the material. While, one notes, this is pretty unfair as all songs on Brace for Impact are crafted under the same high quality standards. Fans of Firewind, Victory and Crystal Ball are expected to enjoy this flawless album to the maximum.
Genre: Hard Rock / Heavy Metal
Band:
JAN MANENTI- VOCALS
STEFAN ELLERHORST- GUITAR
CHRISTIAN STÖVER- GUITAR
JOGI SWEERS- BASS
MICHAEL EHRE- DRUMS
Track List:
01. Tomorrow Never Comes (06:02)
02. Calm Before The Storm (04:28)
03. Pretty Little Mess (04:19)
04. Caught In A Dream (03:53)
05. Through The Dawn (00:55)
06. Brace For Impact (04:28)
07. We Are The Weak (05:48)
08. Down To Nowhere (03:24)
09. Pray To Your God (04:14)
10. Reach Out (04:17)
11. The Answer (02:02)
12. Will Love Remain (04:49)
Band website: http://www.lovemightkill.com/
Label website: http://www.massacre-records.com/
Hardrock Haven rating: 8.5/10