Malicious | Malicious 2011
by Nikiforos Skoumas
Staff Writer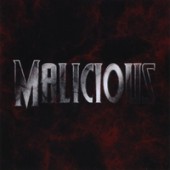 Malicious 2011 is the reissue of the U.S. hard rock act's debut album, originally released in 1994. Malicious was actually a studio trio featuring guitarist Jimmy Cassidy, lead singer Paul Petrik and drummer Zan Petersen. This re-issue features the standard ten tracks of the original album without any bonuses.
Music-wise Malicious play a pretty heavy version of hard rock, with the songwriting being directly influenced by '80s arena rock. For that matter, Malicious is substantially guitar driven hard rock though Jimmy Cassidy delivers, for the biggest part, heavy riffs and shredding solos without any particular emphasis on melodic guitar lines. The melodies of Malicious come mainly from Paul Petrik who sounds quite a bit like Don Dokken. In fact, reviews have been quick to praise Petrik's vocal performance which, truth be told, is far from outstanding. He is indeed on-key and can carry the majority of vocal melodies accurately still never delivering what would be considered a monumental performance. Having said that, for the vocal standards of '90s rock (grunge) he definitely stands steps above most singers of that era. One also hates to admit that you will be hard pressed to find a memorable chorus or anything infectious musically on Malicious 2011.
It is also rather sad to experience the production of the album taking a lot away from the performances. In particular, the guitars are too up-front often undermining the vocals while the drumming sounds a bit too heavy metal for the '80s oriented hard rock that Malicious profess to represent. So there are issues with the mixing of Malicious which lead one to theorize that their plan was to come up with a combination of '80s songwriting and modern '90s production in order to appeal to both worlds of melodic rock and grunge. Upon any number of plays one can not help but think that Malicious sounds too raw for the standard of the genre.
Overall Malicious, for the biggest part, demonstrate technique and performance intensity which unfortunately are not put to the best of use. No disputing that for the time of its release, Malicious was amongst the most accomplished works one could buy; still by '80s standards or contemporary standards this re-issue does not quite shine.
Genre: Hard Rock
Band:
Paul Petrick -vocals
Jimmy Cassidy -guitars
Zane Petersen -drums
Track List:
To Whom It May Concern
Grievin' Believin'
Pleasure and Pain
Live Fast ('N Die Young)
Silent Screams
Life I Live
Slippin' Away *
Whipped
Do as You Please
Road to Ruin
Label website: http://www.cdinzane.com/
Hardrock Haven rating: 6/10