Rainbow | Live in Germany 1976
by John Kindred
Staff Writer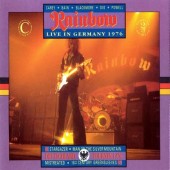 Ritchie Blackmore's Rainbow came into being in the fall of 1974, as he and then-unknown Elf vocalist Ronnie James Dio recorded solo material for his new album. Disenchanted with the direction of Deep Purple sans Ian Gillain and Roger Glover, Blakemore created Rainbow and an exit for himself from the band. Rainbow's debut studio album, Ritchie Blackmore's Rainbow, was released in '75. In the studio, Blackmore and Dio worked alongside drummer Gary Driscoll (Elf), keyboardist Matthew Fisher and Hughes McDowell (ELO).
Transitioning from a studio band to a live act, Blackmore fired his studio band, except for Dio. He and Dio hit the touring circuit with drummer Cozy Powell (Jeff Beck band), bassist Jimmy Bain and American keyboard player Tony Carey. Touring heavily in the United States and Europe during 1975 and '76, Rainbow built a reputation as a superb live act that delivered visually and sonically.
Eagle Rock's re-release of Rainbow's double CD of Live In Germany 1976, pulls select songs from tour dates that were recorded in Germany: Koln on 9-25-76; Düsseldorf on 9-27-76; Nuremberg on 9-28-76; and Munich on 9-29-76, to be exact. Although the two-disc set only includes eight songs, which maybe seems meager, the songs here are all extended versions of some of Rainbow's classic rock standards. Disc 1 clocks in at 43 minutes, while disc 2 is 55 minutes in length. Honestly, you get your money's worth.
The tracks come from their debut album Ritchie Blackmore's Rainbow and include "Man on the Silver Mountain," "Catch the Rainbow," "Sixteenth Century Greensleeves," and "Still I'm Sad." Tracks from their sophomore effort 1976's Rising include "Stargazer" and "Do You Close Your Eyes." Other tracks include "Kill the King" (from the then forthcoming of '77's Long Live Rock 'n' Roll) and "Mistrearted" from Deep Purple's 1973 studio album Burn.
Rainbow obviously was the vehicle for Blackmore to express his creative visions while keeping all control of the band in his hands. This seems to have influenced other virtuoso guitarist down the road; Michael Schenker and Yngwie Malmsteen instantly come to mind. These extended jams allow Blackmore to explore his classically inspired chops, whether playing subtle melodies or unleashing fiery blasts of electric mayhem. The ensemble of musicians, who were in Rainbow at this time, are all accomplished musicians and give Blackmore the canvas upon which for him to paint his musical picture.
Dio's vocals are strong and vibrant, and his lyrics created fantasy worlds in which fans could lose themselves while discovering. It's amazing that over time, up until his passing, that he maintained the same unwavering voice for hard rock and metal fans to enjoy for 40-plus years.
Honestly, bands from the 1970s embraced the freedom to explore their musical creations when performing live. They didn't always adhere to the original compositions and often created new sonic textures from the roots of the original songs. It seemed bands such as the Scorpions, Deep Purple, Led Zeppelin, UFO and others allowed the stage to be a place to continue exploring and discovering the many roads of possibilities of their recorded works, as if the original works led to many, many more destinations.
Ultimately, that's what Live In Germany 1976 is about; there are many ways to play a single note, and Blackmore and company weren't afraid to do it.
Genre: Classic Hard Rock
Band:
Ronnie James Dio (vocals)
Ritchie Blackmore (guitar)
Tony Cary (keyboards)
Jimmy Bain (bass)
Cozey Powell (drums)
Track Listing:
CD 1
1. "Kill the King" (Dio, Blackmore, Cozy Powell) – 5:25 (Munich)
2. "Mistreated" (David Coverdale, Ritchie Blackmore) – 16:00 (Munich)
3. "Sixteenth Century Greensleeves" – 7:50 (Cologne)
4. "Catch the Rainbow" – 14:50 (Dusseldorf)
CD 2
1. "Man on the Silver Mountain" – 13:37 (Nuremberg)
2. "Stargazer" – 17:10 (Cologne)
3. "Still I'm Sad" (Paul Samwell-Smith, Jim McCarty) – 15:00 (Cologne)
4. "Do You Close Your Eyes" – 9:45 (Munich)
Label: Eagle Rock
Hardrock Haven rating: 9/10