Tokyo Blade | Thousand Men Strong
by Joe Mis
Staff Writer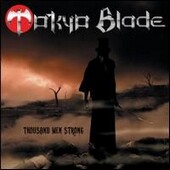 "Forged in Hell's fire – The Blade is coming back" – not only a line from one of their songs, but an apt description of Tokyo Blade's latest release, Thousand Men Strong. This veteran British quintet hasn't lost a step since their formation back in the early 1980s and continues to pump out intense melodic metal with the best of them. Rolling recognizable influences of fellow NWOBHM acts like Judas Priest and Iron Maiden together with tinges of modern power metal give Tokyo Blade's Thousand Men Strong a definite old school feel but with a modern edge (pun intended).
The band's lineup is essentially the same as it was twenty five years ago with only German vocalist Nicolaj Ruhnow a relative newcomer. The musical teamwork and experience of the rest of TB is obvious, allowing the band to focus on delivering big hooks, catchy rhythm lines and vocal and guitar harmonies with few distractions – and deliver they do. The occasionally complex and intricate bass lines delivered by Andy Wrighton and intense rapid fire drums of Steve Pierce provide a complete musical heartbeat and propel most of the track along. This solid bottom end allows guitarists Andy Boulton and John Wiggins to focus on hooks, dual guitar rhythms lines and harmonies – the trademark Tokyo Blade sound. The icing on the cake is dynamic vocalist Nicolaj Ruhnow. His tone and enormous range blend together the best aspects of Tim "Ripper" Owens, Rob Halford, Dream Theater's James LaBrie and Primal Fear's Ralf Scheepers. Power and range – a winning combination.
The album opens with the powerful "Black Abyss" and a "Ripper" Owens scream, followed by some great guitar and bass work. This track sets the intensity level high, and leaves no doubt as to what will follow. Great vocals, particularly in the chorus, and some slick rhythm guitar work are the highlights of "Thousand Men Strong" – one of the finer track on the album. Powerful bass and a manic drum line drive the almost thrash metal "Lunch-Case," and the great bass continues through the intense "Forged In Hell's Fire." Ruhnow's vocal performance on this track is off the charts in terms of power, range and enthusiasm – in fact the entire band is simply at its best here and everyone gets a chance to shine. "No Conclusion" has a definite late-80s vibe to it, with the Halford-esque vocals and tight rhythm guitar work stealing the show – and the lead break is hot.
"The Ambush" opens with a neat neo-classical guitar flourish, but the bass and drums carry it through. Pounding bass and drums form a solid backdrop for the moody and low-key "Killing Rays," which could easily been Priest's follow up tune to "Electric Eye." Some strong guitar work makes this an excellent track. A bouncy and upbeat bass line and hot guitars support the short and sweet "Heading Down The Road" – this track is the place that Boulton and Wiggins cut loose. A classic 80's sound fills "Condemned To Fire" – this one could have easily fit on Priest's Stained Class, or one of Saxon's earlier efforts.
The band wraps the album with a very heavy remake of their own classic "Night Of The Blade" featuring big bass, rapid-fire drums, thrashy guitars and solid vocals – the ideal closing tune.
Thousand Men Strong was produced by the well-respected Chris Tsangarides, who kept the fancy stuff to a minimum and allowed the band to make a simple, dead-on metal album. For the most part the production is excellent, with the only noticeable flaw being an occasional harshness to the cymbals. This is blue collar, traditional metal – simple, straight forward and "in your face" – and one hell of a ride.
Thousand Men Strong stands head and shoulders above the band's previously released albums, even their classics: Tokyo Blade, Midnight Rendezvous, and Black Hearts and Jaded Spades. Any fan of 1980's heavy metal will love this album, and fans of the NWOBHM will be right at home. There are enough modern touches to show that Tokyo Blade is not a dinosaur, but an evolved band with deep 80s roots. Not bad for a bunch of guys who've been off the radar for nearly two decades…
Welcome back!
Genre: Heavy Metal
Band:
Nicolaj Ruhnow – vocals
Steve Pierce – drums
Andy Wrighton – bass
Andy Boulton – guitars
John Wiggins – guitars
Track Listing:
1. Black Abyss
2. Thousand Men Strong
3. Lunch-Case
4. Forged In Hell's Fire
5. No Conclusion
6. The Ambush
7. Killing Rays
8. Heading Down The Road
9. Condemned To Fire
10. Night Of The Blade
Label: Fastball Music
Website: http://www.tokyoblade.com/
Hardrock Haven rating: 9/10