Wild Rose | Half Past Midnight
by Nikiforos Skoumas
Staff Writer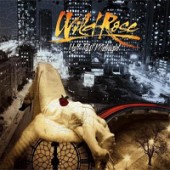 Half Past Midnight is the brand new, debut album by Greek-based AOR/melodic rock band Wild Rose issued by Retrospect records. A part of the Greek underground scene since the mid '00s, Wild Rose take the valiant step of an international album release in September. Their attempt seems well justified considering the flattering comments the group has received though various online sources and the prestigious Classic Rock AOR Magazine; all for good reason since Wild Rose is the first Greek AOR band to put out an official full-length album. Of course bands preceding them have flirted with AOR (namely Outloud and Danger Angel), yet Half Past Midnight is the first album to fall perfectly within that genre.
From the opening notes of "That Girl" the attentive listener will be able to tell that vocals, guitars, keyboards and rhythm section are bound to provide a genuine AOR experience. On account of the above, it should come as no surprise that most songs follow a particular patent: melodic keyboards, ever-present guitars, standard-to-mid tempo rhythm section, topped by mid range melodic vocals baring a rough edge.
The line up features guitarists John Bitzios and Andy Pegios, keyboardist Harry Patsos, bassist Phil Sakaloglou and lead singer George Bitzios. It seems that all five musicians share a similar musical mentality, delivering their own brand of 'mellow' rock as they choose to call it. While George's vocals are the undeniable focal point of Wild Rose, the guitars and keyboards shine brightly on Half Past Midnight. In particular the lead guitar work of John Bitzios is nothing less than brilliant, bringing technique and flamboyance into Wild Rose without compromising the AOR atmosphere of the album.
It is pointless to look out for any fillers on Half Past Midnight for there are none. Truth be told, riffs, melodies and rhythm patterns tend to be repeated on the eleven tracks of this debut, yet that is the nature of the genre. Just about every song on Half Past Midnight deals with the subject of love and romance, always sounding vibrant and interesting.
Overall what you get with Wild Rose is stellar songwriting, intense performances and infectious hooks on all songs. What differentiated Wild Rose from other contemporary AOR bands are primarily the distinct vocals of George Bitzios as well as the ever present guitar attack, developing into an equally important part of the Wild Rose musical identity. Wild Rose's Half Past Midnight is absolutely essential addition for any AOR/melodic rock fan.
Genre: AOR / Melodic Rock
Lineup:
George "Captain" Bitzios (Lead Vocals)
Andy "Rock" Pegios (Guitars,back vocals)
John "Jiosby" Bitzios (Lead Guitars,back vocals)
"Dirty" Haris Patsos (Keyboards,back vocals)
Phill "Gun" Sakaloglou (Bass)
Track list:
1. Half Past Midnight
2. That Girl
3. Too Late
4. It"s All About Love
5. Hold Me
6. Fire in the Night
7. Another Shot
8. Edge of Your Dreams
9. Come Back
10. Goodbye
11. Want You Back
Band website: http://www.myspace.com/wildroseaorevo
Label website: Retrospect Records
Hardrock Haven rating: 9/10