by Marc C.
Staff Writer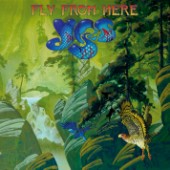 At times the anticipation of new music from one's childhood heroes can sometimes go completely awry and this certainly is one of those times.
In their Wikipedia article the band is described as "an English progressive rock band formed in London in 1968. Regarded as one of the archetypal bands and pioneers of the genre, the group has survived multiple trends within popular music to sell nearly 50 million albums, retain a large following and sustain a career of over 40 years across many line-up changes. The band's music blends symphonic and other classical structures with their own brand of rock music."
To say they've survived "many line-up changes" is an understatement. In total they've employed 3 lead Singers, 4 guitar players, 5 keyboard players, 2 drummers and the lone holdover from day one on bass Chris Squire. They were also joined on keyboards from 2008 to 2011 by Oliver Wakeman whose father is their most well known keyboardist Rick Wakeman.
To say their 20th studio offering Fly From Here is a return to form for musicians in their 60's would be an outright lie. There is no doubt they still have the ability to reach back in history and summon up what made them great however the last 10 years since their 2001 release Magnification has completely taken it's toll on their collective creativity.
Thankfully with a back-catalog of 60+ studio, live and compilation albums to choose from the YES we used to know will forever exist while the YES that exists now is a shell of it's former self.
Although the first two tracks "Fly From Here- Overture" and "Fly From Here- We Can Fly" remind us of the YES of old it's all downhill from there. What used to be music that would hold your attention with every word and note has become nothing more than background music with all the flair and finesse of what made them great, and at times untouchable, gone.
If there's any additional conformation needed as to what's happened to YES even Chris Squire has stated the sound is "a bit dated" and "the production wasn't as good as I expected." calling Trevor Horn "a great producer" but asking "what the hell are you doing?" to the band.
What the hell indeed!
Genre: Progressive (debatable at this stage) Rock
Band:
David Benoit – Vocals
Steve Howe – Guitar
Geoff Downes – Keyboards
Chris Squire – Bass
Alan White – Drums
Track Listing:
1. Fly From Here – Overture;
2. Fly From Here – pt I We Can Fly
3. Fly From Here – pt II Sad Night At The Airfield
4. Fly From Here – pt III Madman At The Screens
5. Fly From Here – pt IV Bumpy Ride
6. Fly From Here – pt V We Can Fly
7. The Man You Always Wanted Me To Be
8. Life On A Film Set
9. Hour Of Need
10. Solitaire
11. Into The Storm.
Label: Frontiers
Links:
http://www.yesworld.com/
http://www.facebook.com/yestheband
http://www.youtube.com/user/yesllc
http://twitter.com/#!/yesofficial
Hardrock Haven: 3/10