Alice Cooper | Welcome 2 My Nightmare
by Erik Tweedy
Staff Writer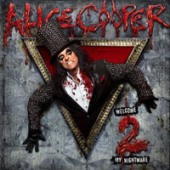 The Grandfather of shock rock, Alice Cooper, is back with the highly anticipated sequel to his legendary debut solo release Welcome To My Nightmare. 35 years later, Welcome 2 My Nightmare finds Alice's character, Steven, still trapped in his own mind of terror and imagery filled with ghouls, goblins, disco music and other nightmarish creatures. To man the controls, Alice has once again tabbed long-time producer and collaborator Bob Ezrin (KISS, Pink Floyd), who produced the original Nightmare release. Welcome 2 My Nightmare includes several special guests, most notably Michael Bruce (guitar), Dennis Dunaway (bass) and Neal Smith (drums), all members from the original Alice Cooper Band whom helped co-write three songs for the sequel and play on the track "When Hell Comes Home". Welcome 2 My Nightmare is a fitting sequel to the original in that it combines all the elements that make Alice Cooper great, tongue-in-cheek lyrics, campy '70s music mixed with a modern feel and a Broadway setting all stuffed under the circus big top. It is a ghoulishly fun ride from start to finish that will have the crypt keeper rocking his bones off.
The piano intro to "I Am Made Of You" sets the tone early in a creepy Exorcist kind of way for what could be Alice's best work in more than a decade. This opening track is such a great melancholy intro and will have you feeling like you are embarking on some big theatrical ride. And in this case, you are. So, buckle up tight, grab your helmet and get ready for some "Caffeine" with track number 2 as the show is about to begin. A straight ahead rocker about the desperation of not falling asleep because you never know what might be under your bed or in your closet waiting to eat you. Life doesn't get much more fun than that.
There are elements of the original Nightmare release throughout the sequel and as you board the "Runaway Train", you will begin to fully understand why Alice Cooper is just so darn creepy. If you are a fan of the original release, you will pick out these subtleties in both the lyrics and the music. "Runaway Train" is a high energy Bob Dylan sounding track with a blazing guitar solo, courtesy of country legend Vince Gill, and comes complete with Rob Zombie yelling "Last call for the Nightmare Express".
The circus arrives in full fashion with "Last Man On Earth" and its tuba backed 'Oompah' that will have you looking around for a car full of little people. "The Congregation" has an overly Beatles-que feel to it and welcomes you to join Alice, the circus master, along for a ride through your last breath before you meet your maker. Isn't it fun being in an Alice Cooper dream?
Some of the strangest songs on Welcome 2 My Nightmare are the first single "I'll Bite Your Face Off" and "Disco Bloodbath Boogie Fever." While not being your average love song, "I'll Bite Your Face Off" is trite with romantic overtones, even if they are about a hot zombie temptress wanting to bite your face off. "Disco Bloodbath Boogie Fever" is some parts disco, some parts Rockwell, some parts rap and some parts rock all wrapped up into a Halloween dance party soundtrack with some ripping guitar at the end. This is classic Alice Cooper and 20 years from now, this song will still be selling as part of one of those novelty packages.
If some TV producer out there does not make a Saturday cartoon based off of "Ghouls Gone Wild", they are missing out. This is the perfect cartoon soundtrack and will have you thinking back to a time when Scooby and Shaggy were the coolest cats on the block. This is another classic Cooper track about partying zombies.
One of the biggest surprises on this release is Alice's duet with pop star Ke$ha that works surprisingly well. An electronic pop driven track that has Alice and Ke$ha trading vocal leads and includes the best guitar work on this release. Not sure this track fits in with the rest of the nightmarish theme, but it is a solid upbeat track that will appeal to a younger audience and will keep the older fans engaged.
Rounding out this solid effort is "I Gotta Get Outta Here" the all encompassing climax to the 35 year nightmare Alice and his character, Steven, have been living in. These last lyrics bring together all of the key elements of the first Nightmare release and the sequel into a final plea for help in getting out of the nightmare alive. As "The Underture" plays on to finish out the disc, it leaves you wondering if it is truly over.
In the end, this feels like a long theatrical production and it could easily be made into one. The lyrics on here are terrific and longtime Alice Cooper fans will relish in the fact that Alice has went back to his roots and moved away from the harder edged music of the past decade or two. The production by Ezrin is great and the musical style, while often times being different all work well together to tell the story. Welcome 2 My Nightmare is a great complement to the original while also maintaining its own identity. Drop on by iTunes and pick this up today; you will need it for your Halloween party.
Genre: Classic Hard Rock
Band:
Alice Cooper – Vocals
Steven Hunter – Guitar
Damon Johnson – Guitar
Tommy Henriksen – Guitar
Chuck Garric – Bass
Glen Sobel – Drums
Special Guests:
Michael Bruce – Guitar
Dennis Dunaway – Bass
Neal Smith – Drums
Vince Gill – Guitar
Ke$ha – Vocals
Rob Zombie – Narrator
Track Listing:
1. I Am Made Of You
2. Caffeine
3. The Nightmare Returns
4. A Runaway Train
5. Last Man On Earth
6. The Congregation
7. I'll Bite Your Face Off
8. Disco Bloodbath Boogie Fever
9. Ghouls Gone Wild
10. Something To Remember Me By
11. When Hell Comes Home
12. What Baby Wants
13. I Gotta Get Outta Here
14. The Underture
Label: Universal Music
Website: http://www.alicecooper.com
Hardrock Haven rating: 8.7/10