by Cyndi Jo
Staff Writer
September 10, 2011 at The Grove, Anaheim, CA.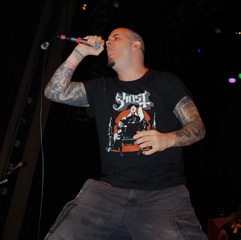 Phil Enselmo is a God– when it comes to the greatest conceivable existence to metal– well at least he makes sure you feel that way. It's a way of time standing still knowing that the most important thing ever is what is about to happen right before your eyes. Nothing matters anymore: not the dude that spilled his drink on you, the multitude of stinky sweaty guys trying to surpass you to get up front, nor the mediocre opener– all that matters is the metal God and his heavy metal apostles that are about to give you a taste of heaven and with a whole lot of hell.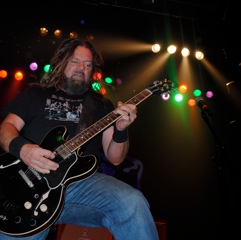 Take Saturday September 10, 2011 at the Grove of Anaheim; a three-quartered filled room with the most devoted fans that wouldn't compare to the Anaheim Angel baseball nuts next door. Still, after years of anticipation of a new album, Phil Enselmo and the rest of the Down gang: Jimmy Bower, Pepper Keenan, Kirk Windstein, and new bassist Pat Bruders, reminds us that Down defines the ultimate power of live rock n' roll.
Down is one of the best, if not the best band to see live. Even with nothing to promote, the New Orleans supergroup brought everything to the table: dedication, energy, passion and soul. As soon as the first seconds of "Lysergik Funeral Procession" kicked off the first noticeable thing of the evening was the enthusiasm and life that Enselmo possessed that transmitted to the audience. Exploding into a full heavy metal way, Down followed with "The Path" right into "Lifer." As mosh pits began to ascend and the sense of violence became less than a careless thought on every headbanger's mind, the metal bliss continued with "Pillars of Eternity" and "New Orleans is a Dying Whore."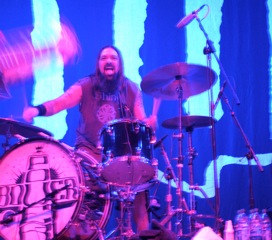 Jimmy Bower's mesmerizing drum fills balanced everything from fierce breakdowns to chorus sections that could only be accompanied by thunderous riffs from Pepper Keenan and Kirk Windstein. The balls-to-the-wall quality and integrity that they were delivering song after song were acknowledge by applauses, cheers, and of course the devil horns that rose up to the sky. The waves of crowd-surfers that crashed to the front of the stage weren't left disappointed as Enselmo made sure to grab them and thank them. This short tour is only happening until the end of September as the band will go back to the studio is the swamps of NOLA and record the new album. If Down can deliver such a monstrous 90-minute show just because they felt like touring, then whatever the new album brings, will sure make the wait worth while.
Set List :
1. Lysergik Funeral Procession
2. The Path
3. Lifer
4. Pillars of Eternity
5. New Orleans is a Dying Whore
6. Losing All
7. NOD
8. Underneath Everything
9. Temptation's Wings
10. Ghosts Along the Mississippi
11. Eyes of the South
12. There's Something on My Side
13. Hail the Leaf
14. Stone the Crow
15. Bury Me in Smoke
Photos appear courtesy of Cyndi Jo