by Alissa Ordabai
Staff Writer
August 23, 2011 at the B. B. King Club in New York City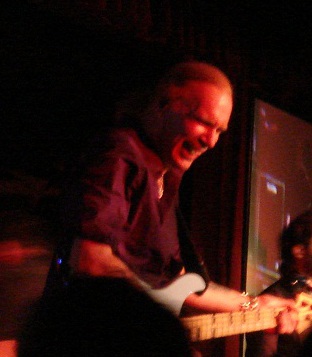 When it comes to live music, few things make you feel more privileged than catching a monster band in a small club. But when the band is Mr. Big, you are in not just for the intimacy and the immediacy of the moment, but also for a close-up view of the most spectacular chops on the planet.
Virtuoso vets Paul Gilbert and Billy Sheehan – responsible for shaping a new generation of guitarists and bassists in the early 90s – must have known how many fans have turned up on the night to be blown away by their legendary fretboard pyrotechnics. But this show focused on the band as a unified whole, not on proofs of individual skill. What Mr. Big chose to demonstrate instead was the finest and the rarest quality among virtuosos in any genre – being able to make technique serve the music, not the other way around.
Right off the bat – with the opening oldie "Daddy, Brother, Lover, Little Boy" the band showed that it's in interacting with each other that top players prove the highest level of their ability – not as fretboard acrobats, but as a musicians who are at once performers, composers, and – crucially – improvisers.
High-speed interaction between the bass and the guitar, and the bass and the drums, sometimes impromptu, and sometimes rehearsed – caught on with the crowd instantly. Dizzyfying runs and rapid-fire exchanges – this is how Mr. Big grab attention from the word go. But the real buzz kicks in as soon as you realize how each player allows himself just the right amount of freedom and movement to compliment other instruments, and – ultimately – the song.
The balance between all four voices, the union of their purpose, the way they stand out while supporting each other – this is honed in this band to perfection, something which stuns both raw recruits and seasoned concert-goers. Live performances that are ferocious yet tasteful, complex but never cluttered, synced but never precisely calculated – this is where it's at with Mr. Big.
How such straight-ahead hard rock formula as this band's still allows for so much inspired spontaneity remains somewhat of a mystery. But perhaps the right question to ask would be how come such phenomenal performers still derive such enormous fun from playing conventional hard rock.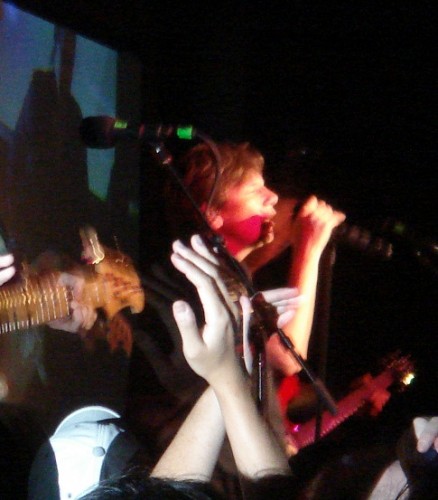 Whatever the answer is, this wasn't where the questions ended on the night. As one early hit followed another, the set list soon began to raise eyebrows – at least among those who remember the band's excellent Kotzen-era albums Actual Size and Get Over It. The decision to throw away a chunk of the band's history and its emotional range at first seemed odd, but it then became clear that the band simply wanted to have pure, unadulterated fun on the night, not to look for emotional profundity. And for the NYC crowd the mixture of contagious good-time oldies mixed with a bunch bangers from the latest 2011 album What If seemed to hit the spot.
After all, with Mr. Big sometimes it's not what they play, but how they play it that wows you the most. Often it's Sheehan's bass that dazzles you above anything else, with its big, round, yet punchy tone which simultaneously boosts the root, seizes parts of the melody, and plots to cover everything else in between while never overplaying. Or at other times it's Gilbert's leads you are most taken by – how they enhance, extend, and challenge the melody – always mindful of the vocal line, even when Gilbert lets it rip with what seems like all-out abandon.
But they wouldn't have been Mr. Big if they kept the proceedings confined to their instrumental virtuosity and their high-voltage interaction with each other. The turning point from out-and-out fun into the unknown came in when Gilbert launched into a 6-minute solo – stepping unaccompanied into an open-ended territory of pure improvisation.
Guitar heads have, of course, always known that Gilbert's technique (just like Sheehan's) has never stopped developing. But this particular guitar showcase wasn't about Gilbert's shred cred. Instead, it was a search for a different dimension high tech guitar can open both for a certain kind of player and his audience, where self-assertion gives way to exploration. At times Gilbert's speed was phenomenal, but gradations in dynamics and unpredictable, inspired phrasing became the things to remember this improvisation by.
Starting off playing rhythmically and applying impeccable hard rock phrasing to his internal metronome, Gilbert would then take a sudden turn and spin in a classically inspired passage, seconds later grabbing a rockabilly riff, expanding and transforming it, to then completely let go of any per-conceived stylistic notions, headphones dangling off his neck like an abandoned constraint as in conclusion he set himself aflame and started playing with his teeth, Hendrix – presumably – watching from above. If anything, that was one proof of how virtuosic guitar chops are the only way in music to get in touch with a very particular (and truly exhilarating) sphere outside of everyday realities.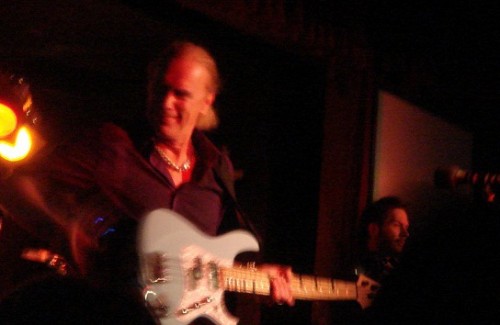 Billy Sheehan's solo, which followed five songs later – by contrast – came through as a more introverted meditation on the nature of his instrument, whose energy he is capable of channeling, transforming, and turning into something that is both earth-bound and ethereal. It wasn't so much about what he wanted to demonstrate (although he's shown off plenty – from neck-break arpeggio runs to blaring pinch harmonics), but about things the bass is capable of when not thought of in terms of convention. The final moments when Sheehan made his instrument sound like a church organ you realized that one possible purpose of any virtuoso technique (in this case, incidentally – two-hand tapping) is for a musician to venture beyond distinctions between genres and to allow himself the ultimate freedom of expression.
Any other virtuoso band with material of such intensity would have turned a small joint into a pressure cooker. But Mr. Big on the night have managed to combine oomph with elegance. According to the band, this reunion is all about having a good time playing together and leaving the baggage behind. The new attitude, which, apparently, renounced all previous in-fighting and interpersonal tension, was responsible for the free, non-obsessive flow to the show.
Eric Martin – his voice amazingly strong and vivid after all those years – has gone out of his way to convey to the audience the newly rediscovered chemistry within the band. From ad hoc chats with the overjoyed crowd about such random topics as sex and chocolate, to instances where he would come up behind Billy Sheehan, grab the neck of his bass and play a few lines – all this came through as spontaneous and organic. The man may be over 40, but the musician is around 25, and Martin's personality is an indelible part of why this band to this day sounds so fresh.
But it was left to the encore to take the vibe in the room one notch higher from boisterous fun to elation. Deep Purple cover "Smoke on the Water" with Paul Gilbert on drums, Eric Martin on bass, Billy Sheehan on guitar, and Pat Torpey singing became – funnily and bizarrely – the pinnacle of the show. Punters – as well as pros – later argued if this number was just playful muso revelry or the ultimate show-off moment: "Look how astounding we still sound when we switch instruments." Regardless of what the intended message was, the audience responded with both laughter and awe: Yes, those pirates can switch instruments and still sound like one of the greatest hard rock bands on earth.
And that was the moment where you began to vaguely suspect that monstrous chops are just a part of this band's magic. The other part is what Billy Sheehan in an interview with this writer once referred to as "interaction": "A real interaction among the musicians on stage and real sense that the music is alive, that it gets improvised on, it gets risked on, that it's a fresh, a live thing." Something you come by these days in only a handful of old-school heavyweights. And something you don't have to be a music snob to appreciate. All you need to care about this band is to be alive.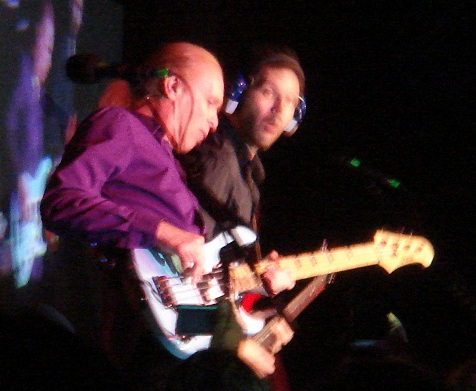 Set List:
1. Daddy, Brother, Lover, Little Boy
2. Alive and Kickin'
3. Green-Tinted Sixties Mind
4. Undertow
5. American Beauty
6. Take Cover
7. Just Take My Heart
8. Once Upon a Time
9. A Little Too Loose
10. Road to Ruin
11. Temperamental
12. Paul Gilbert solo
13. Still Ain't Enough
14. Price You Gotta Pay
15. Take a Walk
16. Around the World
17. As Far As I Can See
18. Billy Sheehan solo
19. Addicted to that Rush
Encore:
1.To Be With You
2. Colorado Bulldog
3. Smoke on the Water (Deep Purple cover)
4. Baba O'Riley (the Who cover)
Photos appear courtesy of Alissa Ordabai