by Alissa Ordabai
Staff Writer
September 2, 2011 at the L.C. Pavilion, Columbus, Ohio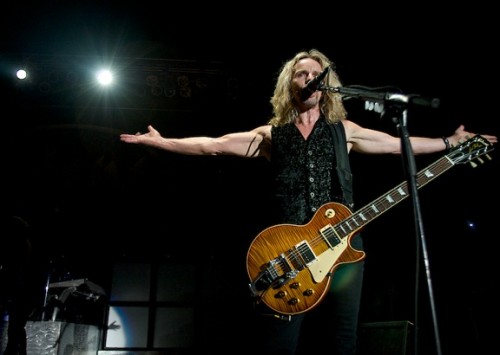 If you listened to rock radio in the 1970s and 1980s Styx was one of those bands that even if you didn't buy their records, you knew all their songs. They owned the rock airwaves and chicks loved them, burning their songs into their boyfriends heads. Their rock-ballad "Come Sail Away" ruled supreme for nearly a decade as a prom theme standard. With their radio friendly songs the band became a concert giant touring the United States and the world behind massive selling albums like The Grand Illusion, Pieces of Eight and Paradise Theater.
Seriously, in the days of big arena rock, Styx was one of rocks biggest acts. Add three decades and the band's faithful following remains strong and loyal. Sure, the crowds may be a bit smaller but the power of their songs was enough to draw thousands of Columbus area residents out in 90 plus degree temperatures.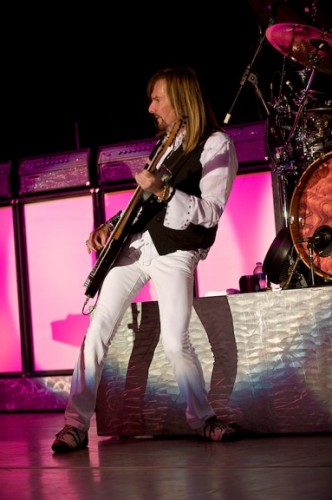 The stage was flanked by a large black banner emblazoned in gold with the bands stylized "Styx" logo as the staged lights were dumped. In the darkness, stage crew members removed the covers from the bands on-stage amps revealing light boxes. As the lights were slowly raised, Tommy Shaw slowly emerged from the shadows on stage left, slender and wrapped in black clothing, sunburst Gibson Les Paul slung low, and sauntered to the mic.
As the sun dipped below the western horizon, the lights exploded on the stage as the band broke into "Blue Collar Man". The band strutted and grinned as they acknowledged the crowd while belting out the hit. From the audience, most of the 4000 plus were singing along; "Give me a job, give me security, give me a chance to survive," an ironic anthem for the times but evidence of the enduring quality of the tune.
Bowing to the cheers of the L.C. Crowd, Styx kicked into "Grand Illusion" and "Too Much Time," taking the fans back to their high or college days. With a bit of gray stubble in his blond beard, Styx stalwart guitarist Tommy Shaw and his band-mates did their best to turn back the clock by playing a virtual best of set list of Styx hits.
The ninety-minute set was energetic, well presented and greatly appreciated and received by the fans. The setlist for the Columbus performance was composed of: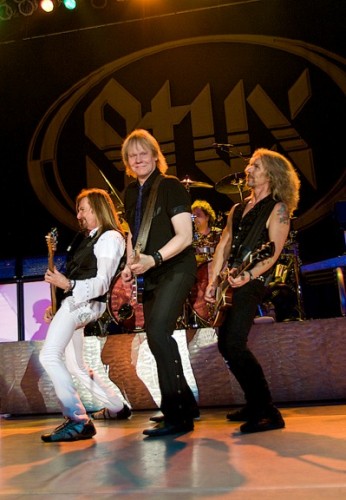 Blue Collar Man
Grand Illusion
Too Much Time
Lady
Lorelei
Man In The Wilderness
I'm Ok
Crystal Ball
Queen of Spades
Castle Walls
Pieces of Eight
Fooling Yourself
Miss America
Come Sail Away
Walrus
Renegade
For more information on Styx and their current tour visit: www.styxworld.com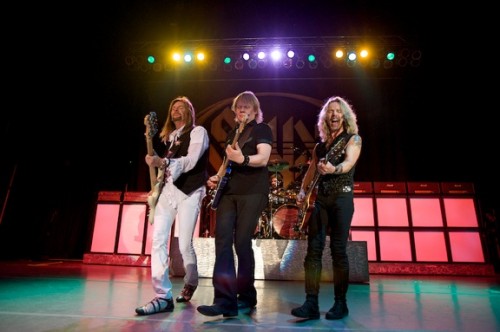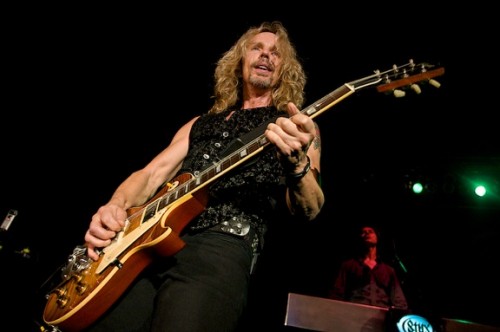 Photos appear courtesy of Chris A.