by Deb Rao
Staff Writer
Exclusive Ricky Phillips of Styx Discusses Upcoming Styx Vegas performance
One of the great rock bands that helped defined the classic rock genre Styx will be performing a special concert Sept. 24 at the Hard Rock at The Joint in Vegas. Styx bassist Ricky Phillips gives Hardrock Haven exclusive details surrounding the special event.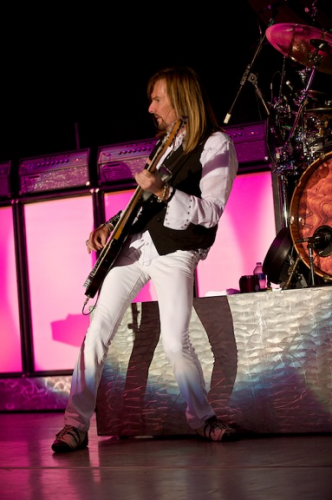 Hardrock Haven: Ricky, thank you so much for checking in with Hardrock Haven. Styx is going to be coming to Vegas on Sept. 24 performing at The Joint at the Hard Rock. Now the band has been touring non-stop all summer. Styx just got off the road doing a summer tour with Yes. Tell us what the Vegas fans can expect to see at the Hard Rock.
Ricky: It's always fun for us to go to Vegas. We have a good time in Vegas. It's always a good show. This year we are kind of interjecting some of the deeper album cuts along with the hits everybody wants to hear. Last year we did a run of shows at theaters on the East Coast. We played all of The Grand Illusion album. Then we took an intermission and then came back and did the entire Pieces Of Eight album. In doing that I started to perform songs that have never been performed live by the band. It got such a great fan response; we have been interjecting night to night. We change it up a little bit. I am not sure which songs will be in there. A lot of the stuff that the die-hard fans think that they are not going to hear. We are kind of just trying to surprise everybody and throw stuff in. We change it up so it is fresh for us and fresh for the audience. We have a lot of people that have seen us multiple times. It is just something that has worked out to be a win win for us.
Hardrock Haven: How long will your set be? Will you be doing two sets? I think Reo Speedwagon is on the same bill that night.
Ricky: Yes, I think so. And if that is the case both bands will be restricted to 75 minutes a set. We get up there, we mean business. We take charge. We will be slamming out songs for 75 solid minutes. We don't like to stagnate. We like to keep the band fresh and moving forward. We up the bar and up the game every year. We want the next gig to be better than the last one. We have a great crew. There are about 21 people on our entourage. Our crew is every bit part of the show and every reason, we are able to do as many shows as we do and with the quality. We got a really good army of people. We are looking forward to the Vegas show simply because Vegas is so damn much fun!
Hardrock Haven: Since Vegas is all about the glitz and glamor; will the stage set be elaborate? Styx's music surely stands on it own with just straight ahead rock and roll.
Ricky: I don't think so. Only because we are out of concert season. This summer we had the big rig out. I think it is going to be what you said just straight ahead rock and roll. It's funny I talk to fans and some just love the down and dirty shows where it is just the band. With all the content up there is a lot going on. I don't think anybody will be disappointed.
Hardrock Haven: Vegas is gearing up for the Styx concert. The radio was just playing "Blue Collar Man" the other night. It's amazing; year after year Styx is garnering new fans. Did you find that on the recent tour with Yes that families were bringing their kids to see the band and introducing them to your music?
Ricky: Yes there are a few things going on that we discovered. Families are bringing their young kids. Six or seven years ago, we discovered there have been 14, 15, 16 year old fans both boys and girls. Some of them discovered the band on a musical quest and not from family members. Maybe from Zeppelin or Hendrix records. I was singing "Lady"; it is kind of an aggressive pop song. Here I am singing this kid was singing along giving me this kind of full on Billy Idol scowl and Mohawk singing "Lady" at the top of his lungs. He was probably 15. I think by people going back and they're not caught up going on when these songs were initially recorded they are taking the songs by face value.
Hardrock Haven: Regeneration Volume 2 is now out for the fans. Tell us about the new album.
Ricky: It is cool what is going on with this. We did the recordings at the time to kind of save the masters. There were trying to find the masters and some of them were found and some of them were misplaced. Then when you find them sometimes they are not playable. Regeneration 1 and 2 are being embraced by our fan base. We were doing "High Enough" for fun this summer and we put that on Regeneration Volume 2. It is something new for the fans to get along with the songs that were basically being archived.
Hardrock Haven: What was the goal of Styx when re-recording these classics hits? Did you want to keep it true to the sound but maybe make it fresh and bring in a little bit of the new element?
Ricky: I think that is what ended up happening. Initially, we were trying to stay so true to the original that we were paying homage to them. Never did we want to say this is how we do it now. To be honest. I think we have great respect in reference to the original master recording. Those were the songs that defined the time. I always say there is nothing worse to go hear a guitar lick or melody or a certain place in a song that I love and they don't do it. We weren't trying to re-invent the wheel and say this is how we do it now. A lot of the young kids who listen to the band let them know us as their Styx with great respect to the masters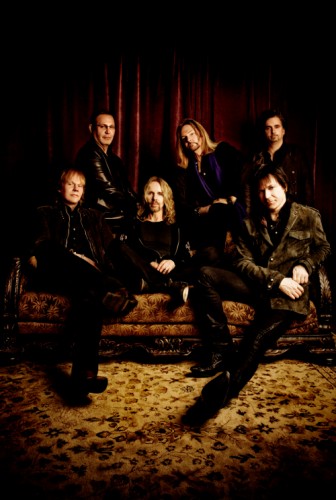 Hardrock Haven: So many of the Styx catalog are hits and these songs have remained timeless. What do you think makes a good song stand the test of time?
Ricky: I think the great natural sense for the guys to write these multiple harmonies that became sort of the Styx sound. But also what we developed started in 1975 with James Young and Tommy Shaw, they have a dance that they do not physically on the stage but with their guitars. There is some choreography that happens with these guys naturally. When they both play guitar, they are playing completely different. But it creates this one bigger sound together. It is really identifiable as a part of Styx. That is something that really came apparent to me after doing multiple shows with the band. James Young has made sure that the sound has stay true to its original. That is a hurdle that I had to jump through. It has just been something that has paramount to the bands integrity. This isn't the new Styx. This is Styx and the only Styx.
Hardrock Haven: Styx has their own signature sound. No band in rock and roll has a sound like Styx. The great aspect is that Styx can pull off this sound live. The band spends over 200 nights a year tour.
Ricky: Exactly. We are lucky that we can keep our voices. We actually like doing five shows a week. Some of the bands that we tour with that can't do that. They have one lead singer. Because Styx has always had three lead singers, we can move around some of the high notes in the places that just tear up your throat. I think our record is for this year; we did 30 shows in 36 days. There have been times in dry weather that can really tear at your throat like Vegas. In the Midwest, when we were playing this summer muggy weather is really good singing weather. Not good for the hairdo but good for the throat.
Hardrock Haven: During your illustrious career as a musician. What is your greatest accomplishment as a musician? How did playing in a cover band doing five sets a night help build your stamina for touring in Styx?
Ricky: That was definitely Rock And Roll College. Definably, playing four and five sets a night before I headed to LA and try and go it. I knew I had to go to either New York or Los Angeles if I was really serious. After I was ready and had done the work, I went to Los Angeles in 1978. Inside a few months ended up getting in an International touring act called The Babys. That is where I met all the guys in Styx and that is where I was first onstage with in 1979. Tommy Shaw and I remained friends throughout this time. When he was in Damn Yankees I was in Bad English. Tommy and I laugh about it now and say can you believe we are in a band together? It is so cool. One of the things I am proudest of is I am one of the guys that rose to the top. I am thrilled that I did. This is not what I expected. If you told me after the beginning of my career after having meeting Styx that I would one day be in this band I would have laughed. I wouldn't have thought this was possible. However all the planets aligned and all the dots connected for me to be here at this time at this point in my career, I feel that I have won the lottery. I am with guys that know how to be in a band. Respect and know how to protect a band as great as Styx and make the changes necessary so that the band thrives and lives. It is better to sound better than it ever has for that love and nurturing.
Hardrock Haven: In your free time to you get to pursue any of your hobbies?
Ricky: I am a golfer. If I can get on that golf course, when I am on the road I will be just fine.
Hardrock Haven: The metal genre just lost Jani Lane. He was an avid golfer. Did you ever play golf with Jani?
Ricky: I played golf with Jani. God Bless him. He was a lot of fun. Him and I played golf a few times. It has actually been a while now since I have been in Styx now that I think about it. Bobby Blotzer from Ratt, Jani and some of the guys from Warrant played golf together.
Hardrock Haven: Anything else that you want to say about the upcoming Vegas show Sept. 24 at the Hard Rock?
Ricky: Everybody come and have a good night. It is the first time we have played with Reo Speedwagon in quite some time. It is going to be a big party!