Taxxi Traxx | Taxxi Traxx
by Ron & Don Higgins
Staff Writer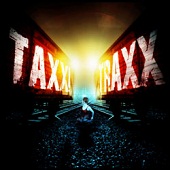 Grab your parachute pants and fire up the Walkman; the '80s are back! Traxx is a new album of unreleased "lost" tracks from British AOR rockers Taxxi. At the request of MelodicRock Records, Melodicrock.com's Andrew McNeice, the band went back into their archives and pulled out 11 songs from 1987-1988, which were remastered by the legendary JK Northrup (Billy Thorpe, Paul Shortino, Northrup, King Kobra). The result is an excellent example of pop/rock AOR music of the 1980's, akin to bands like Tears for Fears and The Outfield.
Taxxi formed in the late '70s as a trio consisting of singer/guitarist David Cumming, drummer Jeffrey Nead and keyboardist Colin Payne. They also utilized numerous session musicians, including future American Idol judge Randy Jackson and future .38 Special guitarist Danny Chauncey. They even managed to get Journey drummer Steve Smith to play tambourine on their sophomore release, States of Emergency in 1982. Taxxi released their debut album Day for Night in 1980 on the indie label Fantasy and released their next two albums on that label before signing with MCA for their fourth album Expose in 1985. Payne then left the band and the other two members continued working together on new music, including several songs for movie soundtracks ("Forever" from Weird Science and "Heaven and the Heartaches" from the Michael J. Fox flick, The Secret of My Success). In 2001, Fantasy released a compilation record Chequered Past, giving long-time fans access to classic Taxxi tunes on compact disk for the first time.
Kicking off the album is "Writing on the Wall", which is a pretty good representation of what this album is all about. It starts off with some strong guitar work and then immediately gets combined with some heavy keyboards, reassuring the listener that this is definitely '80s era AOR. Once the vocals come in, visions of Richard Marx pop into your head. Whether that's a good thing or a bad thing is up to the listener. It's got a catchy chorus and the guitar work is quite good so it's a sensible choice for the lead track and one of the album's highlights.
Other standout tracks include "I Just Want to be With You," "Last of the Red Hot Lovers," "One Man One Voice," "Cupids Arrow" and "It Ain't Over," "I Just Want to be With You" features some nice U2-sounding guitar work and a catchy chorus and is a perfect follow-up to the lead track. "Last of the Red Hot Lovers" features a somewhat annoying, heavy keyboard intro but the song quickly grows on you and the title chorus gets inexplicably stuck in your head, resulting in embarrassing moments of humming it at inopportune times. "One Man One Voice" is an interesting track as the lead vocals feature a thick British accent with parts of the song invoking a Proclaimers type sound. Once again, it has another memorable chorus that will have you singing under your breath… "One man, one voice… freedom to move, freedom of choice… for the children of the revolution." The song "Cupids Arrow" is a bouncy little tune filled with more heavy keyboards and visions of hope as it lyrically warns that you could fall in love just when things look the most bleak. Finally, "It Ain't Over" is another keyboard-heavy song with an insanely memorable chorus.
One of the strangest songs on the album is "Lust for Gold" thanks to overpowering horns throughout the song. It's very poppy but at one point the guitars take on a ZZ Top sound and then it starts sounding a bit like "Ghostbusters!" Despite the uniqueness of this track, it too features another memorable chorus, which is the underlying common element throughout this release. Whether the songs have heavy guitar or keyboards, horns or no horns, interesting lyrics or not, they all have catchy, memorable choruses. This fact alone is a testament to the songwriting capabilities of this group.
The record wraps up with "Restless Heart," which is one of several ballads on the album, along with "I Want You Back." It's a nice mellow way to end the album with the keyboards more in the background. Lyrically, it's interesting because it describes a person wrestling with staying faithful. As it says, "your kisses are sweet, but I was born to wonder."
Overall, this is a decent album for what it is. It's keyboard-heavy, pop oriented '80s new wave rock. Fans of classic '80s AOR will love this album as will diehard Taxxi fans. Unfortunately, due to its obviously outdated sound, it's pretty unlikely that demand for this particular release will be very high. In fact, even occasional Taxxi fans may be a bit turned off by this release due to the heavy keyboards. Taxxi's most popular song "I'm Leaving", from their 2nd album, is a straight-ahead rocker and sounds almost nothing like any of the tracks on offer here with the slight exception of "Hot Shot" which starts off promising enough with some harder guitar but then the keyboards come in and yank it right back from hard rock to bubble gum pop. Regardless, it's nice to see MelodicRock Records reaching back into the vaults to uncover lost gems like this. Cuing up this album is like opening up a totally rad '80s sonic time capsule. Max Headroom would certainly approve.
Genre: AOR
Band:
David Cumming – Vocals, Guitars, Synthesizers
Jeffrey Nead – Drums, Percussion, Backing Vocals
Track Listing:
01. Writing On The Wall
02. I Just Want To Be With You
03. I Want You Back
04. Last Of The Red Hot Lovers
05. Never Lived A Dream
06. One Man One Voice
07. Cupids Arrow
08. Lust For Gold
09. It Ain't Over
10. Hot Shot
11. Restless Heart
Website: http://www.melodicrockrecords.com/store/index.html
Label: MelodicRock Records
Hardrock Haven Rating: 8/10