Toby Hitchcock | Mercury's Down
by Mark Allen
Staff Writer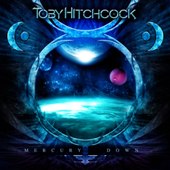 Before listening to this album, you should probably make an appointment with a dentist to have your mouth wired shut, because there are moments on Mercury's Down that will drop your jaw to the floor unless you take prior preventative precautions. The album as a whole is not quite perfect—despite the hype, there are a few songs that flirt with a formulaic sound—but the bulk is as flawless as an airbrushed Playboy centerfold.
Of course, what else would you expect when you pair the masterful voice behind Pride of Lions with the razor-sharp songwriting/production skills of the man behind W.E.T.? The melodic rock marriage of Toby Hitchcock and Eric Martensson was the proverbial match made in Heaven and the results are pretty close to divine, at least for fans of crisp, clean, hook-and-harmony-drenched melodic hard rock.
And make no mistake, this is melodic hard rock. The pedigrees of the players would make you expect some AOR, but they have cranked everything up. It's not metal—you will not mistake this for the latest Cannibal Corpse opus—but it definitely sports a heavier edge than we have previously heard from Hitchcock and Martensson. Sure, there is an abundant keyboard presence as well, but it plays second fiddle to the dominant guitars in near-perfect balance.
What is also perfect is Hitchcock's vocal performance, which seals his position as one of the greats, with a style that rests comfortably between Jeff Scott Soto and Lou Gramm. Hitchcock nails every song—even the handful of sub-par tracks are rendered more palatable by his rich, powerful singing—and gives full vocal incarnation to the massive hooks and harmonies, fleshing them out in shining fashion with the support of Martensson's immaculate production and musicianship.
The album's opener, "This is the Moment," is one of the finest melodic hard rock anthems of the year, featuring an urgent chorus slathered with more harmonies than barbecue sauce on a rack of ribs. And so it goes song after song. Even the fillers really do not qualify as such, because on most other albums they would be considered highlights. It's just that they pale slightly in comparison to the other gems between which they are sandwiched. With so many songs achieving stratospheric quality, you almost feel unjustifiably disappointed when a song settles for a stiff jab to the ears instead of a knock-out blow. Thankfully, those fillers (and apply that term loosely) are few and far between.
As for the standouts…let's just say that Hitchcock and Martensson supply a nice variety, from hard-hitting rockers like "I Should Have Said" to heavy-edged monsters like "Tear Down the Barricades" to bombastic power ballads like the Winger-esque "One Day I'll Stop Loving You." Really, there so much good stuff on here that any melodic hard rock lover should just grab a box of tissues and some lotion, sit back and enjoy the sonic ride, and prepare to fire up a cigarette when it's finished.
There is no denying that Mercury's Down is a top-tier melodic hard rock album with a superb performance from Hitchcock that proves him to be one of the premier vocalists on the scene today. It's bursting with melody like an overstuffed sausage skin, the hooks fly at you faster than bullets from an M-16, and there are enough slick harmonies to make Nelson or Def Leppard nod their heads in approval while trying to conceal the jealous glint in their eyes. If that sounds like the sort of thing that gets you all hot and bothered, then you'll probably need to take a cold shower after listening to this one.
Genre: Melodic Hard Rock
Band:
Toby Hitchcock (vocals)
Eric Martensson (all instruments)
Track Listing
1. This is the Moment
2. Strong Enough
3. How to Stop
4. Let Go
5. One Day I'll Stop Loving You
6. I Should Have Said
7. If It's To Be (It's Up To Me)
8. Just Say Goodbye
9. Summer Nights in Cabo
10. Tear Down the Barricades
11. A Different Drum
12. Mercury's Down
Webpage: www.frontiers.it/album/4910/
Label: Frontiers Records
Hardrock Haven rating: 9/10