by Mark Allen
Staff Writer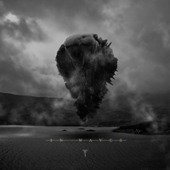 To claim that the modern thrash/metalcore world would not be the same without Trivium's presence would be to give them way more credit than they deserve. But to dismiss them as a pox that should be purged from the heavy music community is an unfair trivialization of their accomplishments. While hardly the first band to merge murderous metalcore ferocity with marketable melodic overtones, Trivium nonetheless ranks among the upper echelon at dealing out death metal growls and throat-rupturing screams while simultaneously incorporating clean singing and hooky choruses.
In Waves, their latest studio offering, finds the band sticking to the sound and style that has served them so well for so long, seeing no reason to muddy up the waters, content to give their legions of fans exactly what they want without pushing any boundaries; in other words, this is exactly what you want to hear from Trivium. It doesn't shatter the high expectations set by the band's last album, Shogun, but neither does it leave those expectations a crushed, bloody, mangled mess of roadkill. About the only people who will feel like pouting after hearing In Waves are those with zero tolerance for screams/growls in metal (and really, if you're that person, why are you even bothering with Trivium?) and those who consider radio-friendly hooks from a heavy metal band to be an unholy abomination about on par with the Devil himself strolling into the Vatican and pissing on the nearest crucifix. All others are cordially invited to partake of this impressive melodic metalcore banquet and should not go away hungry.
Musically, this is unmistakably Trivium. Even their detractors have never been able to call them technically deficient. The ripping riffs, slaying guitar solos, and new drummer Nick Augusto's powerhouse percussive performance prove that, for all their wooing of the mainstream, Trivium is a band who know how play. Granted, the playing on In Waves is a little tighter, focused, and less intricate than on Shogun, as this is a slightly more commercial release, but be it with guitar, bass, drumstick, or microphone, these guys are no slouches.
As already stated, Trivium likes to have one foot planted on mass-market turf and the other planted in a metal maelstrom. The former is exemplified by "Watch the World Burn" and "Black," which are served straight up with less screams and growls than a Sesame Street episode, while the latter is given its righteous due with songs like "Dusk Dismantled" and "Chaos Reigns" in which clean vocals are as unwelcome as barnyard porn at a Bible Baptist convention. It's no easy task—some might even say ill-advised—to satisfy both the Hot Topic teens and the serious headbangers at the same time and the fact that Trivium pulls it off with such ease is testimony to their skill. Some waggle-fingers may accuse them of selling out, but if this is what sellout sounds like, let us pray that selling out is the next big trend in modern metal. Somebody send the mosh pit a memo: a little melody is okay.
In the end, what In Waves does is merge melodic marketability with full-throated metal aggression. It is intensity and catchiness wrapped up in the same cocoon and happy to be bed mates. Roaring rhythms coexist with studio polish that is slicker than cold rain on a hot-waxed car. Piercing screams perch alongside lengthy sections of clean singing. Neck-snapping riffs reside next to hellacious hooks sharp enough to be stored in a tackle box. If bands like All That Remains, Demon Hunter, In Flames, and Killswitch Engage are part of your collection, then Trivium belongs there too. This is one of the best modern heavy/thrash albums of 2011 and if Trivium can keep up this level of quality, they stand a good chance of making major waves in the metal world for years to come.
Genre: Thrash / Metalcore
Band:
Matt Heafy (lead vocals/guitar)
Corey Beaulieu (guitar)
Paolo Gregoletto (bass)
Nick Augusto (drums)
Track Listing
1. Capsizing the Sea
2. In Waves
3. Inception of the End
4. Dusk Dismantled
5. Watch the World Burn
6. Black
7. A Skyline's Severance
8. Built to Fall
9. Caustic are the Ties That Bind
10. Forsake Not the Dream
11. Chaos Reigns
12. Of All These Yesterdays
13. Leaving This World Behind
Webpage: www.trivium.org
Label: Roadrunner Records
Hardrock Haven rating: 8/10