Dream Master | Spread your Wings
by Nikiforos Skoumas
Staff Writer —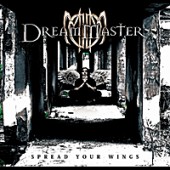 Spread Your Wings is the brand new fourth studio effort by Argentinean heavy/melodic metal group Dream Master. Dream Master play down-tuned heavy metal, emphasizing guitars and vocals over all else. The line-up features singer and guitarist Ezequiel Wiurnos, lead guitarist Gabriel Chiavetto, bassist Rodolfo Sanmarti and drummer Daniel Fellitte.
Dream Master have often been labeled as a progressive metal band, yet excluding some rhythm patent changes, amongst song structures, their music and subsequent album is rather uncomplicated heavy-melodic-metal. One gives the band credit for frequently inducing melodic lines into their songs, delivered by both vocals and guitars. Ezequiel handles some rather impressive vocal melodies particularly during the verses and choruses sounding like a mixture of Tobias Sammet and Bruce Dickinson. In addition the guitar melodies are rather short, though firmly establish their presence amongst the structures, commonly doubling riffs or complementing the vocal harmonies.
Regarding the sonic qualities of Spread Your Wings, the mixing in particular does not do Dream Master much justice as the down-tuned guitars are too up-front commonly undermining the bass, or even worse, causing the two instruments get rather mixed up. Furthermore the drumming sounds rather thin in comparison to the thickly produced guitars causing the end result to sound imbalanced.
The lyrical concept of Spread Your Wings is also rather predictable; referencing troubled societies, becoming retrospective while also delivering the message of standing one's ground, and wishing for better days to come. Clearly such themes have been part of the genre since the conception of heavy metal, partly causing the songs to sound rather cliché (especially for fans who study attentively lyrics).
To avoid any misunderstanding, Dream Master, much like any band, retain the right of expressing themselves in any and every way they see fit. Yet in a comparative sense, one could not possibly ignore that the international market has witnessed a boom in high quality melodic/power metal albums during the past couple of years. Therefore Spread Your Wings, though a genuine and focused effort, does not quite match the standards of the melodic/power metal genre in 2011.
Genre: Heavy / Melodic Metal
Band line up:
Ezequiel Wiurnos – guitars & vocals
Gabriel Chiavetto – guitars
Rodolfo Sanmarti – bass
Damian Fellitte – drums
Label website: CD INZANE LLC
Track List:
1. Last chance
2. Echoes from the past
3. Addiction
4. Decades of ignorance
5. Silence
6. Spread your wings
7. Never give up
8. Waiting for you
9. Plastic society
10. Just a lifetime
11. Things unsaid
12. Your soul´s fate
Hardrock Haven rating: 6.5/10