Elevener | Symmetry in Motion
by Nikiforos Skoumas
Staff Writer —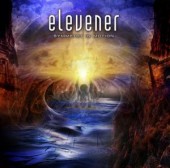 Three years past their debut album, Elevener return with their second studio effort Symmetry In Motion. Despite the peculiar album title and artwork it has to be clear that Elevener is actually a melodic rock/AOR band with a clear '80s orientation. What started as a project in 2008 with the Swedish AOR duo of Johan Bergquist (keyboardist of Million) and newcomer guitarist Magnus Lindqvist has now developed into a full band. Entering the line-up are lead singer Pierre Wensberg, bassist Robert Garnold and drummer Anton Ross.
The musical approach of Elevener has remained unchanged as the keyboardist and guitarist lead the group into this second release, Symmetry in Motion, which is a faithful continuation of the style that forged their debut. Still, Elevener take the opportunity to further refine their sound on this second album: Having a full-time lead singer adds the extra spark to the compositions, in the same way that a proper rhythm section adds depth and warmth to the overall performance. In addition the keyboard presence has increased, adding piano layers start-to-finish on most songs.
Songwriting wise, Elevener have actually found a musical patent through which they deliver song after song. Melodies and harmonies tend to be repeated on the Symmetry in Motion granting the album admirable consistency without sounding repetitive, surprisingly! In a similar sense, the lyrics never dwell too far from the topic of romance or relationships going through various mood swings, though overall up-lifting to the listener. Songs like "Just as I Thought," "Hypnotized," "Written in Your Eyes" and "Never Would I" are authentic, mature sounding, melodic rockers that never grow boring even after consecutive plays.
Though not the heaviest of AOR albums, Symmetry in Motion benefits from a thick production, courtesy of Martin Kronlund. All the instruments are perfectly audible at all times, granting clarity and transparency throughout the album.
Fans of melodic rock/AOR should definitely give Elevener's second album a chance. It takes no more than a single play for one to be captivated by the quality of its arrangements while the album is bound to stay in your stereo for a fair amount of time.
Genre: Melodic Rock / AOR
Line up:
Pierre Wensberg – Lead Vocals
Johan Bergquist – Keyboards
Magnus Lindqvist – Guitars
Robert Garnold – Bass
Anton Roos – Drums
Track List:
01. Just As I Thought
02. Hypnotized
03. Written In Your Eyes
04. Dare To Love
05. Never Would I
06. Heal Me
07. Cage Of Broken Dreams
08. Tearing Me Down
09. For The Times We Share
10. You Get What It Takes
11. Modern Times
Band website: www.myspace.com/elevenelevenagain
Label website: Metal Heaven
Hardrock Haven rating: 8.5/10