House of Lords | Big Money
by Justin Gaines
Staff Writer —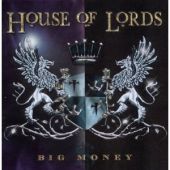 Long-running American melodic rock band House of Lords is back with Big Money, their eighth studio album. For the past few releases, House of Lords has essentially been founding vocalist James Christian and a rotating cast of musicians. This time around, the lineup is mostly the same as the one on 2009's Cartesian Dreams, with bassist Chris McCarvill the only new addition. With Christian as the key songwriter and producer, not to mention the voice of the band, the core House of Lords sound remains intact album to album.
Big Money is an interesting title for this album. It seems more appropriate to the band's early days, back when KISS mogul Gene Simmons was calling the shots and the band's fortune was on the rise. The title track does take you back to the debut album. With its swagger and bombast it could have been right at home next to classics like "Pleasure Palace" and "I Wanna Be Loved." The rest of the album swings a bit less, alternating between the kind of soulful AOR of Christian's solo albums and the traditional House of Lords sound. The smooth "Someday When" is a real highlight, and one that should melt most AOR fans' hearts. "The Next Time I Hold You" is more of a pure ballad, but it ends up being almost too sappy for this otherwise rocking album. The bluesy "Searchin'" and almost Zeppelin-sounding "Living in a Dream World" keep things rocking at the halfway point, as does the hook-heavy "Run For Your Life." The album goes out with a bang, with rockers like "Seven" and "Blood" that almost sound like Demons Down b-sides. The musicianship is tight throughout, as is the production, and of course James Christian is in top form.
Big Money is exactly the kind of album we've come to expect from House of Lords in recent years. They're not going back to the Giuffria-era sound, and they're not reinventing the wheel. Christian and company have figured out a sound that works, and when the result is such a solid platter of melodic rock as this, it's hard to argue with it. If you've been on board for the last 2-3 House of Lords albums, Big Money will not disappoint.
Genre: Melodic Rock
Band:
James Christian (v)
Jimi Bell (g)
BJ Zampa (d)
Chris McCarvill (b)
Jeff Kent (k)
Track Listing:
1. Big Money
2. One Man Down
3. First To Cry
4. Someday When
5. Searchin'
6. Living In a Dream World
7. The Next Time I Hold You
8. Run For Your Life
9. Hologram
10. Seven
11. Once Twice
12. Blood
Label: Frontiers
Website: www.jameschristianmusic.com
Hardrock Haven rating: 8/10