by Mark Allen
Staff Writer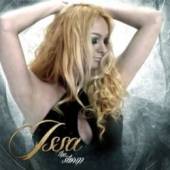 Issa, the Norwegian bombshell with a voice as gorgeous as her physical attributes, is back with her sophomore album, and while The Storm is good, it sometimes sounds like the golden-throated goddess is still struggling to find her niche. She doesn't want to be labeled a pop princess, but neither does she want to be a bad-ass hard rock chick, so instead she tries to straddle the fence between the two, seeking to unite sugar-coated pop accessibility with guitar-driven rock credibility in an uneasy alliance.
Many melodic hard rock fans scoffed when Issa's first album hit the streets, scornful that she played it so safe, unwilling to truly let the rock rip. Such hostilities will not decrease with this follow-up effort, which finds the hardness factor even more slightly subdued, the bombastic elements of the debut dialed back in favor of a smoother, more AOR-oriented approach. It's still fairly catchy, but more straight-forward, less over the top. This change in direction could be attributed to the fact that, unlike the debut, Issa actually participated in the songwriting process this time, working with the likes of Chris Laney (Crazy Lixx), Robert Sall (Work of Art), and Magnus Karlsson (Place Vendome), and she is on record as stating these songs more honestly reflect who she is as a person and performer.
As a performer, Issa is dynamic, gifted with great range. She possesses the ability to sing as soft and sweet as a lullaby one moment, then unleash power and attitude the next. She is often described as a cross between Amy Lee (Evanescence) and Avril Lavigne; add to that some Shania Twain and Amy Wolter (Fighter) and you're starting to get the general idea. It's a voice well suited for this kind of rock-edged AOR, packed with prettiness and power in equal parts.
Daniel Flores' production is absolutely immaculate, more polished than a Marine's medals, smoother than the fantasy-inducing curves of Issa herself. You've got a better chance of finding a chastity belt in a whorehouse than you do of finding any rough edges on this album. The engineering is superb, every instrument expertly mixed to complement each other, from the punchy guitars that drive the songs to the authoritative drum work to the melodic keyboard flourishes.
The Storm does suffer from a sense of sameness. Almost all the songs follow a similar structure: open with a crash of drums and power chords, quiet down for a keyboard-drenched verse, begin escalating things on the bridge, then rock out (well, as much as Issa "rocks out") on the chorus. Sometimes a little variance goes a long way; as it stands, far too many tracks stumble into a mid-tempo rut with little to distinguish them from all the others.
That is not to say there are no standout tunes, because there are. "Black Clouds," with its dark atmospherics and driving rhythm impresses right out of the gate, then impresses even more as the soaring chorus takes off. "What Does It Take" seems written with hit single status in mind, featuring the best hook on the album. "You're Making Me" is guaranteed to induce spontaneous foot tapping and head-bopping while "We're On Fire" latches onto your cochlea with subtle stickiness.
Issa does not yet deserve to be crowned the queen of melodic rock, but neither does she deserve to be mocked as the jester. While this album will not storm its way to the top of anyone's "Best of 2011" list, it is a solid AOR album and in the male-dominated melodic rock genre it's always nice to see/hear one of the ladies come out to play. More killer and less filler would serve her well next time around, but even with the flaws intact, this is more than good enough to prove that Issa is here to stay.
Genre: AOR / Melodic Rock
Band:
Issa (vocals)
David Sivelind (guitar)
Johnny Trobro (bass)
Daniel Flores (drums, keyboards)
Track Listing
1. Looking for Love
2. Please Hold On
3. Take a Stand
4. Invincible
5. Two Hearts
6. Black Clouds
7. You're Making Me
8. Gonna Stand By You
9. We're On Fire
10. Too Late for Love
11. What Does It Take
12. The Storm
Label: Frontiers Records
Hardrock Haven rating: 7/10