Kimball-Jamison | Kimball-Jamison
by Justin Gaines
Staff Writer —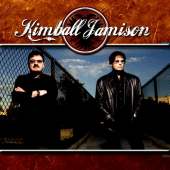 Leave it to the good people at Frontiers to come up with yet another match made in melodic rock heaven. This time around, they've paired former Survivor vocalist Jimi Jamison and former Toto frontman Bobby Kimball – two of the most memorable, most recognizable voices in melodic rock. Anyone who grew up listening to rock radio in the '80s knows the voices behind AOR staples like "Hold the Line," "I Can't Hold Back," "Rosanna" and "The Search is Over." Now the two singers have joined forces (alongside former Primal Fear bandmates Alex Beyrodt and Mat Sinner) for a project titled simply Kimball-Jamison.
Songwriting for this collaboration is provided by an interesting and impressive array of melodic rock veterans, including Richard Page (Mr. Mister), Jim Peterik (ex-Survivor, Pride of Lions), Randy Goodrum (Toto, Steve Perry), John Waite, Erik Martensson (Eclipse, WET) and Robert Sall (Work of Art). Bassist Mat Sinner handled the production, and both he and guitarist Alex Beyrodt show a surprising affinity for this kind of music given their power metal pedigrees.
On to the album, which is exactly what you'd expect from this combination of vocalists and songwriters. Kimball-Jamison is absolutely loaded with huge, anthemic AOR love songs, and while there's a somewhat modern (at least modern by AOR standards) feel here and there, most of these songs could have been taken off the best of the '80s arena rock albums. Both singers sound as good as ever, delivering the kind of soaring power, melody and emotion they're so well known for. The songwriters take advantage of each singer's strengths, knowing when to use each one and when to bring them together most effectively. Leadoff single "Worth Fighting For" is an obvious highlight, but there's not much of anything on Kimball-Jamison that you could call filler.
Sure, it's predictable, but in this case that's probably a virtue. When you see Bobby Kimball and Jimi Jamison on the marquee, you expect classic '80s style AOR, and Kimball-Jamison more than delivers. If you loved those classic Survivor and Toto albums in the '80s, you're going to love this album. It will also please fans of newer melodic rock bands like Pride of Lions, Work of Art, Lionville and WET. Honestly, it's hard to imagine any fan of AOR and melodic rock not completely loving Kimball-Jamison.
Edition Notes: The physical release of Kimball-Jamison comes in a digipack and includes a bonus DVD featuring a pair of video clips (for "Worth Fighting For" and "Can't Wait For Love") and a 30-minute "making of" documentary.
Genre: AOR / Melodic Rock
Band:
Bobby Kimball (v)
Jimi Jamison (v)
Alex Beyrodt (g)
Mat Sinner (b)
Jimmy Kresic (k)
Martin Schmidt (d)
Track Listing:
1. Worth Fighting For
2. Can't Wait For Love
3. Sailing Away
4. Chasing Euphoria
5. Find Another Way
6. Get Back in the Game
7. I Did Everything Wrong
8. Shadows of Love
9. Hearts Beat Again
10. We Gotta Believe
11. Kicking and Screaming
12. Your Photograph
Label: Frontiers
Hardrock Haven rating: 8.5/10