LIVE! | Anthrax, Testament & Death Angel
by Trevor Portz
Staff Writer —
October 22, 2011 at Club Nokia, Los Angeles, CA.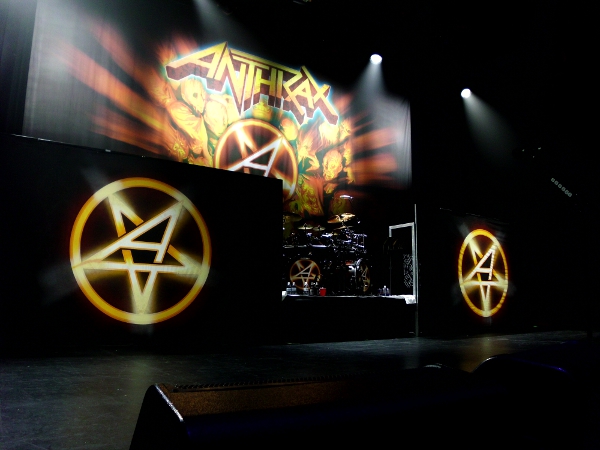 Riding the waves of praise and success both Anthrax and Testament have had with their most recent albums (Worship Music and The Formation of Damnation, respectively), it was a masterstroke for the bands to tour together. Throwing in a little Death Angel created a triple bill that feels something like a Big 4 spinoff tour. Thus, the crowd at Los Angeles' Club Nokia was understandably hyped to catch a triple dose of thrash royalty.
Due to L.A. traffic, the Death Angel portion of this review will be based solely on hearsay, but with that caveat, it appears they put on a great show and kicked things off with a bang.
After a quick set change, Testament took to the stage to a packed crowd with horns raised high. Opening with fan-favorite "The Preacher," it was almost immediately apparent what renewed life the band has been infused with in recent years. While they stuck mostly to the classics and new tracks, the audience was treated to a few oddities, such as the rarely played "Envy Life" from Practice What You Preach. The only bummer was that, with the exception of "D.N.R." and "3 Days in Darkness" from The Gathering, the band completely avoided two of its non-Skolnick (and heaviest) albums, Low and Demonic. While it does make some sense, especially since they weren't massive sellers for the band, it's a pity they tend to be ignored on the live front. Either way, though, Chuck and the gang played a brutal set of thrash classics, and more than satisfied the crowd's urge to mosh.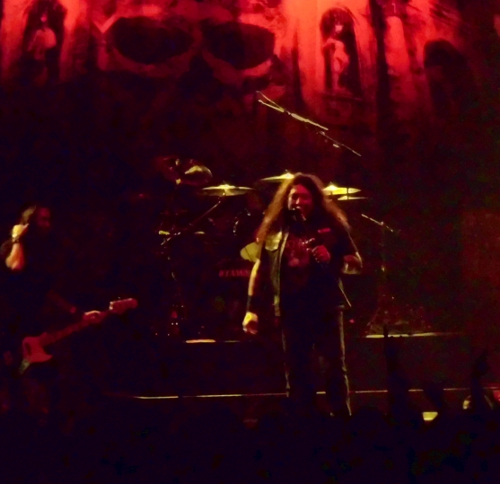 Another quick change (by metal standards), and it was time for Anthrax to hit the stage. Wasting no time, the band flew into "Earth on Hell" from Worship Music, showing that even 30 years down the road, they have not lost the gift of speed. Like their kinsmen in Testament, the members ran, jumped, and stomped as intensely as they did in the early days. It would seem thrash is immune to aging. Recently returned front man Joey Belladonna sounds stronger than ever, and truly seems to enjoy being back in the band that made him famous (or, conversely, in the band he helped make famous).
Seamlessly blending old and new tracks, the audience was treated to the expected standards ("Caught in a Mosh," "Antisocial," "Got the Time," and "Madhouse"), as well as a slew of songs from Worship Music. Following Testament's lead and almost entirely avoiding the non-Belladonna albums (minus the obligatory "Only" from Sound of White Noise), it was too bad the guys didn't throw in an obscure album track, whether from a Turbin, Belladonna, or Bush-fronted album. They did tackle Sepultura's "Refuse/Resist" before the final encore (perhaps as a nod to Andreas Kisser's brief tenure with band while Scott welcomed his first child), which was a nice surprise, but otherwise, the [relatively] short set-list shied away from any major surprises.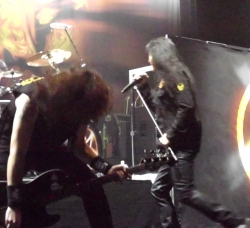 What was surprising, however, was the "tackling incident" that occurred midway through "Metal Thrashing Mad," (and is readily viewable on Youtube). An overly enthusiastic fan jumped on stage, and when security decided to—a bit over-zealously—take him down, Joey was inadvertently brought down hard as well. Frank Bello was (not surprisingly) visibly angry and confrontational, and Scott Ian made a point to trash the apparently blind security guard. But a few moments later, Joey was back on his feet, showing extreme class, but unnecessarily apologizing for the incident. He may have been sore for a few days, but seemed otherwise undamaged.
Similar to the Big 4 shows that have been happening over the last year or so, the biggest take away from this was that, as mentioned earlier, age doesn't seem to have affected these classic bands in any way. While newer extreme bands may be pushing the limits further than anyone though possible, no one can deny the impact Anthrax, Testament and Death Angel had on the metal world. It's comforting to know that they're still at the top of their game(s), and here's to hoping at least one of them can become the Rolling Stones of thrash.
Anthrax:
Joey Belladonna (v)
Scott Ian (g)
Rob Caggiano (g)
Frank Bello (b)
Charlie Benante (d)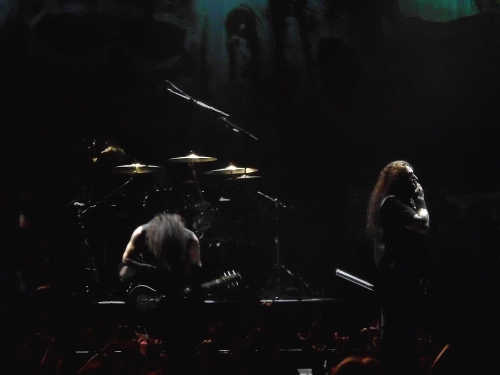 Testament:
Chuck Billy (v)
Eric Peterson (g)
Alex Skolnick (g)
Greg Christian (b)
John Tempesta (d)
Death Angel:
Mark Osegueda (v)
Rob Cavestany (g)
Ted Aguilar (g)
Damien Sisson (b)
Will Carroll (d)
Set Lists:
Anthrax:
1. Earth on Hell
2. Fight 'Em Till You Can't
3. Caught in a Mosh
4. Madhouse
5. Antisocial
6. I'm Alive
7. The Devil You Know
8. Indians
9. Got the Time
10. Hymn 1
11. In the End
12. Only
13. Efilnikufesin (N.F.L.)
14. Metal Thrashing Mad
15. Refuse/Resist (partial)
16. I Am The Law
Testament:
1. The Preacher
2. The New Order
3. The Persecuted Won't Forget
4. Envy Life
5. Over the Wall
6. Souls of Black
7. Into the Pit
8. Electric Crown
9. Henchmen Ride
10. More Than Meets the Eye
11. D.N.R. (Do Not Resuscitate)
12. 3 Days in Darkness
13. Disciples of the Watch
Death Angel:
1. I Chose the Sky
2. Evil Priest
3. Claws In So Deep
4. Relentless Revolution
5. Seemingly Endless Time
6. The Ultra-Violence
7. Thrown to the Wolves
Photos appear courtesy of Trevor Portz