LIVE! | Journey, Foreigner & Night Ranger
by Mike Allen
Guest Staff Writer —
September 28, 2011 at Starlight Amphitheatre in Kansas City, MO..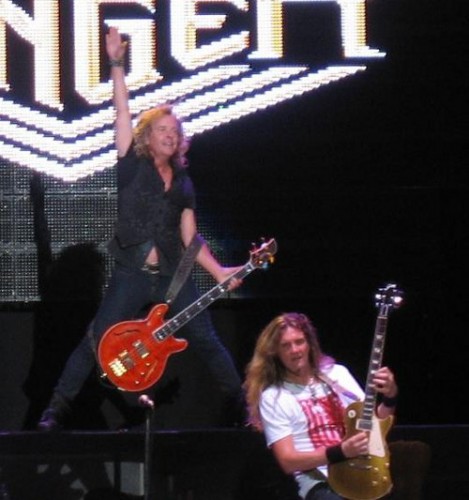 It was an incredible night for a concert at the Starlight Amphitheatre in Kansas City. A sellout show proved that the rock and roll from the '70s and 80s is still hip and very relevant. The talent on the stage with all three bands was a treat to watch and brought back so many memories.
First up was Night Ranger, who although played a very limited set, proved that there's no weak link in their chain. Brad Gillis and their most recent acquisition, guitarist Joel Hoekstra (who replaced Jeff Watson), still deliver that one-two-punch, with both trading off blazing solos. It's amazing how well Joel covers Jeff Watson's parts. There's a lot of technique in Jeff Watson's style and Joel certainly pays attention to every detail, including tone.
Drummer Kelly Keagy and bassist Jack Blades have lost nothing, in fact have both improved both in playing and singing. Night Ranger's patented sound rocked the house. Highlights of the show were "Sing Me Away," "Don't Tell Me You Love Me," "Sister Christian" (Deen Castonovo on drums), "When You Close Your Eyes" and a track from their new album, "Lay It On Me" that kicked off the show.
Set List:
1. Lay It On Me
2. Sing Me Away
3. High Enough
4. When You Close Your Eyes
5. Don't Tell Me You Love Me
6. Sister Christian
7. You Can Still Rock in America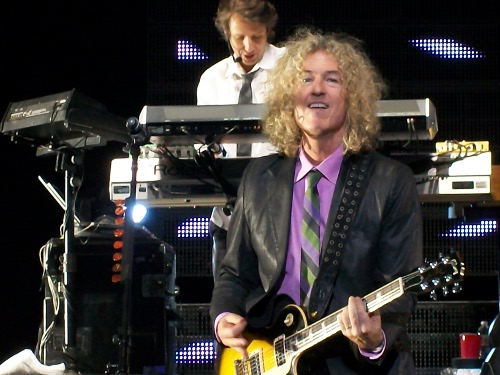 Foreigner put on an incredible show. And oddly enough there were no original members of the band on stage. It was like watching the best Foreigner cover band ever. Lead Guitarist, Mick Jones was under the weather and has missed several shows on this tour. Most, if not everyone I spoke with in the crowd didn't notice and many thought this was THE original Foreigner.
Lead vocalist Kelly Hansen does such an incredible job covering Lou Gramm's vocals, it's as if he owns them now. Although an energized set, and Foreigner rocked the crowd, there was something missing. Without Mick Jones, a lot of the guitar work, although it was adequate, wasn't up to Mick's level. Mick's mere stage presence and the way he and Kelly play off of each other are very always exciting to watch.
However the rest of the band completely put on an incredible show. This band is a top-notch live act. The band performed their "hit" songs and didn't perform any new material featured. The crowd loved it and very few people were seated throughout the show.
Sax player and second lead-guitarist Tom Gimble is the band's saving grace. His sax solos, particularly his solo during Urgent, was breathtaking and filled with passion. Tom's playing and Kelly's singing stole the show. There was no lack of enthusiasm from the band. Highlights were "Hot Blooded," "Double Vision," "Urgent," "Cold As Ice" and "Feels Like The First Time." "Juke Box Hero" was nothing short of incredible, with Kelly Hansen's range going into sonic mode, he matched the original version, vocally, note for note.
Set List:
1. Double Vision
2. Head Games
3. Cold as Ice
4. Waiting for a Girl Like You
5. Dirty White Boy
6. Band Intro
7. Feels Like the First Time
8. Urgent
9. I Want to Know What Love Is
10. Hot Blooded
11. Juke Box Hero.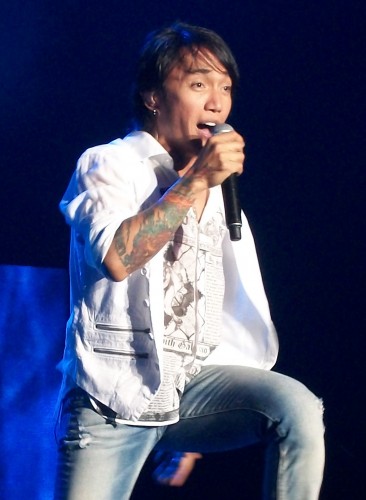 Touring for their new album surprisingly, Journey only played one song," City Of Love" from the new release, Eclipse. With such a strong release and hard rocking comeback album, I expected to hear 4 or 5 songs from the new release. For the most part Journey played a "greatest hits" show.
"La Do Da" was really the only half way obscure song they played. "La Do Da" is one of the most difficult Journey, ala Steve Perry, songs to sing. Requiring a lot of power and a lot of range, it was a surprise for the band to perform the song towards the end of the set. Arnel Pineda was simply amazing pulling it off. Just when it seemed to be at the toughest part of any song throughout the night Arnel consistently amazed the crowd with finesse, power, range, and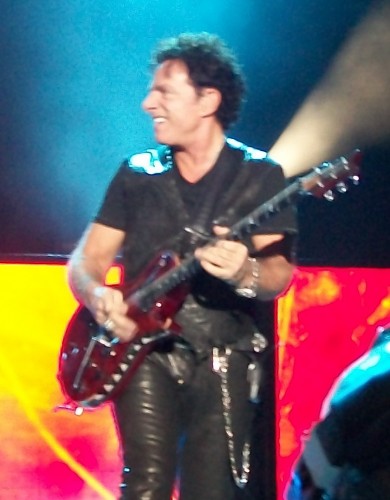 control. He has an incredible gift and this show was certainly one to showcase his vocal abilities. For the most part, he covered Perry's stuff note for note, but at times threw in his own little flair and held notes a little longer, sang a verse a little slower and in general, proved to the crowd that he is the real deal.
Neal Schon's playing is simply amazing. He didn't do as much shredding as expected but he certainly has the best chops of any rock and roll guitarist out there. The band played perfectly all night. Deen Castronovo, behind the drums is one of the best technical drummers out there but what really makes him stand out are his background vocals. His high harmonies compliment Arnel's vocals very well and Dean sounds a lot like Perry. His vocal presence makes the Journey sound very authentic and true to what the songs are about. Overall a complete thumbs up for their performance, sound, lights … everything. The only drawback or negative observation of the show is the set list. Since they are touring with a new album, and a great one at that, more songs from Eclipse should have been played.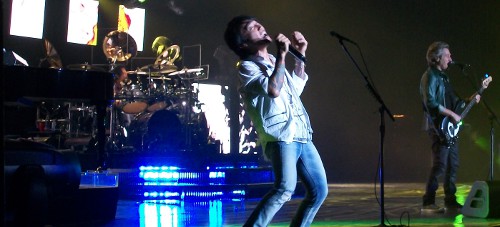 Set List:
1. Separate Ways
2. Ask the Lonely
3. Send Her My Love
4. City of Hope
5. Only the Young
6. Faithfully
7. Stone in Love
8. Escape
9. Lights
10. Wheel in the Sky
11. Open Arms
12. La Do Da
13. Be Good To Yourself.
Encore:
1. Any Way You Want It
2. Don't Stop Believin'
3. Lovin', Touchin', Squeezin'
Photos appear courtesy of Gary Dean Ash