by Alissa Ordabai
Staff Writer —
September 20, 2011 at Sheperd's Bush Empire in London, U.K.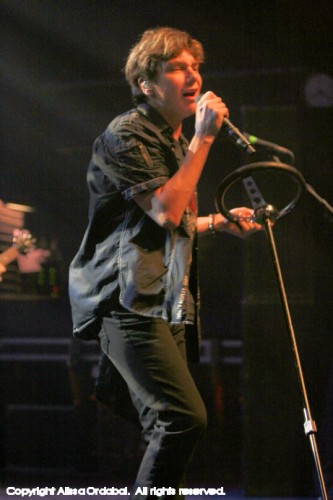 For a veteran band to keep its performances fresh and spontaneous throughout a mammoth world tour is always a challenge. To what extent is it possible not to fall into a rut? How do you keep the material from turning stale?
Part of the answer with Mr. Big has always been their extraordinary chops and willingness to improvise. This allows them to reinvent their shows not only through nuances and visual presentation, but through experimenting with their songs structurally, making each concert a breathing, vibrant thing – for the audience as well as for themselves.
Having seen Mr. Big perform in NYC just a few weeks before their London date, this writer was amazed by how different the band can sound from show to show. And not only in how they approach the songs, but how they adapt the amount of fire in the engine room to different venues and locations.
If the band's BB King date in NYC was an intimate, small-scale affair, in the theatre setting of Shepherd's Bush – the famous London 2000-seater – Mr. Big appeared in their full arena glory.
Tonight, at the same place where Londoners last saw Mr. Big in 2009, there was nearly full house. And given the current financial crisis in the UK, this is an achievement for any band, regardless of its status.
"Daddy, Brother, Lover, Little Boy" which opened the set, connected with the crowd at once. Not going immediately for the kill, but choosing to pace the proceedings and leave the most spectacular things for later, the band made the flow of the show almost impossible to predict.
All of their late 80s – early 90s hits mixed in with the new bangers from the latest album "What If" seemed to have been compiled to reveal the full scope of the band step by step – from the finely wrought lyricism of quieter moments to all-out virtuoso bombast of Billy Sheehan and Paul Gilbert.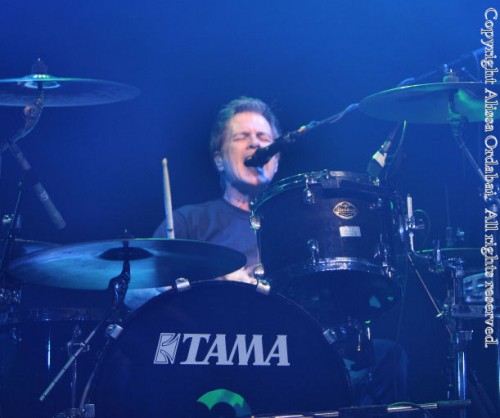 But it is Eric Martin – an elegant and emotionally impeccably balanced singer – who remains the main focal point for the crowd when you see Mr. Big live. His youthful, unpretentious sincerity is a huge part of what makes him such a compelling frontman, and someone who can make the audience follow the subtlest gradations of his delivery no matter how long the set.
Martin's voice to this day is boyishly agile, yet brilliant at projecting the emotional core of the band's songs. With each member of Mr. Big involved in other projects and each having a separate musical identity outside of the band, it is amazing how they still manage to sound like a unified whole as opposed to a partnership of A-grade sessionmen.
Much of this is down to Martin giving the songs emotional focus. His crystal-clear soaring notes contrasted with dirty rasps – and all the nuances of intonation and dynamics in between – make his one of the most expansive emotional ranges in rock, putting him on the same virtuosic plane as Sheehan and Gilbert. And if anyone in this band knows how a quite note can sometimes be the most compelling, it's him.
Stepping up their game with each song, the band was revealing their range gradually, sometimes in small but deliberate statements, and sometimes in big leaps. One of the biggest highlights of Mr. Big live are Paul Gilbert's unaccompanied solos, and it is fascinating to see how much of his imagination and virtuosity he chooses to expose – or not to expose – from show to show. But what made the London date guitar showcase different from the one performed just a few weeks before in NYC, was the exuberantly flamboyant feel inspired by a bigger venue and geared to impress a knowing, seen-it-all audience.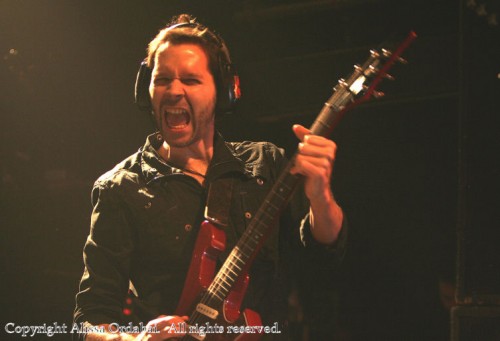 Gilbert – a passionate and a deeply knowledgeable fan of rock history – this time, as ever, was making tongue-in-cheek references to the guitar heroes of the past (his hero Jimmy Page in particular) by playfully, yet respectfully referencing their trademark licks and the famous live gimmicks. But in how Gilbert develops those classic quotations further and in how he finds his own meanings and connections – adding his own flights of high-tech fantasy to the canon – is what's making his guitar extrapolations a fascinating listen. And what it ultimately shows is that a talented fan – which Gilbert ultimately is – can become an artist on his own right with the right amount of zeal and perseverance.
But it is not only when he solos unaccompanied that Gilbert reaches those heights. His high-voltage guitar pyrotechnics scorches at its hottest when his leads serve the song – giving it an extra lift, opening it up, and reminding us that rock guitar is still ultimately about interacting with the rest of the band. Gilbert's brilliant, dramatically vivid solo for "American Beauty" proved the point on the night its razor-sharp, laconic phrasing. Another such highlight was his solo during the Cilla Black & Aaron Copland covers "It's for You / Hoedown" where his infectiously rhythmic lead sounded like it wouldn't have been out of place on the Riverdance stage.
Talking about technical virtuosity serving the song, this was what Billy Sheehan's playing in Mr. Big has always been about. Capable of soloing on the bass better than most guitarists solo on the guitar, these days Sheehan chooses never to overplay with Mr. Big, but instead to dazzle by the sheer control of his instrument to fit the task at hand.
The power of the bass and the imaginative juxtapositions of hues, nuances, timbre and dynamics are all there to be heard, yet Sheehan rarely surges to the fore for long, leaving it up to the listener to follow his bass lines rumbling underneath. And they are always an extraordinary fun to stay with, not only for bass players or bass enthusiasts, but anyone, regardless of experience.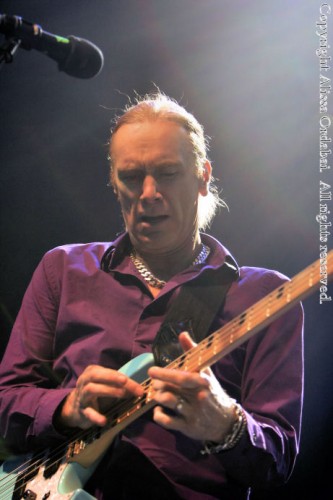 Sheehan's 6-minutes bass solo tonight was more contained than Gilbert's but his exuberance is precisely in the way he controls his instrument and the way he chooses to explore it – in a more introverted way than Gilbert, but at the same time giving his instrument a thoughtful, powerful, and deeply layered dimension. Listening to Sheehan you can learn a lot about reserve, understatement and the poetic logic not only of rock, but of popular music in it's widest sense. And there is no other bass player in rock who – possessing such monstrous chops – uses them to explore deeper things than cock-strutting self-assertion. If anything, Sheehan's solos teach you not to be impressed by chopsy superficiality but to look for meaning underneath the technique.
The crowd loved all of the band's old faves and the spectacular virtuosity of the band's musicianship, as well as the warm, heart-felt atmosphere Eric Martin was able not only to create right off the bat, but to hold on to throughout the set.
The encore became the highest point of the show – the entire audience sang along to "To Be With You", and didn't want to let the band go, perhaps realising that when you hear a band at its white-hot peak, the moment should be made last. In this sense Mr. Big is a living paradox of a band. Whenever they play, they make you feel that this is their very best, no matter what goes on within the band. Every show you've just managed to catch somehow persuades you that is their absolute best, a few years later only to leave you astounded by something even more spectacular they've just managed to pull from the hat.
Talking about the band's progress in time, it still seems a shame, however, that Mr. Big have chosen to rip the Richie Kotzen era songs out of their book. Kotzen – during his 4-year tenure with the band – has greatly expanded its emotional range and brought out some of the most powerful in Eric Martin as a songwriter. But open-ended and vulnerable is perhaps not how Mr. Big want to come through these days. Whatever the reasons are for the omission of the Kotzen-era material from Mr. Big set lists these days, "Shine", "Electrified" and "Superfantastic" could have received as big a welcome from the London audience as the best of their earlier hits.
Many say that there hasn't been another band since Led Zeppelin where each musician would be a true hero of his instrument while at the same time rising to another level as a part of the band. But it would still perhaps be fair to say that although the times are different, and interpersonal magic within Led Zeppelin remains unsurpassed, Mr. Big could well be the Led Zeppelin of our times. Or at least as close as you can get to the demi-gods when you think of energy, impeccable taste, discovering new territories for your instrument, and the all-consuming love for rock music.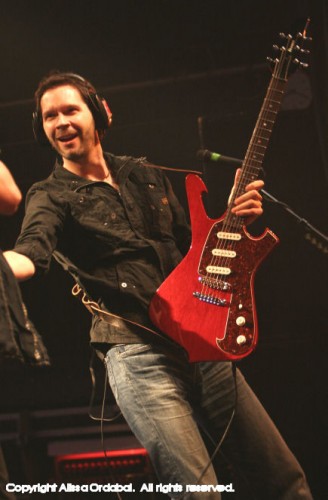 Set list:
1. Daddy, Brother, Lover, Little Boy
2. Alive and Kickin'
3. Green-Tinted Sixties Mind
4. Undertow
5. American Beauty
6. Take Cover
7. Just Take My Heart
8. Once Upon a Time
9. It's for You / Hoedown (Cilla Black & Aaron Copland covers)
10. A Little Too Loose
11. Road to Ruin
12. Temperamental
13. Paul Gilbert guitar solo
14. Still Ain't Enough for Me
15. Price You Gotta Pay
16. Take a Walk
17. Around the World
18. As Far as I Can See
19. Billy Sheehan bass solo
20. Addicted to that Rush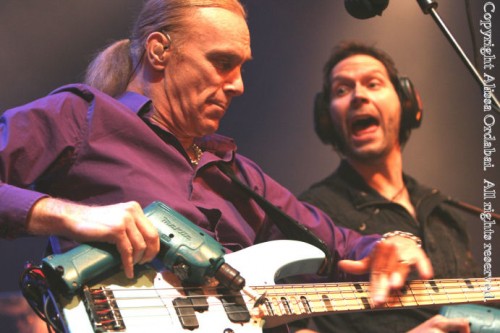 Encore:
1. To Be With You
2. Colorado Bulldog
3. Smoke on the Water (Deep Purple cover with Paul Gilbert on drums, Billy Sheehan on vocals / guitar, Pat Torpey on bass / vocals, and Eric Martin on guitar / bass)
4. Shy Boy (Talas cover)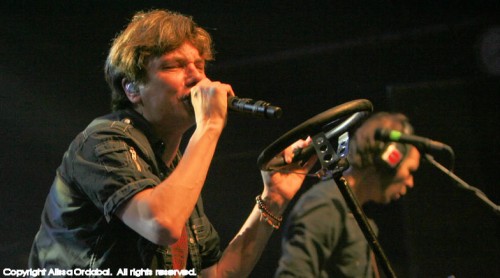 Photos appear courtesy of Alissa Ordabai