by Deb Rao
Staff Writer —
Exclusive Bassist Mike Rodden from Hinder Talks ShipRocked and All American Nightmare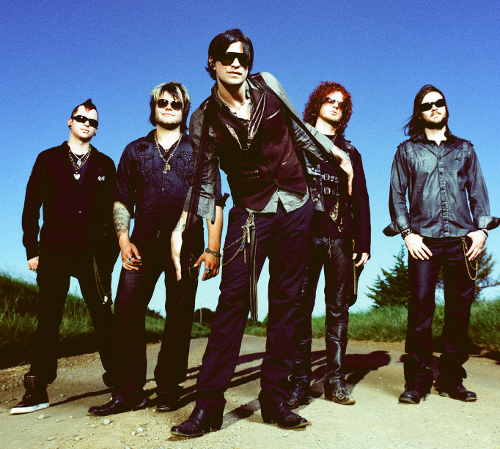 One of the most popular bands in music today, HINDER have been touring non-stop this year. The band's current single "What Ya Gonna Do" is receiving huge radio airplay from their latest release All American Nightmare. Recently this summer, Hinder performed to a huge audience at Rock On The Range.
Hinder is currently gearing up for ShipRocked, which is slated to take place Nov.14-19. The cruise departs from Ft. Lauderdale and heads to Cozumel and Costa Maya. Bassist Mike Rodden checks in with Hardrock Haven to give the fans exclusive details and also discuss the making of All American Nightmare.
HRH: Mike, Thank you for checking in with Hardrock Haven. Hinder has been on the road touring non-stop all year. How has the tour been going so far?
Mike: It has been going good. We have been playing a lot of festivals and some club dates in between them. It's good. The turnout is good and the fans are having a good time. It's a success for us.
HRH: I know that you just recently played one of the biggest festivals all summer Rock On The Range correct? What were some of the highlights from that show? Thousands of people get to hear Hinder. How awesome is that?
MIKE: Yes, back in the summer time. That show is always rad. We played that three or four times now. That is like one of the biggest festivals of the year. The line-ups of all the different bands are crazy. It is always cool to get to share the stage with bands like ZZ Top, Velvet Revolver and countless other bands that played that night. It is always a good feeling to be out there.
HRH: Hinder is gearing for a cruise called ShipRocked. It is going to take place Nov.14-19. Tell us about that event.
Mike: It is something that has been going on a few years now. Our buddies in Lynam have been telling us about it. The past few years we haven't been able to be a part of it because of scheduling conflicts. This year it worked out. We jumped right on it. There are bands like Queensryche, and Buckcherry. And Lynam. It is going to be great. It leaves from Ft. Lauderdale and goes to Cozumel to Costa Maya. It is going to be a good time for sure.
HRH: How is the schedule going to work? Are you playing every night?
Mike: We haven't gotten our schedule yet. But from what I understand we play two of the nights. Each night it is a different combination of bands.
HRH: Earlier this year you release your third album All American Nightmare. Tell us about the writing process for this album.
Mike: This writing process was different. The whole album. We went about it different. The last couple of albums we wrote strictly with our producer. This album we went about it different. Austin and Cody kind of traveled around and wrote with some different writers. Some in Nashville and some in LA. To get different feels with other artists and other writers. We wrote about 70 songs and recorded about 50 of them. We narrowed it down with a different process and narrowed it down to eleven or twelve songs. It was definitely a different way to go.
HRH: How did you approach the writing?
Mike: Basically, they would come back to town with a skeleton of a song. We all kind of jam it out. I will get in there and write a bass line for the song that we are recording. Just lay it down and me and the producer will go over it and tweak it out a little bit to where we like it. That is pretty much my part.
HRH: What kind of bass do you use?
Mike: I use Specter basses.
HRH: How did you come up with the title All American Nightmare?
Mike: It was a song before it was the title of the album. We were going to name the album Two Sides Of Me which is another single on the record. Once the record got done and the whole flow with it and it came out, we decided it All American Nightmare would be a better title.
HRH: Do you know what is cool about this album is that is has different styles on it. I can hear a lot of blues riffs. Do you agree?
Mike: Yes, Cody is really into old school blues and you can really see it through his writing. They wrote with some country writers in Nashville. I think the bluesier stuff kind of came through. Blues is the base for rock and roll anyways. I think it kind of shines around this one more because of the circumstances.
HRH: How do you think Hinder has evolved since your debut back in 2006? I know the band opened up for Aerosmith back in 2006 for a couple of dates.
Mike: I think we have definitely matured as songwriters and as a band. I think that goes hand and hand with playing with bands like Aerosmith and old school bands that have been playing for years and years. You take some stuff from what they are doing and kind of learn from them. Apply it to our band how we go about the whole deal. We also have matured in the business. We realize it is a dirty business. You kind of got to look out for your own. There are lots of things that you learn over a six-year period.
HRH: It is hard to believe so much time has past since I have heard "Lips Of An Angel."
Mike: Yes, that seems like yesterday. When we sit back and look, it has been a long time. It is crazy what that song did. We knew it was the song we wanted to put on our album and one we believed in. We didn't know it was going to do what it did. That was definitely a pleasant surprise for us in a good way.
HRH: The latest single is," What Ya Gonna Do." They have been playing it out in Vegas.
Mike: Yes, we are about to release another one in October. We are really thankful for all the stations that have been playing it. We appreciate all of the support from all of them. We owe it to them and the fans.
HRH: Hinder has ShipRocked coming up in November. What's the plan? Is the band going to head back into the studio after that?
Mike: Right now we are just trying to see what this next single is going to do. If it takes on and everybody is digging it. Then we can extend our album cycle that much more. We are always writing. We like to be on the road. That is what we like to do. If we can stay out here a little longer that is what we will do. If we need to go back into the studio, we will do that too.
HRH: Awesome. Thank you Mike for checking in with Hardrock Haven.