Otep Shamaya: 2008 Revisited
by Deb Rao
Staff Writer —
Revisited Interview with Otep Shamaya from 2008
Archaic Revival comments: "One of the most exciting and brutally honest women performers in metal today is Otep Shamaya. Otep is not only a musician but also an accomplished poet and speaker. Her lyrics are razor sharp never afraid of taking on such controversial subjects as child abuse, domestic violence and politics."
Inspired by Nirvana, Otep's music is real and honest. In a day and age in the music industry that seems bombarded with pop rock princesses, it is refreshing to see a front woman take the term women in metal to a whole new level.
Otep is currently on tour in support of her latest album, The Ascension. Recorded after post Katrina, in the horror aftermath that Katrina left behind on the Gulf Coast, Otep has released one of her most inspiring albums to date. Otep paints an eclectic canvas of emotion as she channels in her emotional experiences into a sea of words filled with deep emotion.
Otep's live performances reflect the power and strength of an artists determined to make a difference in the music industry infused with raw power and razor sharp words that cut like a knife and make you think and feel the pain both at the same.
I recently had the opportunity to discuss in-depth the recording of The Ascension, Election 2008, and the devastated Gulf Coast with Otep Shamaya. Sit back and enjoy one of the most polished and intellectual women in rock view on some of the most important subject matters in the world today as Otep get ready for their huge homecoming show at the Key Club in Los Angeles on November 30th.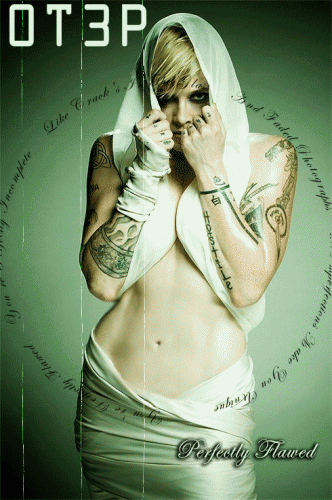 HRH: Otep, thank you so much for checking in with Hardrock Haven. Net. I know you are currently on the road in support of your new album, The Ascension. How is the tour going so far?
OTEP: It is going fantastically well. We were just in New York City the night of the election which I think is a bit apropos, considering that the attacks on 911 happened there and how much fear and pain and terror occurred and to be in New York City the night Barack Obama was elected President seems to take the direction of our nation in a much more positive way, in my opinion. Right a lot of wrongs that have gone on in the past eight years and to see the beauty and the love.
HRH: How inspiring was it as an artist to be there on election night and to see that dreams really can come true?
OTEP: Absolutely. I believe that Obama winning that election, we can mark that one down for all the outsiders. For anyone who has ever told us that our dream did not matter and they weren't good enough to make it or they weren't the right race or gender or the right height or the right weight or came from the right part of the country or the right part of town. You can chalk this one up for the outsiders.
HRH: Would you say that your new album, The Ascension is more of a political album than House of Secrets? I think it has many multi-layered facets to it. It shows that you are more than a new metal band. It showcases all of your different side, which is exciting. Do you agree?
OTEP: I wouldn't say it is more political. We have one song. One every record we have had a political song. We actually had two on the first album. We had "Battle Ready" and the song "Thots". On the second record we had," War Head" and on the third album we have," Confrontation". I have never been comfortable with the label nu-metal. That was something that allowed certain people to feel comfortable to categorize a lot of different styles of music. I consider it the fusion band. We have elements from metal to hard rock to grunge to hip hop, even blues and jazz as well. I know that maybe because it is loud and I do scream but I hope people don't over shadow some of the other things that we do. We try to come up with our own sort of category even thou I am not a fan of that like art core. That is more of our focus.
HRH: Tell us about the writing process for The Ascension. Would you say it is more of a collaborative that your first two albums? Are you the primary songwriter in the group?
OTEP: Yes, I will collaborate with anybody that I write a record with. I compose a lot. But I also try to welcome other artists in to offer their own meaning and their own thing on a particular message on the song we are trying to write together.
HRH: Also, what is so inspiring with The Ascension is that it was recorded post Katrina down in Louisiana. Tell us about that experience and how that affected the writing of the album. It must have been really a learning experience and life changing experience for you.
OTEP: Sure. I am from Los Angeles. We followed Katrina on the news; we saw the lack of reaction form the Bush administration. They completely neglected the victims of Hurricane Katrina all along the Gulf Coast. After awhile the news stopped covering it, I just assumed as most people did that people were being taking care of because in California we have natural disasters too. We have wildfires, mudslides and flooding. So when anything bad happens there, our government and the people rally together and they work to help other people out. When we landed in Louisiana, nothing had happened. There we bulldozers sitting out in the middle of a vast wasteland. There was no one in the city. I think there was one pharmacy that was still open like a Walgreen's and that was it. If you wanted to buy groceries you had to drive 45 minutes out of town. When you get there and actually see it, and you see boats under houses, you see entire blocks where there once were houses completely empty and all you see is empty foundation and cars overturned. Buildings with their windows completely blown out. You realize what these people were going through. Part of the reason we went there was to help the economy as well because our producer was there. We were inside this cafe people come up to us and they don't know whom we are, they think we are musicians. They say," We probably don't listen to your music unless it is country or western in which it is not but if you could please write a song about us. Don't let the world forgot about us. Because we are still hurting down here." Some people lost their families members. It was really eye opening, it was devastating. There was just so much pain and regret going on. It really gave a whole new spirit to the emotional energy that I tried to infuse on the record.
HRH: How is the music scene in New Orleans post Hurricane Katrina? I know rock and roll came from the blues. New Orleans has always been noted for being home of the blues. How are the musicians down there surviving? They must have been really devastated by this horrific event?
OTEP: Well they were. But that is one thing I can say that lived on was the musicians. We would go down to some of the nightlife area. Inside some of these clubs are musicians, some of them are blues some of them are jazz; some of them are just rocking out. A lot of these guys let audiences members who are musicians come up and jam, the spirit of that and music healing the mental health and emotional health of the people that survived it was so inspiring.
HRH: How did you come up with the title for your new album, The Ascension?
OTEP: Part of it is from being down there. Another part of it has to do is my hope for seeing our nation rise over the way the nation has been over the last eight years. A lot if it has to so with my own personal artistic philosophy that artists are suppose to evolve. A lot of it has to do with my own working class background where I believe that obstacles should be expected in life. I believe that through hard work you can overcome it.
HRH: Actually, would you say that Sharon Osbourne discovered you? She is a really strong figure in the music industry. Tell us about your initial meeting with Sharon. It must have been amazing.
OTEP: Well she definitely helped. There was already some talk in the Los Angeles scene about this new band that has come out of no-where. We had only down maybe three or four shows. We already had started to get a buzz and a fan base. It was really amazing. We just played at the Roxy. Backstage after the show was over, someone said to me Sharon is here to see you. I said I don't know anyone named Sharon. They said Sharon Osbourne. What could I say, I was speechless. They said Sharon wants to talk to you. I relently shuffled my way out the, I was a little bit shy. She hugged me and said," Otep, you are amazing and you are doing Ozzfest this year." I looked at her and said,"I don't have a record deal." Sharon said," We are going to make it happen." Luckily, we had a showcase with three different labels the next day. All of those labels knew of each other, so they all started the bidding war or what ever you want to call it. We did three different showcases and we got offers from one label, and I didn't really care for them. We did another one and they said we want to think about it. We did the last one for Capitol and they walked outside and got out their blackberry and came back inside and said Ok we would like to sign you guys. I was all for it. After looking at Capitol's rooster, I thought they really don't have any bands like us. But they have some incredibly artistic bands Pink Floyd, Radio Head, Led Zeppelin, The Beatles, so at least they would understand our artistic intentions. I thought that it was a good move for us as well.
HRH: Was it hard making the transitions from playing clubs to performing at Ozzfest in a large arena setting?
OTEP: We were only together about six months before we got signed. We got signed without a demo. We got signed after only four shows I believe. So going from transition to playing a club from playing to our first show of 50 people and our last show I think we had 250 people and then to go and playing to a stage of 15,000 people was a bit odd, exhilarating and at the same time I looked at that crowd and said this is my chance to conquer. I went out there with a feeling of self-victory in my heart and wanted to do everything that I can to impress them. Because nobody knew me, we didn't have a record out when de did Ozzfest. I wasn't. I would walk out their with a sense of I am going to give these people a taste of something new.
HRH: That is what Ozzfest is all about and you do a great job with it. Tell us about the current tour. What can the fans expect to see on this tour?
OTEP: The talent of bands on this tour is incredible. We have everyone from Sister Sin to Walls of Jericho and iLL Nino. Then you have a band like ours. You get a feast of al different sounds. We have an hour-long set. In-between songs, we do what we normally do which is poetry numbers. We are playing," Battle Ready," "Confrontation," "Breed," "Crooked Spoons," Home Grown" and "Ghost Flowers" plus a few other songs.
HRH: Have you ever thought about writing a band about your life story?
OTEP: It is so funny I get that a lot. I don't think my life story is that interesting. I do plan on writing probably another book of poetry. I have been putting together a book of illustrations of my own drawings.
HRH: Otep we want to thank you for giving Hardrock Haven the opportunity to discuss your new album and politics with you. We wish you the best of luck on tour.
OTEP: Thank you, I really appreciate it.
Visit Otep on the web: www.myspace.com/otep