Phil Demmel of Machine Head
by Cameron Edney
Guest Staff Writer —
From The Blackening, Unto the Locust with Machine Head's Phil Demmel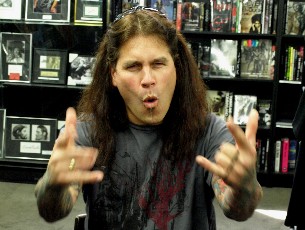 Heavy Metal giants Machine Head are one of the finest, hardest working, greatest live acts you will ever see walking the face of this planet and they have just released their brand new eagerly awaited follow up to 2008's The Blackening. For the past three years these heavy metal giants have been on the road in support of an album that critics and fans classed as the metal album of the decade, so to say that fans have been anxiously awaiting the release of Unto the Locust is an understatement. Featuring seven tracks, the band's latest album is much heavier, darker and more aggressive musically then anything they have done in the past.
Writing for the first time about more fictional characters and situations rather than from personal experiences, Machine Head take us out of The Blackening and straight into hell right from the get-go with the album's opening track 'I am Hell'; a nine minute epic that is broken up into three section's I: Sangre Sani (Blood Saint), II: I Am Hell, III: Ashes to the Sky. 'Unto the Locust' has been smashing charts all over the globe peaking at number twenty two on the American Billboard charts and smashing charts in Germany, Finland, New Zealand, Japan, Sweden, not to leave out right here in Australia where they entered the charts at number ten; not too bad for a Heavy metal act that most average folk would never give the time of day!
Earlier this year Machine Head were supposed to return to Australia taking part in the Soundwave Revolution festival bill which was to be headlined by Van Halen, unfortunately those shows were cancelled with many of the bands billed now confirmed to take part in the 2012 Soundwave Festivals come February. With a massive sixty two band line-up the 2012 Soundwave Festival recently confirmed the return of bands such as Slipknot, System of a Down, Marilyn Manson and the mighty Machine Fuckin Head as they are best known. Due to take place around Australia in February and running into March, the 2012 Soundwave Festival's will undoubtedly go down as the best shows to hit Australia all year long! I recently had the pleasure of catching up with the bands extremely talented guitarist Phil Demmel to discuss the band's new album, having his son featured on one of the bands new songs, his thoughts on the recently cancelled Australian shows with Van Halen and more!
Kick back as escape 'The Blackening' and head 'Unto the Locust' with Phil Demmel: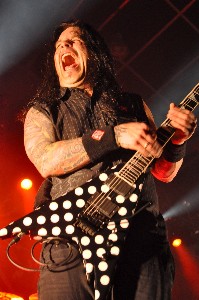 Hardrock Haven: Hi Phil, thanks for putting some time aside to speak with us today, congratulations on the brand new album Unto the Locust you must be thrilled with the outcome?
Phil Demmel: Yeah absolutely, we knew we had a lot of special songs putting them together; we went into the studio with nine and came out with seven. We broke the first song into three, we knew we had some special stuff, some different stuff and we all felt really stoked about it. It's been really well received so far.
Hardrock Haven: Robb [Flynn] had made it very clear in statements surrounding the new album that fan's shouldn't expect The Blackening Pt. 02 as you never set out to write the follow up to it, so how do you hope the fans take to the new album and what do you hope they will take away with them after listening to it?
Phil Demmel: I hope they just take it in and understand what the record's about. There are a lot of emotional songs on this record, trying to convey a lot of the feelings that we as people feel. It's obviously a Machine Head record with all the Machine Head elements in it, but there's also new element's that we're introducing too. I hope that people read the lyrics and understand what the songs are about, we're a very honest band and speak from the heart, we translate what we're feeling into our music and I think the fans will pick up on that!
Hardrock Haven: The last time I caught up with you was backstage during the very last show of The Blackening tour and we spoke about how you were missing your son and counting down the hours to see him, fast forward to now and your son is singing on the new album, tell us how that all came about?
Phil Demmel: Robb had demoed a couple of songs that he had written before I joined in the writing process. I was going through some stuff that had taken me away from the writing process and Robb and Dave [McClain] got together and wrote 'This is the End' and 'Who we Are' and had demoed both those songs in pre-production. Robb had bought his and our engineer [Juan Urteaga] kids in to sing; so we had these kids singing this classroom choir part and for the album recording we bought the same kids in and I bought my son down to the studio to record it as well; but he clammed up and got a little shy. He was more interested in watching Robb direct the other kids so I took him home. Robb was really pushing to have him on the record, he was saying "I really wanna have him on the record man, let's try to get this happening" so I shut him in a room by himself for a little while with the chorus looping over and over again, he had the headphones on and I had to leave the room but he ended up singing it through one time, and that was enough to get it out of there. I am so proud, after my long music career, to have my son sing on the record with me, it's a very proud moment and I'm really glad that Robb pushed to have it happen, it's really special!
Hardrock Haven: It is really awesome man, when you guys began to hit the studio and work on the new songs you began to post up small You Tube videos, showing fans what was happening in the room and one thing that stood out for me was the posters you all had up for "inspiration," from Judas Priest to Kiss and Iron Maiden. How much drive and inspiration did those posters give you? How much do you think looking up at all those posters of your heroes affected the overall outcome of the new album?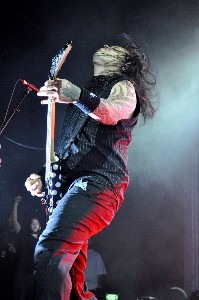 Phil Demmel: It has a resonating effect! I put some other ones up too on my side that you can't see; I had Phil Lynott up there, Metallica with Cliff [Burton], Angus from the Bon Scott era AC/DC up there. We wanted to create that classic and epic record and they were the masters, those were the ones that did it and we wanted to fill up the air with the vibe of that. When we got into the studio I had my original Number of the Beast and Screaming for Vengeance tour programs and Robb would put up different pictures… "Who's going to be our inspiration for today…? Clive Burr". There were all these pictures of these classic metal bands, we really drew a lot of inspiration from that; you can really hear the [Judas] Priest influence I mean shit, we do 'The Sentinel' on this as a cover for a b-side. You can hear the classic [Iron] Maiden, you listen to a song like 'Be Still and Know' and that sounds like Maiden totally!
Hardrock Haven: Phil, moving on to touring as everyone is aware you guys were supposed to visit us last month as part of the cancelled Soundwave Revolution that had Van Halen headlining. When news spread that Van Halen had cancelled it seemed that most of the bands found out via social media sites before the organizers could reach everyone, was this the case with you guys and what was your reaction to the news?
Phil Demmel: Stupid Van Halen not getting the right colored M and M's or whatever the fuck happened! We were really looking forward to that run; it was looking like it was going to be a lot of fun! We were on the Rockstar Mayhem Tour with a lot of bands that were going to be on that tour like Unearth, Hatebreed and some other bands that were stoked about it. Someone from the Van Halen camp had told me that it was being cancelled but to keep it under my hat so I had known about it for about a week or so before it came out. I told the band and other bands were walking up saying how excited they were about it and I was all "well, a little birdie told me it's not happening" and slowly the rumors came to truth and everybody was just bummed man! Getting to play with classic Van Halen is a once in a lifetime event and since it's not going to happen again Fuck You Van Halen!
Hardrock Haven: Phil, you're no stranger to playing here in Australia, Machine Head love it here, and we love having you guys down here. When you look back now on all the past Aussie tour what comes to mind as your favourite memories?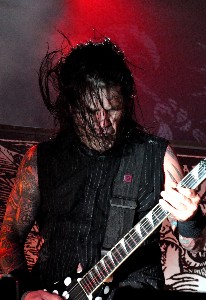 Phil Demmel: Ah man we've had so many good runs there, the Ashes run was my first time there and being on the shores of Perth and swimming in the ocean was awesome. Melbourne during Halloween on the Black Crusade tour where I dressed up like Britney Spears from the 'Hit Me One More Time' video; the two nights we did at Luna Park in Sydney on that tour was amazing. The after party after the Sydney show was just crazy, Led Zeppelin type stuff, all the shows have been awesome, doing the huge arena tour with slipknot was great, we love it down there, good times man! I met the girl of my dreams in Australia the last time we were down there. One of the greatest things that has ever happened to me was on that run. I have very special memories of Australia and knowing that I was in love for the first time when I was in Brisbane!
Hardrock Haven: Mate, just before we do wrap this up, you will be back in Australia early next year for the Soundwave Festival's, the new album is out now and doing very well, what other immediate plans are in place for the band?
Phil Demmel: We're doing a headlining run with Devildriver, Bring Me the Horizon, Darkest Hour through November and December in arenas throughout the UK, this will be our most ambitious run yet overseas.
Hardrock Haven: Well Phil, I hope it goes very well for you guys! I also want to thank you again for your time today; it's always a pleasure man! Do you have any last words for our readers?
Phil Demmel: Australian fans have always been so good to the band; we've had such a great relationship with them all down there. Thank you Australia for supporting Machine Head, we can't wait to get down there and make up for this Van Halen fuck up and tear up Australia one more time!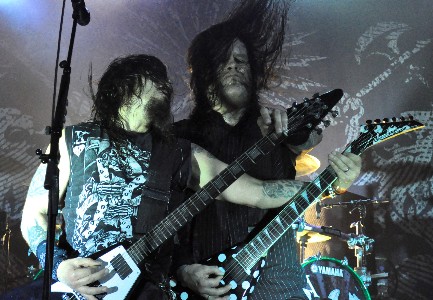 Photos courtesy of Cameron Edney