Rob Mancini | Rock 'n' Roll Circus
by Nikiforos Skoumas
Staff Writer —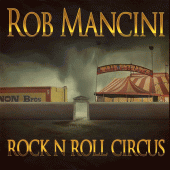 Rock'n'Roll Circus is the brand new debut album by German-Italian producer/guitarist Rob Mancini. Being active since the '90s as a recording artist in melodic hard rock, Mancini served in such bands as Hotwire and Crush. The musician has since resided in Ireland where he performs live time and time again.
2011 finds Rob ready to test the waters of the music industry with Rock'n'Roll Circus, not just his first solo album, but the songwriter's first attempt at guitar driven AOR. The guitarist and producer seems to be entirely responsible for the development of Rock'n'Roll Circus, having played most instruments, sung on all songs while also having composed and engineered the offering in its entirety.
Music-wise Rock'n'Roll Circus references directly such German AOR/melodic rock bands as Frontline and Shylock while Mancini's vocals sound like a mixture of Michael Bormann and John Sykes. It has to be clear that Rob's debut is big on guitars; the six-string riffs are thick, establishing a clear presence at the front of the mix. Never the less, Mancini positions himself primarily as a songwriter and as such understands the importance of delivering, first and foremost, catchy compositions with instant appeal. For that he chooses no to use more guitar parts than necessary, commonly compensating with keyboard harmonies which are just as big part of Rock'n'Roll Circus sound as the vocals and guitar. Having said that, rest assured that Rob delivers lengthy guitar solos and each and every song, his lead guitar work shines throughout Rock'n'Roll Circus.
Fans of melodic rock should definitely not judge this release by its plain cover as it very much holds its own in the competitive and ever expanding AOR world. Take "Edge of a Broken Heart," a song built on such infectious guitar melodies and vocal harmonies that should have hit the radio on a "dozen-times-a-day basis." "Stranger in Paradise" is the protestant melodic rocker having equal mainstream appeal as the previous track, followed by the sensationally dramatic "Too late to die." One also finds that Rob has not neglected to deliver a handful of hard rocking songs much like the title track and "Lay Down the Law."
Clearly albums such as this deserves the backing of leading labels of the genre and could have developed into an international highlight in 2011 melodic rock had it been supported by professional management. One can only imagine what greatness Mancini is capable of if given proper support and budget. Rock'n'Roll Circus is indeed the melodic rock underdog of the year.
Genre: AOR / Melodic Rock
Line-up:
Rob Mancini – Vocals, Guitars & Programming
Unlisted session musicians
Track Listing:
01. Carnival Of Fools
02. Rock 'N' Roll Circus
03. Edge Of A Broken Heart
04. Everytime You Cry
05. Running Up That Hill
06. Lay Down The Law
07. Weak As I Am
08. Stranger In Paradise
09. Too Late To Die
10. United We Stand
11. Time Stops For No One But You
12. Edge Of A Broken Heart (Radio Mix)
Hardrock Haven rating: 8/10