Robin Beck | The Great Escape
by Nikiforos Skoumas
Staff Writer —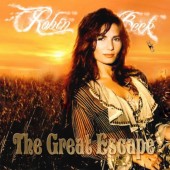 The Great Escape is the eighth studio album by female melodic rock queen Robin Beck and the fifth since her comeback as a recording artist in 2003. The Great Escape is essentially a musical triangle featuring Robin Beck on lead vocals, James Christian on bass and Swedish melodic rock authority Tommy Denander handling all guitars (having also contributed lead guitars on the latest House of Lords album Big Money).
With Christian's outfit, melodic hard rock powerhouse House of Lords putting out a genre highlight every two years it is easy for one to forget that James remains committed to supporting Robin on her solo works. And indeed besides a music visionary that is James and a great songwriter which is Denander, you don't need much else to craft a solid melodic rock/AOR album.
Though you would expect that Beck puts on a stellar vocal performance similar to her previous albums, one has to address that her vocal tone and range seem not to have changed over the past twenty years which is no small feat for any singer. The melodic rock heroine delivers the collection of songs found on The Great Escape with undeniable charisma, bringing to front those vibrant mid-range vocals that established her as a powerhouse in hard rock/glam metal in the late '80s.
The Great Escape is far-more guitar driven than what one would expect, since Denander makes his presence felt on each and every song with his trademark riffs and melodic soloing. The album opens on "The one" a classic-as-it-gets melodic rock composition that could have found home on any Robin's previous solo albums. Having mentioned above that the trio of Robin, James and Tony are more than enough to deliver a memorable album, The Great Escape actually holds an additional surprise for the lovers of the genre in track 4. "That all Depends" is a duet between Robin and the prince of AOR Joe Lynn Turner, an up tempo melodic rocker built on quick dialogues that bring to one's mind Meatloaf's chart-wrecking duets. There is one more duet to be found on the album, non other than the ballad "Till the End of Time" where Robin is joined by James in this slower tune, being probably the album's most romantic moment.
Overall, The Great Escape is a complete musical proposition by Robin and company that scores on both songwriting and performance, also featuring an admirable cast of musicians all protagonists of the contemporary melodic rock scene. Fans of Issa, and Alyson Avenue should definitely try The Great Escape.
Genre: Melodic Rock / AOR
Band:
Robin Beck- Lead & Backing Vocals
James Christian- Bass & Vocals
Tommy Denander – Guitars, Keyboards
Track List:
01. The One
02. Got Me Feelin Sexy
03. Inside Of Me
04. That All Depends
05. Baby I'm Not A Bitch
06. Everything Is Alright
07. The Great Escape
08. Don't Think He's Ever Coming Home
09. Cross My Heart
10. All The Rivers
11. Till The End Of Time
Hardrock Haven rating: 8/10