by Justin Gaines
Staff Writer —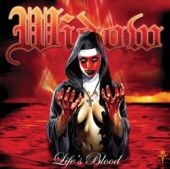 It's been far too long since North Carolina's traditional metal kings Widow have graced us with a new studio album. In the years since 2007's Nightlife, we've seen a major resurgence in old school, traditional heavy metal, both here and abroad. Widow was carrying the banner for traditional metal long before the so-called New Wave of Traditional Metal took shape, and they remain one of the best bands in that scene. Their latest album is called Life's Blood. It's the band's fourth album, and first for Pure Steel Records. It's also the best album they've ever released.
Widow has always been a band that wore its influences proudly, and that's evident on Life's Blood. You can hear the classic sounds of Iron Maiden, Judas Priest and even Mercyful Fate and Crimson Glory here, but with that infectious energy that this band always brings to the front. Life's Blood is just one powerful melodic metal anthem after another, starting with the wicked "Lady Twilight." Aside from the more sedate (but still metal) "Another Fallen Angel," every song will have you raising your fist and banging your head, none more so than "Take Hold of the Night," which is the album's best track and the kind of metal anthem that takes you back to the glory days of the Headbangers Ball.
Now, if you're familiar with Widow, you know that none of this is really new. They always deliver high energy, old school metal anthems with plenty of power and melody. This time around though, everything just seems one big step ahead of past efforts. Everything from the riffs to the melodies to the rhythms to the vocals to the overall songwriting to the production/mixing/mastering and even the cover artwork is amazing. Everything came together perfectly for this near-flawless album.
Until now, Twisted Tower Dire's latest album Make It Dark was the top contender for 2011's best traditional metal release. With Life's Blood, Widow not only outdid themselves, they also delivered one of the best metal albums 2011 has to offer. If you're a fan of the new crop of traditional metal bands – White Wizzard, Cauldron, Enforcer and the like – and haven't yet heard Widow, it's past time to remedy that, and Life's Blood is the perfect introduction to the band.
Genre: Heavy Metal
Band:
John E. Wooten IV (v) (b)
Christof Bennett (g) (v)
Peter Lemieux (d)
Track Listing:
1. Lady Twilight
2. In Dreams
3. Take Hold of the Night
4. Another Fallen Angel
5. Embrace It
6. Behind the Light
7. The Burning Ones
8. Live Beyond
9. Judgment Day
10. I Scream for Ice Queen
11. Remembering
12. The One I Know
Label: Pure Steel
Website: www.widowusa.com
Hardrock Haven rating: 9.5/10