Work of Art | In Progress
by Nikiforos Skoumas
Staff Writer —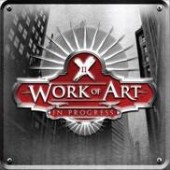 Swedish AOR/melodic rock group Work of Art caused quite a stir in 2008 with the release of their debut album Artwork and has since been regarded as one of most promising newcomer AOR acts. Work of Art is essentially a musical trio featuring lead singer Lars Safsund, guitarist/keyboardist Robert Sall and drummer Herman Furin. Since their debut, Work of Art members have been rather sought after musicians, having participated in various acclaimed projects within the melodic genre.
Robert Sall has been a key contributor to the hit AOR project W.E.T. while also performing and composing on the simultaneously released X-Origin debut. Lars Safsund has lately fronted Italian AOR super-group Lionville on their sensational debut.
Even though press and fans awaited enthusiastically the release of a Work of Art follow-up, a more skeptical party would question whether a new WOA album could match the artistic standards of their debut, bearing in mind members' involvement in external ventures.
Well, much like Artwork, W.E.T. and Lionville the new WOA album In Progress is a superb creation taking their established songwriting formula to the next level. The melodic lines and choruses are more extensive than ever with a clear direction towards a heavier, though equally appealing and popular style of melodic rock.
Above all, performance intensity is the name of the game on WOA's new album, guitars and keyboards exchange harmonies and rhythm in quicker succession than before. In addition the guitar and keyboard layers have also been increased without however complicating the compositions, simply making the choruses all the more climactic.
In Progress is track-after-track AOR brilliance that waists no time, "The Rain," "Nature of the Game," "Once Again," and "Never Look Again" are indeed instant classics, bound to set new standards for the genre. In good tradition, the album features a song named after a girl in "Emelie," never forgetting the powerful video-single that is "The Great Fall." The airplay potential of this album is endless, since just about every song on offer could have served as a single.
Another sign of WOA's brilliance is to be found on the lyrics being neither pessimistic nor optimistic. In a similar sense it is equally hard, even for an experienced fan, to decide whether the melodies are major (happy) or minor (sad) on any given song.
Once again WOA have delivered a landmark in melodic rock/AOR that should appeal to any fan the genre. If there is one band that has the potential to make the genre accessible to a wider audience that is definitely Work of Art.
Genre: Melodic Rock / AOR
Line Up:
Lars Säfsund – vocals
Robert Sall – guitars, keyboards
Herman Furin – drums
Track Listing:
The Rain'
Nature Of The Game'
Once Again'
Never Love Again'
Eye Of The Storm'
Until You Believe'
The Great Fall'
Call On Me'
Emelie'
Fall Down'
Castaway'
One Step Away
Label website: Frontiers Records/
Hardrock Haven rating: 10/10