Aaron Wiig of The Stone Chiefs
by Deb Rao
Staff Writer —
Hardrock Haven is proud to present an interview from up and coming new band The Stone Chiefs. The Stone Chiefs has just released their debut Drive On. As you can tell from the title, Drive On is full of catchy guitar riffs and hard driving vocals. The Stone Chiefs have a Southern rock appeal that is reminiscent of The Black Crowes. Aaron Wiig has check in with Hardrock Haven to discuss the birth of the band and new debut Drive On.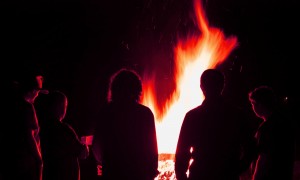 HRH: Aaron, Thank you for checking in with Hardrock Haven. Tell us a little bit about your debut album Drive On and the writing process that transpired during the release.
Aaron: Thanks for having me. The Stone Chiefs are really proud of Drive On. We took our time recording the album, spending about a year in and out of the studio tracking, marinating, revising, and tracking some more. Several tunes recorded very quickly, others required more digging. There is enough raw energy and soul on this record to fuel a freight train.
The Stone Chiefs are unique in that we have four songwriters in the band and three potential bass players. This results in an impressive amount of flexibility when it comes to bringing ideas to the table and showcasing playing styles that complement each other very well. The guitar players have known each other for decades. We know how to work together to get the best out of a song. The actual songwriting runs the gamut of a person showing up with a song complete to virtually everybody in the band pitching in to craft a tune starting from a riff or vocal melody idea. It just depends on the tune. With this said, Dallas is the main songwriter in the band. He's the front man lyricist and also writes many catchy melodies. He also is very open to everybody else ideas and recognizes a good song when he hears one.
HRH: Drive On has a huge Southern Rock appeal. Were you influenced by The Black Crowes and Kings of Leon at all?
Aaron: Oh yes, two of my favorite bands. Lots of folks pick up on The Black Crowes influence, which I consider a compliment. The Stone Chiefs are a guitar and vocals driven rock-n-roll band. We're not creating any new genres. We have a unique sound, but aren't afraid to tap our roots to keep us grounded.
HRH: As a guitarist, do you find that guitar solos are once again popular?
Aaron: For me guitar solos never went out of style. The music I listen to the most has always had a heavy guitar presence with frequent solos. There have been very popular bands embracing guitar solos since rock began, even in the past decade. Sure, maybe not like Southern Rock or Prog in the '70s and hair bands in the '80s, but the folks out there that play their instruments with skill for a living have always been around. What is considered popular cycles round and round. One key to happiness is not paying attention to any of that shit. Just play what you want to play and listen to what you find interesting cause life is short. If a musician is constantly chasing what is viewed as popular they may as well drop their original music career and join a cover band. Are guitar solos popular again? Hell, I don't know…and I don't really care.
HRH: What kind of guitar did you use in the studio to get that Southern rock ambiance?
Aaron: We used a variety of guitars:
1972 Black Beauty Les Paul (lots of action. David Arnn's main axe on the record)
Vintage Epiphone Riviera that I borrowed from a buddy
Customized Epiphone Sheraton II
Several Fender Stratocasters– my favorite is an early 90s Strat plus with Lace Sensors and a mean as heel DiMarzio humbucker in the bridge position.
The two guitars I played the most on the record by far were the Sheraton II and the early '90s Strat Plus.
The amps we used had just as much influence on the ambiance as the guitars. On this record we played through Dr. Z Carmen Ghia, Dr. Z Maz 18, Budda, Marshall, and Fender heads through a variety of custom cabs and an Orange 4×12 cab. Speakers and mic technique specifics may as well remain a secret.
HRH: The Stone Chiefs hail from North Carolina. How did you all get together?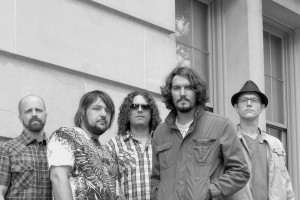 Aaron: David, BT, and I met in college. David and I ended up as random freshman roommates who just so happened to both play guitar and love the same music. We bumped into BT through mutual friends and spent our time trading licks and messing around. We jammed in various bands over the years until David ran across Dallas in some other band. The three of us promptly decided we needed to convince Dallas to play with us subsequently resulting in Dallas ditching his other band. After parting ways with one drummer we came across Twig, who impressed us with his skill so much that we suspended subsequent auditions and offered Twig the spot. We got a more detailed description on our bio page at thestonechiefs.com/bio.
HRH: What was it like working with producer Jeff Creed?
Aaron: Jeff was great. He opened up his home and let us come and go as we pleased. He knew when to make suggestions and when to let the band just work it out. He suggested Barbara Weathers for backing vocals and Chris Johnson on keys. He was very involved with inspecting the tracks and making sure we stayed the course when it came to recording quality tones. I would work with Jeff again in a heartbeat. He's a cool cat and I have much respect for his approach.
HRH: The band is currently on tour. How is the tour going so far?
Aaron: We've had some really fun shows this summer/fall and played on big stages. We played our first stadium in Greensboro, NC with Grammy-winning artists. We also kicked off a show at the Raleigh Amphitheatre in downtown Raleigh, NC. The rest of the year takes us to other venues around North Carolina. Later this year we are taking some time off for the holidays and then we hit it again in 2012 focusing on regional festival dates and club gigs.
HRH: As a young band in the business, what do you hope to accomplish with your unique sound?
Aaron: Although this is the first The Stone Chiefs album, the players have been around the block with several bands. We realize that The Stone Chiefs is by far the best band that any of us have been involved with, so we want to take this one all the way. What do we hope to accomplish? How about a world tour of packed houses with guys shoving fists in the air to the rockers and chicks singing along to the ballads. After the show folks leave happy and get laid.
HRH: Is there anything else that you would like to say about Drive On?
Aaron: Drive On is solid from start to finish. If you check it out and don't like the first two songs … just keep going to some other tunes on this record. There is something for everybody on this record. The variety of tunes on the album is refreshing. Give it a listen, you'll see what I mean.
Visit The Stone Chiefs on the web: thestonechiefs.com