Charred Walls of the Damned | Cold Wind on Timeless Days
by Justin Gaines
Staff Writer —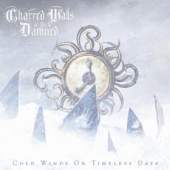 Cold Winds on Timeless Days is the second album from Charred Walls of the Damned, the super-group (of sorts) featuring drummer Richard Christy (ex-Death, ex-Iced Earth), bassist Steve DiGiorgio (ex-Death, ex-Control Denied), guitarist/producer Jason Suecof and of course vocalist Tim "Ripper" Owens (ex-Iced Earth, ex-Judas Priest). Their self-titled debut was one of last year's better heavy metal releases, so expectations were high for this follow-up.
While the cover artwork for Cold Wind on Timeless Days seems more fitting for a progressive metal album, Charred Walls of the Damned actually seems to have taken their sound in a more power-oriented direction. There's still something of a darker, Nevermore/Communic vibe to the songs, but for the most part Cold Winds on Timeless Days sounds like an Iced Earth or Demons & Wizards album. No, Seucof isn't laying down the Jon Schaffer-style riffs, but the overall tone, song structures and especially the huge layered vocals are very much in that style. As with the debut album, it's the rhythm section that steals the show. It's jaw-dropping what Christy and DiGiorgio can do, and they easily overshadow a very solid, very nuanced performance from Owens.
The only real drawback here is that while the album checks all the required boxes – musicianship, vocals, production, etc. – none of the songs really stand out or stay with you once the album ends. You can get into the album as a whole while it's playing, but afterwards there just aren't any songs from Cold Winds on Timeless Days running through your head. This may be a side effect of the emphasis on rhythm over melody.
Cold Wind on Timeless Days is a solid heavy metal album overall, and one that will not disappoint fans of the first Charred Walls of the Damned album. It's definitely not an essential release, but if you're a fan of any of the parties involved (especially Christy and Owens' previous work in Iced Earth), it is worth checking out.
Genre: Heavy Metal
Band
Steve DiGiorgio (b)
Richard Christy (d)
Jason Suecof (g)
Tim Owens (v)
Track Listing:
1. Timeless Days
2. Ashes Falling Upon Us
3. Zerospan
4. Cold Winds
5. Lead the Way
6. Forever Marching On
7. Guiding Me
8. The Beast Outside My Window
9. On Unclean Ground
10. Bloodworm
11. Admire the Heroes
12. Avoid the Light
Label: Metal Blade
Website: www.myspace.com/charredwallsofthedamned
Hardrock Haven rating: 7/10