Dream Theater | Live At Budokan
by John Kindred
Staff Writer —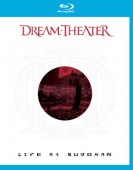 Dream Theater Live at Budokan was originally released on DVD. Eagle Rock Entertainment has repackaged and re-released Live at Budokan now on Blu-ray, again taking advantage of the superior audio and video presentation of the format. The Blu-ray delivers an audio and video experience in widescreen format and provide three choices for listening; Dolby Digital 5.1, DTS HD Master Audio, PCM Stereo.
The concert was originally firmed in '04 at famous Budokan in Tokyo, Japan. At the time Dream Theater were touring in support of the '03 Train Of Thought studio album. The set list reflects this but the band did perform other songs from their back catalog of music as well. 18 songs are featured and showcase the talents of the band on stage in an arena setting. Songs featured include: "Pull Me Under," "Trial of Tears," "Solitary Shell," "Disappear," and "In the Name of God."
The visual presentation shies away from split screen or additional effects to distract the viewer. Plenty of close ups allow the viewer to see Rudess and Petrucci shredding away. The picture quality is crisp and clear. The audio is also top-notch, the instrumentation is well mixed and everyone in the band is clearly audible.
The Blu-ray is chalk full of special features including:
• Riding the train of thought Japanese tour documentary
• John Petrucci guitar world
• Jordan Rudess keyboard world
• Mike Portney dream solo
• The Dream Theatre chornicles 2004 tour opening video
• Instrumedley multiangle bonus
As the band moves forward without Mike Portnoy, Live at Budokan allows fans a ticket to time travel back and hear this lineup of the band delivering their form of progressive heavy metal. The energy of the performance is felt even though you are sitting at home watching the concert on your TV, you feel like you're there. The clarity of the Blu-ray experience works well for the band to present their technically challenging music for fans to see and hear. The flawless execution of their music flows out of the 5.1 speaker setup, expanding to fill up the room with sound.
Band:
James LaBrie (v)
John Petrucci (g)
Jordan Rudess (k)
Mike Portney (d)
John Myung (b)
Track Listing:
01. As I Am
02. This Dying Soul
03. Beyond This Life
04. Hollow Years
05. War Inside My Head
06. The Test That Stumped Them All
07. Endless Sacrifice
08. Instrumedley
09. Trial of Tears
10. New Millennium
11. Keyboard Solo
12. Only a Matter of Time
13. Goodnight Kiss
14. Solitary Shell
15. Stream of Consciousness
16. Disappear
17. Pull Me Under
18. In the Name of God
Label: Eagle Rock Entertainment
Hardrock Haven rating: n/a