by Cameron Edney
Guest Staff Writer —
Swedish Metallers Opeth Take a New Direction with Heritage
In Mid-September Swedish metallers Opeth will release their tenth studio album via roadrunner records titled Heritage. Not only does this mark the band's return to the studio following up from their critically acclaimed 2008 masterpiece 'Watershed' but it's also the longest gap the band has ever had between studio release's solely due to the mass success that followed 'Watershed'. Having approached Heritage in a different way musically to some of the bands better know albums, some Opeth fans may be surprised to learn that there is very little vocal growling on this album, the band had stripped it back musically going for a more seventies hard rock feel rather than another heavy, dark metal album.
No doubt some fans will embrace the bands new direction and others may be offended but one thing's for sure and that's Opeth are always willing to push the boundaries and will answer to no one! I had the pleasure of recently catching up with the bands guitarist Fredrik Åkesson who was playing in Arch Enemy before becoming a full-time member of Opeth in 2007. I spoke with Fredrick about the brand new Opeth album, the musical direction they're taking and if he's worried about a back lash from some fans once hearing the new songs! Fredrick was certainly honest and open during the conversation as you will see below!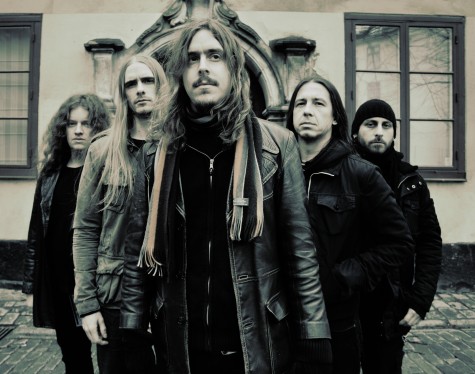 Hardrock Haven: Fredrick, it's fantastic to speak with you tonight, how's everything been going?
Fredrik Åkesson: Really good, we're doing festivals right now here in Europe then heading off to Canada for some shows, its all going well.
Hardrock Haven: That's great to hear… congratulations are in order Fredrick, the new Opeth album Heritage is amazing! You must have been really proud of the outcome?
Fredrik Åkesson: Yeah, we are we're really pleased with it. It's a great recording.
Hardrock Haven: Heritage is album number ten for Opeth and musically it's a little different to previous releases, going into pre-production for this one, was the direction something that was talked about or was it just one of those magical moments that just happened?
Fredrik Åkesson: Mikael [Åkerfeldt] started off writing two songs and they were more or less a continuation of Watershed and then he deleted those tracks and felt that he needed to do something new, he wanted a new fresh angle. He said that he didn't want to do so much of the growling and I said "whoa are you really sure about that?," I went over to his house and listened to the songs and there just wasn't any room for growling on these tracks and then I realized that it was Mikael's mission for this record which I thought was really cool.
Hardrock Haven: What did you hope the fans will get out of this one after blasting it, were you worried that there may be a backlash of negativity because of the musical direction you guys have taken?
Fredrik Åkesson: I'm not really worried; I think Opeth fans are really open-minded. There's always going to be some haters and some lovers but I think if you give the album a few listens you will notice that it opens and it grows. Just like Damnation did for many before; that was a totally different album, very intense!
Hardrock Haven: When the time came to lay down the guitar tracks and all the technical solos, effects and melodies did you have a clear idea of what you wanted to capture of did it happen more spontaneously in the studio?
Fredrik Åkesson: We knew that we wanted to have a different approach for the guitars. We tried to ease back a bit from the distortion and we wanted to have more of a single chorus sound for the rhythm, the heavy riffs were played with a neck pick up, not all of them but quite a few. We had a bunch of guitars in there and different amps, and if we wanted to have an echo on the guitar we had this old effects pedal, so we decided to record the parts with effects.
Hardrock Haven: How long did it take you to lay down all your parts in the studio?
Fredrik Åkesson: For the heavy guitars Mikael and I played one guitar on each side and that was pretty fast, it took us just one day, I think also one day to lay down the acoustics. We spent a little more time working on solo's and improvising on different parts but all up maybe three or four days.
Hardrock Haven: I felt the album had a more straight seventies Hard Rock feel to it, rather than some of the bands darker, heavier work from years past, and you notice almost instantly that there is less distortion, no growls just a whole different vibe overall. Was that something you guys really want to explore more, that straight ahead rock feel?
Fredrik Åkesson: Yeah exactly, we wanted to do a different recording, no sound effects, we wanted a more organic album, not a wall of distortion; we really wanted to ease back on the distortion. We recorded the bass and drums live and we did spend a lot of time getting some really good takes together; the guitars were done pretty fast, the keyboards we used were older Hammond's and an old piano, we didn't use any modern keyboards at all. This particular studio that we recorded in had an echo chamber, which is a room with different wall angles and the reverb is really cool to add to the feel of the music.
Hardrock Haven: Considering Heritage is a little left-field when you look at Opeth's previous work, do you think that added extra pressure on you all in the studio or was it a welcomed relief to get in there and do something different?
Fredrik Åkesson: It was exciting, the process was really smooth, and we didn't actually rehearse as much as before. Mikael does really good demos, everything's really thought out when it comes to rhythm parts and melodies, so when members start to record with the bass and drums they play along to the demo. This way Mikael can still hear the vocal lines when he lays the drums, so he can add to certain parts or here if anything is going to clash with the vocals.
Hardrock Haven: Fredrick, you're about to return to Australia and you've been here a couple of times now, with Arch Enemy and Opeth. What fond memories do you have from your previous Australian visits?
Fredrik Åkesson: All good ones really, the crowd is always amazing and intense. The weather is always nice and usually we get a couple of off days and it's always nice to have a day off and relax in Australia. I've played in five different Australian cities so far!
Hardrock Haven: Having toured around the world for so many years now, what have become your favorite countries, cities to play? What are the stand-out places for you to visit?
Fredrik Åkesson: I don't want to blow smoke us your ass or anything but Australia is definitely number one. That's for everybody in the band, we don't often get a couple of days to relax and we usually get that in Australia, we love it there. The other guys really love New Zealand too, I've never been there and I'm hoping we will get there on this next tour. Japan is always fun to play too because it's so different.
Hardrock Haven: Over the years you've shared the stage with many great artists, whilst on tour who's given you the best advice and what was it?
Fredrik Åkesson: I think it may have actually been one time when I was playing with Arch Enemy, no it was with Opeth and I was talking with Doug Aldrich from Whitesnake. I was so nervous that day and usually I don't get nervous but he turned to me and said "just go up and have fun", and he's right, just go up and have fuckin fun!
Hardrock Haven: Well it really is great advice, there is nothing worst then seeing a band onstage that doesn't want to be there and hates every minute of it, it really comes across to the crowd!
Fredrik Åkesson: Yeah exactly, if you're not enjoying it anymore then that's the day you should quit!
Hardrock Haven: Mate, before we wrap it up as we mentioned Heritage is out now and you're hitting the road hard in support of that. What other immediate plans are in place for yourself and Opeth?
Fredrik Åkesson: Doing this massive tour, I think we're going to tour for eighteen months. We will be doing another American run, then we have the summer festivals next year, Europe again, hopefully Australia again too!
Hardrock Haven: Fredrick, thanks again for your time tonight, it's been great chatting to you and all the best of luck with the new album and tour. Do you have any last words for our readers?
Fredrik Åkesson: We hope you enjoy the new album and we hope to see you again soon on the road!