J.R. Blackmore & Friends | Voices Part 1
by John Kindred
Staff Writer —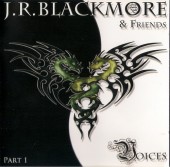 J.R. Blackmore, son of the legendary Ritchie Blackmore, continues his own journey as a musician. Whether graced with his father's musical genius through heredity or simply a man who has spent years honing his craft and art, J.R. Blackmore is a virtuoso of his instrument of choice, the electric guitar. After six years, J.R. Blackmore finally follows up 2005's Between Darkness & Light with 2011's Voices Part 1.
However, J.R. Blackmore has not been resting on his laurels. Joining up with Joe Lynn Turner (vocals), Tony Carey (keyboards), Greg Smith (bass) and Bobby Rondinelli (drums) in '08, together, they formed Over the Rainbow, performing the music of Rainbow and touring the world. In 2010, J.R. Blackmore, along with ELA and Tony Carey, formed EBC Racing Team and released the studio album Winners.
Moving forward to 2011, J.R. Blackmore wrote and recorded Voices Part 1 alongside Paul Morris (Doro, Rainbow) on keyboards, Danny Miranda (Queen, Meat Loaf) on bass and Charly Zeleny (D-I-O-N) on drums. They created 10 new songs that reflect J.R. Blackmore's classic hard rock influences, his flair for neo-classical phrasing, his experimentation with hints of Mid-Eastern and Oriental instrumentation, his sense of melody and his love of heavier, almost metallic, riffs. Once the music was recorded, J.R. Blackmore moved forward with adding the "Voices" to the compositions. Here is where the "friends" come in to play as the album features: Markus Engelstädter, Cathrine Jauer, Oliver Hartmann, ELA, Dave Esser and Michael Bormann on vocals.
Voices Part 1 has a majestic, almost old-world feel, that places the listener at ease while enjoying the music. Layers of instrumentation give the album a full-epic-vibe; melody runs rampant throughout the CD, and the vocal performances combine to push the compositions to a higher plain. After hearing J.R. Blackmore's instrumental studio release, Between Darkness & Light, it is nice to hear his instrumentation accompanied by vocals. Each singer adds his own vibrant spin of melody sung over the music bed provided by J.R. Blackmore and company. Although each voice is distinctly different, the music holds the continuity of the songs together.

Voices Part 1 is an album that stands up well against J.R. Blackmore's peers. Even when utilizing multiple vocalists, the music doesn't lose any of its finesse or melodic structure; the threads never unravels. It's hard to say who shines the most: Engelstädter, Hartmann, Esser and Bormann deliver fine vocal performances, and ELA's feminine voice is a nice contrast to the men. If the first three songs, "Voices," "Guardian Angel" and "Beethoven," don't have you hooked, then the rest of the music will be falling on deaf ears.
Musically. you get what you expect from anyone with the Blackmore surname, well, anyone from this specific family of Blackmores, that is. The compositions are written and arranged in a manner that is pleasing to the ear. J.R. Blackmore shines when he takes his solo breaks, which feature a flair and style that is all J.R. The album does feature a bonus instrumental song, "Dreams," which was taken from the Between Darkness & Light studio release. It's amazing that J.R. Blackmore doesn't have more music out there for fans to enjoy. He brings a unique talent to the table that would give a shot of adrenaline to any band he played with. Voices Part 1 is Top-10 material for 2011. Here's looking forward to Voices Part 2, whenever that studio album hits the shelves.
Genre: Hard Rock
Line-up:
J.R. Blackmore (guitar)
Danny Miranda (bass)
Charlie Zeleny (drums)
Paul Morris (keyboards)
Track Listing:
1. VOICES – Markus Engelstädter
2. GUARDIAN ANGEL – Oliver Hartmann
3. BEETHOVEN -Michael Bormann
4. DESTRUCTIVE MANIA – Cathrine Jauer
5. INCOMPLETE -Michael Bormann
6. DEVIL IN DISGUISE – Oliver Hartmann
7. JECKYLL & HYDE – Dave Esser
8. VICTORIOUS – Markus Engelstädter.
9. NANSHU -ELA & Dave Esser
10. WE ARE ROCK`N`ROLL – Dave Esser
11. DREAMS (Bonus Track instrumental from Between Darkness & Light Album)
Label: J.R. Blackmore Records
Web: www.jrblackmore.com
Hardrock Haven rating: 9/10