LIVE! | Firefest Festival Day 1
by Marcel Groeneveld
Staff Writer —
October 21, 2011 at Rock City in Nottingham, U.K.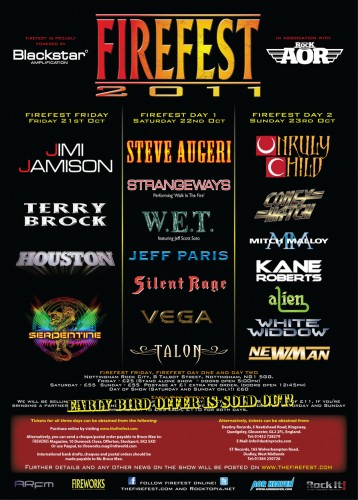 The annual Firefest Festival is becoming quite a force to be reckoned with as it is one of the highlights for melodic rock fan these days. The event that has built up its own community, which has been helped by social media sources, such as Facebook. The festival is organized by passionate people who are mostly fans of the melodic genre, and their motto seems to be "For the fans and by the fans."
Beginning in 2005, Firefest was held in Bradford and lasted from a Friday night to the end of a Saturday and included performances by bands such as Soul Sirkus, Firehouse and TNT.
This year's event, which was billed the 8th edition of Firefest, featured 18 bands that performed during three days. With so many bands involved, something is bound to happen, and it did this year.
The original headliners for the Saturday show was supposed to be Warrant. Although the bank inked the deal at the beginning of this year's event and was paid in advanced, Warrant canceled without reason on Sept. 18th. Festival organizers were forced to find a replacement. On such short notice, Firefest organizers added the band W.E.T. to the line-up. Unfortunately, the second band that had to cancel was Farcry because Kivel Records was unable to financially back them. Newman, who played last year's Firefest, was added to the bill.
DAY 1
Friday night, Serpentine opened the festival to a packed "Rock City" and had the task of jump starting Firefest. Tony Mills (Shy, Siam and TNT fame, MG), who sang on 2010's A Touch Of Heaven and 2011's Living and Dying in High Definition, was unable to join the band for this engagement, leaving Matt Black to fill his shoes. The band was well received by the audience, and the band left a good impression. Although Matt Black sometimes was a little out of key, he delivered well. At times, you could close your eyes, and his voice sounded very similar to Tony Mill's vocal style.
Up next to conquer the stage was the Swedish band Houston. From the moment lights went on, there was a lot of energy going on, especially since singer Hamper "Hank" Erix entered the rock arena in a boxer's outfit. Erix and Freddie Allen are the main players in Houston and are backed up by a live band. Houston's self-titled debut album from 2010 is considered to be rock's next big sensation coming out of Sweden at the moment. These talented guys performed easy-listening rock anthems that were filled with great harmony vocals, cool hooks and riffs that were added with just a little sauce of keyboards on top. Houston led the Firefest crowd back to the 1980s and reminded them of bands like Boston and Journey. The energy from the band was transferred to the crowd, and a 40-minute rock party was born. Houston brought their producer, Ricky Delin, onstage to perform on the song "Don't You Know What Love Is." The addition of Delin didn't add anything to the show.
The third band on Friday's bill was Terry Brock. Known for his work with Strangeways and recently Giant, Brock has had quite a solo career going for himself and is extremely popular in the U.K. Musically, Brock's material has a strong resemblance to Journey. With a backing band comprising Adam Holland (guitar), Gerard Zappa (bass), Mike Morales (drums) and Craig Pullman (keys), who is from Valentine, the musicianship is superior. They get the job done. Holland played great, but when he is doing a solo, he changes his posture in such a way that it makes it difficult to see his performance and facial expressions. The audience appeared to enjoy and respond enthusiastically to Brock and his backing bands overall performance.
It has become a festival tradition to bring back the artist who left a huge impression on previous Firefest Festivals. No doubt about it, Ex-Survivor singer Jimi Jamison left the biggest impression of all the bands that played the Friday night bill. When Jamison took the stage, the crowd went berserk. His live band featured Tommy Denander on guitar. Throughout his set, the audience screamed their lungs out. Jamison is in great shape, and his voice keeps getting stronger and stronger. He actually never has sounded better. As an entertainer, he works the crowd, and his stage presents is very energetic. The way Tommy Denander plays guitar also is awe inspiring. Even the musicians who were also on the bill were asking who Denander was. During Jamison's performance of his greatest hits, which included the Baywatch tune, "I'm Always Here," "Burning Heart," "High on You" and "Eye of the Tiger," the "Rock City" shook on its foundation, and people wanted more of Jamison. He left the venue sweaty but was grinning from ear to ear.
2011 Firefest Festival Day 1 Photo Gallery
Photos appear courtesy of RMD Entertainment