LIVE! | Firefest Festival Day 2
by Marcel Groeneveld
Staff Writer —
October 21, 2011 at Rock City in Nottingham, U.K.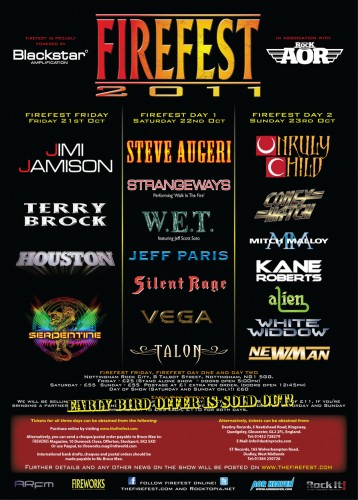 Saturday, the early risers could catch Los Angeles Rockers Talon opening up the first full day Firefest. Talon is the brainchild of guitarist Kory Voxen (Voxen) and singer Shawn Pelata. Pelata was not able to do this show due to other commitments, so former Talon singer Michael O'Mara agreed to do the show to help out the band, alongside keyboard extraordinaire Eric Ragno. Unfortunately, it was obvious that the band isn't used to playing a lot of live shows. Their performance was very static, although the songs weren't bad. Highlights from their performance included Michael losing his microphone stand in the audience and joking around by saying, "This is probably going to be my last show with the band." and Other highlights included their performance of older songs, "Mother Mary May I" and "Wrecking Ball," which finally induced the crowd into motion, and then the party got started again.
Next up was the U.K.'s own Vega. Talk about energetic; they put on a great show.Singer Nick Workman of Kick fame was everywhere on stage and wasa contrast to the others, with exception of the bass player. It was surprising that a lot of people knew the lyrics and sang along to the songs "Stay With Me" and title song "Kiss Of Life" from their debut album Kiss Of Life. The music featured very cool, strong, melodic songs. It was not surprising because the main songwriters and composers are brothers. Keyboardist James Martin and guitarist Tom Martinhave written songs for recent albums by House Of Lords, Ted Poley, Khymera, From The Inside, First Signal and Issa, AOR off of the top shelf. The band's performance was very smooth, and the crowd definitely was pleased with the show.
A band worth going to Firefest and seeing has to be the amazing Silent Rage. The band features three band members; Mark Hawkins (guitar) , Jesse Damon (guitar) and (bass) E.J Curse, sharing vocal duties. There was no room for keyboards during this performance. All the classic songs were played, such as "Don't Touch Me There," "Rebel With A Cause," "Can't Get You Out Of My Head" and "Rich Young And Pretty." There are bands struggling out there to get one decent singer, and Silent Rage has three really amazing guys. They connected with the audience, even with the three handling vocals duties their performance wasn't stiff and lifeless, they put on a perfect show. Most people agreed that Silent Rage was one of the best bands to see at Firefest this year.
The clownish Jeff Paris was a little insecure at first when he hit the stage. His perfromacne of songs, such as "Cryin," "Lucky This Time" and "Mystery Girl" were impressive. His tribute to fallen heroes, Ronnie James Dio on "Rainbow in the Dark" and Jani Lane with "I Saw Red," were truly emotional highlights. Paris stopped playing for a moment as he was overcome by emotions. Everyone felt goosebumps at that moment. The highlight was the ultimate party song, 'Saturday Nite." Tommy Denander and the guys from Heat backed up Paris and did an awesome job. Denander played again with great ease; how many songs does this guy know? Paris continued smiling two days later because of the reactions he received from fans and musicians alike, which were awesome.
To top that, you have to be a special act and, yes, W.E.T. (Work Of Art, Eclipse, and Talisman) certainly is just that. The voice of Jeff Scott Soto and his musical brothers in arms, Eric Martenson and Robert Sall, put on a memorable show as this was the first live performance for W.E.T.. A lot was expected from the band, and they delivered. They performed melodic rock anthems, such as, "Brothers in Arms," "Invincible" and " One Love," among others. They also performed an acoustic tribute to more fallen heroes: Gotthard's Steve Lee " Need to Believe," Phil Kennemore of Y&T "Forever," Gary Moore with "Still got the Blues," Jani Lane with "Heaven," which produced a very loud audience response , and "Mysterious" for Talisman's own Marcel Jacob. The always charismatic performer, Soto led the way and, again, brought tears to many rockers' eyes with this tribute.
Another act that returned from last year was Strangeways, which performed the their entire Walk In The Fire album along with other songs from Native Sons that they didn't play last year. The band featured Terry Brock, Ian Stewart and Jim Dummond, who are all very popular in the U.K. Although everything sounded great, they are not there to entertain like Soto does, but they have a solid base of melodic songs with a big Journey feel to them; They performed "Living in the Danger Zone," "Where Do We Go From Here" and "Walk In The Fire," which had a small slip-up.It was a treat for AOR lovers, even with the small mistake.
The grand finale of the first day was up to Steve Augeri and his backup band, Valentine, with a female background singer who was on stage. Of course, Augeri, having been a member of Journey, played a couple of songs from his era and some classic songs that were a guaranteed success with the Firefest crowd. He opened the show with the Tyketto song "Jamie." There weren't any more voice problems for Augeri as he rocked the house. Performing songs from his back catalogue from his band Tall Stories, "Stone In Love" was on the set list. However, most people know Augeri from the Journey's 2001 release Arrival, on which he played "Higher Place," "Anyway You Want It" and "We Will Meet Again." To everyone's surprise, Soto brought Augeri's acoustic guitar out on stage for the song "Kiss Me Softly." Augeri enjoyed himself so much that they played "Separate Ways" twice as the encore. It was a definite high for Augeri, and if not for the curfew, he would still be on stage.
2011 Firefest Festival Day 2 Photo Gallery
Photos appear courtesy of RMD Entertainment