LIVE! | Firefest Festival Day 3
by Marcel Groeneveld
Staff Writer —
October 21, 2011 at Rock City in Nottingham, U.K.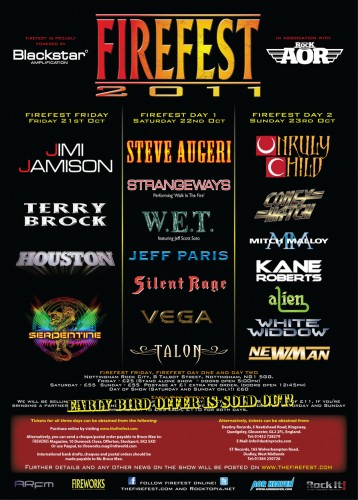 Sunday and round three for the Firefest, rockers started out bright and early with Newman breaking ground. As Firefest veterans, they know how to get ready to rumble with their easy sing-along songs "Endless" and "Stay With Me." Although the mix was not perfect, to say the least, it threw Newman off a little, which resulting in him sometimes singing out of key. The always very sympathetic singer brought good friend and guitarist Pete Fry of Farcry on stage to join in on the song "Over and Over Again," a cool gesture that was well received by the audience.
There is always a first for everything, White Widdow was the first Australian band scheduled to play the Firefest festival. Last year's self titled debut release White Widdow, which received raving reviews worldwide, opened a lot of doors for the band. But don't expect AC/DC-ish kind of music from White Widow like most Australian acts. Singer Jules Millis is all over the stage and works the crowd very enthusiastically. In doing so, he almost slipped on stage but continued while Enzo Almanzi just smoked on guitar. The keyboards, played by Xavier Millis, were a little too much in the mix, but, overall, they left a good impression. They also played some songs from their just-released second effort, Serenade.
After seeing the young guys perform, it was time for Swedish veterans Alien to rock the house. With classic tracks, such as "Tears Don't Put Out The Fire," "Go Easy" and "Touch My Fire" coming at you, if you just closed your eyes, you could hear 1989 calling you. With eyes open, reality sinks in, seeing Jim Jidhed on stage singing, looking more like a dart-player than a rocker. But, man, that guy can still sing. Alien, with Tony Borg acing the guitar, played their No. 1 hit single (six weeks in Sweden, MG), the Bee Gees cover "Only One Woman," and, once again, the "Rock City" went crazy while the Firefest Quire took this song threw the roof. Playing for the first time together with the original line-up after 18 years didn't diminish the chemistry of the band; it is as if they never stopped playing together at all. Hopefully, they will continue on with this line-up in the future.
Overall, the high-quality standard of each band was matched evenly until Kane Roberts took the stage. Backing up Kane up was the band Talon. Again, it was another lifeless performance. Roberts, who wore sunglasses throughout the set, did not help him connect with the crowd. The set was mostly from of his Saints and Sinners album and included "Twister," "Doesn't Anybody Really Fall In Love" and "Sweet Little Sister." The songs went OK, but during the Alice Cooper song "Freedom," he looked insecure with the lyrics and often got lost vocally in the mix. He did not look comfortable on stage and stood, with his guitar strapped on, like a shield, and half of the time, didn't use it. He should have done better. Highlights of his performance included the two girls coming on stage with school uniforms (but that is a total different website). Luckily, the guys from Talon came through and got the job done, especially Eric Ragno on keyboards and Kory Voxen on guitar.
The return of Mitch Malloy, who performed at the 2008 Firefest, was requested by festival fans. In '08, Malloy was included in the Firefest DVD, which continues to be a highly sought after item. With his new live band; the amazing Alessandro Del Vecchio on keyboards and backing vocals, Mario Percudani on guitar, Anna Portalupi on bass and Alessandro Mori on drums, Mitch has an all-European backing band, which makes it easier to tour Europe. The Firefest also was an opportunity for Malloy to play some new songsoff his recent release II. "Falling To Pieces" and "I'm The One" were well received. Bbut, of course, the cranking of "Everything At All," "Mission Of Love" and the beautiful "Our Love will Never Die" performed only by Malloy on guitar may have been yet another highlight of this year's Firefest. Malloy and the Firefest crowd seemed to be made for each other because fans sang along to every song.
Canadian rockers Coney Hatch was somewhat of a surprise on the Firefest bill simply because they are not well known in Europe. They were well received by the older fans. The festival's organizers were very excited to add them to the bill. Playing their first show in the U.K., the reformed original line-up of Carl Dixon on guitar, Andy Curran on bass, both sharing vocal duties, Steve Shelski on lead guitar and Dave "Thumper" Ketchum on drums played a long-overdue set that was taken from their three albums, Coney Hatch, Outa Hand and Friction. It now seems the band will continue, and there are rumor of a new recording, but only time will tell if the rumors come to fruition. Hatch was a welcome surprise.
Everybody knows about the story of Marcie Free. As Jeff Scott Soto is considered one of the voices of rock, there is no doubt that Free is the voice of AOR. Unruly Child was and still is a super group in that genre and is one of the many reasons to visit Firefest. The classic U.S. Band, featuring Bruce Gowdy on guitars, Guy Allison on keys, Larry Antonino on bass, Jay Schellen on drums and legendary vocalist Marcie Free, performed an ultra-rare show. It was their first gig since 1992, and it certainly was their first live performance outside of the U.S.
Opening with the strong "Show Me The Money" from the new album World Collides, the audience jumped on a full-frontal collision course as all the new songs of that release, such as "Very First Time," have real potential to become classic songs. The band's formula for success is to create melodic rock songs with powerful lead vocals, harmony vocals, bombastic drums, mean bass lines, big keyboards and razor-sharp guitar work. Other classics from the debut album Unruly Child were on the set list, including "On The Rise," "Who Cries Now," "You are My Everything," "Rock Me Down Nasty" and a crowd favorite "Lay Down Your Arms." Unfortunately, there was a slight technical mishap, and Antonino and Schellen took the spotlight, jamming, to fill in the silence on stage until the problem was solved. Free was in top shape, looked like a million bucks and rocked the planet. The only thing they needed was more rehearsal time together to get that live feeling again. Overall, it was a great show, with a great response and a lot of happy Firefest fans.
2011 Firefest Festival Day 3 Photo Gallery
Photos appear courtesy of RMD Entertainment