by Elsie Roymans
Staff Writer —
November 26, 2011 at Vorst Nationaal in Vorst (Brussels), Belgium
Long before tonight, the Scorpions "Get Your Sting and Blackout" show was SOLD OUT.
With more then 100 million CD's sold over the last 40 years and their latest CD Comeblack, which contains their biggest hits and covers of The Beatles, The Kinks & The Rolling Stones, the Scorpions, are going out at the top of their game.
This concert is part of the farewell tour with dates booked into October 2012, the band will make another stop in Antwerp, Belgium on June 1st at the Sportpaleis arena, providing fans what maybe their last time to see Scorpions live. For those who attended tonight's concert it was a fun night filled with plenty of rock 'n roll.
The Scorpions were in fine form this evening, Klaus voice sounded great as usual. With the band playing through their catalog of music in front of the sold out crowd they proved that their is still plenty of gas in the tank and the audience loved every minute of it.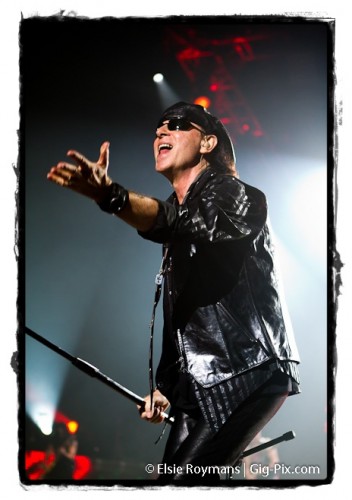 Scorpions:
Klaus Meine (Vocals)
Rudolf Schenker (Guitars)
Matthias Jabs (Guitars)
James Kottak (Drums)
Pawel Maciwoda (Bass)
Set List:
Sting In The Tail
Make It Real
Bad Boys Running Wild
The Zoo
Coast To Coast
Loving You Sunday Morning
In Trance
(First time played since 2009)
The Best Is Yet To Come
Send Me An Angel
Holiday
Raised on Rock
Tease Me Please Me
Dynamite
Kottak Attack
Blackout
Six String Sting
Big City Nights
Encore:
Still Loving You
Wind Of Change
No One Like You
Rock You Like A Hurricane
Visit the band: http://www.the-scorpions.com
Scorpions Photo Gallery
Photos appear courtesy of Elsie Roymans