by Alissa Ordabai
Staff Writer —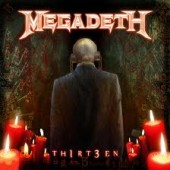 Instant classics on Megadeth's aptly titled 13th studio release show that Dave Mustaine remains firmly grounded in his identity while refusing to abate after a three-decade career full of ups, downs and everything else in between.
Memorable, hurtling, tough barn-burners such as "Never Dead" and "Public Enemy No.1" are instantly recognizable as Megadeth songs, with their propulsive, biting riffs, Mustaine's unmistakable vocals, Chris Broderick's virtuoso solos, and – of course – the signature style of bassist David Ellefson who is now back in the band after an 8-year absence.
Instead of weighing on the band, the past is integrated with the present in a perfect equilibrium on this release. Ellefson's presence adds to the band's vintage sound, but the fact that Broderick has grown up on the Shrapnel Records virtuosos (and, actually, began following Megadeth in 1990 because Marty Friedman has joined the band) certainly helps to see the band's history as a continuum.
One such example – the riff to "Never Dead" with its conscious nod to Rust In Peace-era Friedman – subtly shows how a sense of connection between guitar players of different generations can work wonders to sustain continuity within a particular band.
But despite Broderick's fretboard exuberance, the album remains perfectly balanced with its spare, laconic production and avoidance of bombast or overkill. It is largely due to Mustaine's rough-hewn, simplistic vocal melodies and his almost punky approach to singing that the record remains grounded in the classic Megadeth method.
Contrasted by vehemently propulsive grooves, space-rocking riffs and high-voltage guitar solos, Mustaine's vocal parts are something that keeps those songs firmly planted on the ground. More than anything else, this shows that for Mustaine the honesty of what he needs to convey as an artist has always had priority over pseudo-intellectual or flashy diversions metal has always been tempted to take.
Instead of losing his message in overbearing technique, pretentious production or pompous lyrical affectations, this time – as ever – Mustaine has presided over a hugely entertaining, balls-to-the-wall album which confirms him as one of the most recognizable and honest voices in heavy metal.
Genre: Heavy Metal
Band:
Dave Mustaine – vocals, guitar
Chris Broderick – guitar
David Ellefson – bass
Shawn Dover – drums
Track Listing:
1. Sudden Death
2. Public Enemy No. 1
3. Whose Life (Is It Anyways?)
4. We The People
5. Guns, Drugs & Money
6. Never Dead
7. New World Order
8. Fast Lane
9. Black Swan
10. Wrecker
11. Millennium of the Blind
12. Deadly Nightshade
13. 13
Online: www.megadeth.com
Label: Roadrunner Records
Hardrock Haven rating: 8/10