by Marija Brettle
Staff Writer —
With two hit albums in the U.S. and top 20 singles behind, the ever popular Nashville singer/songwriter Mitch Malloy re-emerged this October with his new release entitled, Mitch Malloy II. The album that show this gifted vocalist truly returning to his most melodious moments, with the real '80s, early'90s vibe, both in sound and songwriting; the album he is calling the logical successor to his RCA Records melodic rock debut, Mitch Malloy.
Or to put simply, this is the record fans of Malloy have waited for nearly twenty years. As Mitch says, "For years my core fans have asked me to give them another album full of Melodic Rock, and I'm proud to say that Mitch Malloy II is just that! For me this is my real second album, the true follow-up to my major label debut, the record that I wanted to make for a long time."
During his highly anticipated return to this years FIREFEST Festival in Nottingham, and one week before his European tour, HARDROCK HAVEN caught up with Mitch and managed to discuses all his excitement at being back with his loyal fans, his pride in his new record, his present and future plans and once again putting out his side of the story when he almost became the new Van Halen front man.
October 23, 2011 @ Rock City, Nottingham, U.K.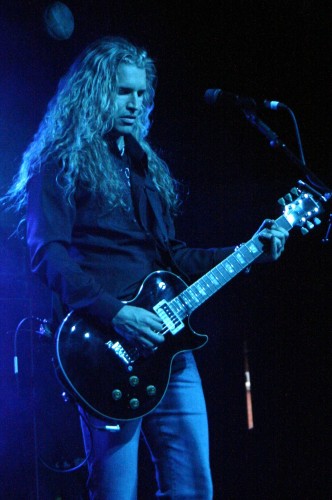 HRH: Hi Mitch! Thanks for making time for this Interview. What was it like the FIREFEST experience for you this time round?
Mitch: Pure fun … great atmosphere for me. Awesome experience!
HRH: How different from the Firefest 2008?
Mitch: Hum, very different from the first and this time round. Very different … and both great though. Yeah. I love the first time and I love even more the second time! (Laughs). Well, this time I know what to expect, but in both times it was the greatest experience you can have as an artist, when you see the crowd all cheering for you in the back. It was fantastic feeling!
HRH: You definitely manage to pick the crowd in Rock City today, and I am not just saying this from the female side of the audience. Can you see how well they know your songs, and how much they love your music?
Mitch: Yeah. It was an amazing experience … pure joy!
HRH: How did you come up with the idea to do the Firefest 2008 DVD? Was it your way of shearing the experience with the Firefest crowd?
Mitch: The DVD was totally Firefest guys' idea. They asked me if I want to do it and I said; 'Oh yes!' I always wanted a video record of what I do live. Well, I haven't been able to get to a lot of country and play for a lot of fans, so now I have something that they can buy and be able see me live. (Laughs). I am very proud of that DVD and I hope to do more of it.
HRH: So far, you have had a positive press reaction and praise for your new record.
Mitch: Yeah. There is not better feeling as an artist, when you know that people like your product! I made this CD custom for the fans. Absolutely! Of course, for me too, but mostly for the fans! And I am happy to be able to give something back to people, to the fans. I had fun doing that because it was a giving gesture and there is nothing better than giving. Anyone who hasn't or doesn't realize that doesn't know what life is about. And I feel sorry for them.
HRH: Sure there is an overwhelming love and loyalty from your fans, as I can pick up from your FB followers lately. What is your take on that?
Mitch: It's amazing. And I feel that love … and I am giving it back as strong as I can. There is nothing like it! To be appreciated for your art is an amazing feeling!
HRH: With MM II there is an obvious dose of classic, harder melodic rock. Stunning lyrics & melodies, killer guitar riffs … By many a real winner! Would you say this album was a conscious attempt to return to form and harder?
Mitch: Absolutely! No question about it … because it is the follow-up to the first record! Yeah, this is my way of saying- this is the first follow-up to the debut. I thought it was time to do it- and just didn't seem to feel right to do it till now. So, now is the time, felt right … here it is! (Laughs) Yes for my fans. I was ready and I know they are beyond ready, so it was for them.
HRH: On most of the new songs, there is a great deal of heartfelt, raw emotions, with a real positive '80s vibe to them. Songs like, "I'm The One," "All My Friends," where did the lyrical inspiration come from when writing this time around?
Mitch: Same place-it always comes from … from within. (Laughs). It's all about my life experience. And my fans … they have been the real inspiration from the start of the making of this record!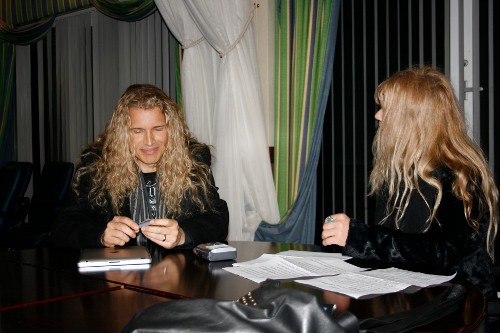 HRH: Any favorite songs from this album that are close to your heart, and why?
Mitch: So many of them. Like "All My Friends" and "Carry On" are probably the biggest for me though.
HRH: What do you think are the most important elements that make a song great hit and able to stand the test off time?
Mitch: For me its melody and a lyric everyone can relate to!
HRH: If you have to compare your debut record with the MM II, what that would be?
Mitch: Yeah … there are lots of difference but also very similar in many ways. Many things are different now … myself and my life and technology etc. So it's hard to compare them but I feel like this record is an extension of my debut. Well, many years later, you know … lots of new musicians, different vibe. This record was product of everything that I had done up to that point musically, which was a lot.
HRH: Well, one thing for sure, this record is much harder than all of the three previous records-in between the debut and MM II?
Mitch: Yeah, this album is also harder than the first album, more aggressive. There are differences in terms of a musical impact from different set of musicians … but then there is a lot of similarities as well … musically. But it's interesting that people who had never heard of me, like this record! People … you know … young people that have no idea of me or anything about me. Like what was the name of my first record, when was released or how did it sound, nothing! And they seem to like it! So, I am really excited and happy. (Laughs).
HRH: Tell me, what do you think was the key to the success of your debut album?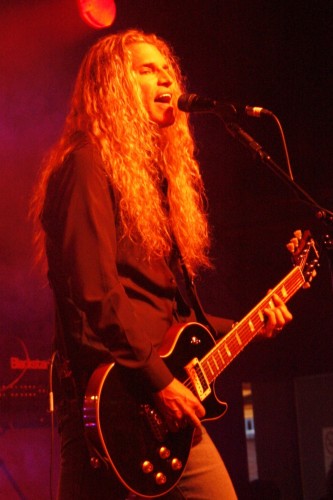 Mitch: Hopefully good music to start with, and then tons of money to promote it! (Laughs).
HRH: In the process of making this album you have had collaborated with many talented and big music names; people like Phil Collen on guitar, or Keith Scott, Jeff Scott Soto, Hugh McDonald, Bruno Ravel. How did you get to work with all this talented guys in the first place?
Mitch: These guys seem to like what I do and wanted to help. So much fun for me though! (Laughs).
HRH: How did you come up to work with Phil?
Mitch: Phil actually saw me performing live in Nashville and we become friends after that. From there and then we wrote the "As Long As I'm With You" song together. He also play on it and he wants to do more in the future which is great. Then there was Keith Howland from Chicago who is the main lead guitar on the album.
HRH: Tell me more about the whole process of production on this album?
Mitch: Actually we started working on the album really in February. I started writing in February and wrote for about month and a half … and then I started recording. I took a lot of time and a lot of breaks. So I can say all in all it was about six month of solid work. And the record would be done lot sooner than it was but I had to wait for the guys who happen to be rock stars. (Laughs). They all were on tour over the summer.
HRH: During the making of the "I'm The One"song, you invited your FB fans to join you along and be on this CD. Did you get any interesting contacts? And how did you come up with this idea?
Mitch: I thought would be fun to invite the world to sing it with me, as it is one happy upbeat song and great testament of the '80s sound! The best part of it was some young kids sent in submissions and I chose a few to go on the CD. And I put their names on the CD as well.
HRH: With your debut album you show so much potential and talents. Then comes change of direction with the release of your second record, Ceilings And Walls. By many a bit disappointing turn. Why change of direction?
Mitch: The market changed. MTV USA wouldn't play the first video so that was the end of it. So the label wanted a new sound. To be honest I had no idea I had as many fans as I did and that people would be so upset. I did not see that coming. Had I known I would have put up more of a fight to stay with what I know best and what I was very proud of! Still, I am also proud of the Ceilings And Walls record, although, there's not that much of me in it.
HRH: So you didn't have much of the control and creative freedom in the process of making this album?
Mitch: That's part of it.
HRH: Would you say that this time round with the Mitch Malloy II, you have had a total creative control? And how important is for you to have a creative freedom?
Mitch: Yeah, this time with MM II I can say I have total control of what I am doing. It's very important for me as an artist and musician. I don't mind input though but ultimately I like doing what I want to do.
HRH: You often say "my albums are my life experience." How much this album is based on your life experience?
Mitch: It's all about my life experience! I can't write about the things that are not based on something that touched me in a certain way or things that changed the way I think. I can fabricate to a small degree but for the most part it has to be real and comes from me … my life in the past and now.
HRH: OK, I can't avoid the question about your Van Halen venture. The offer to join the band following the departure of Sammy Hagar. What really happened?
Mitch: Yeah … well it's a very long story and for me to tell I would need a long time to tell all. (Laughs). The Van Halen situation to some up was that; it just didn't work out just wasn't to be, and I have almost respected for the guys! I like Eddie a lot … we are still a great friends. Ed is one of the coolest guys … and truly talented guitarist. They always been nice to me and we are still friends. Yeah, they are Van Halen, and they are amazing!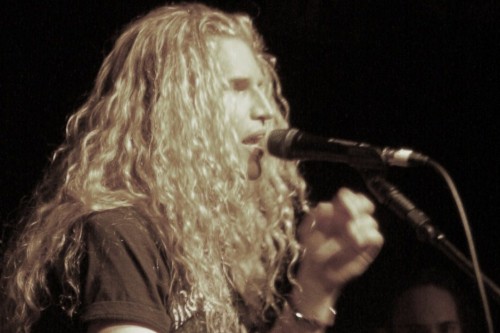 HRH: Alright, were you surprised when at the MTV awards Dave suddenly appeared on stage with the rest of the band?
Mitch: Yeah … the world is not surprised … more of a shocked. (Laughs).
HRH: At that time, I happen to do interview with David Lee Roth and he told me that, he had a serious fight with Eddie and wasn't sure if he is in the band up until the last minute, before they came out on stage to collect the award.
Mitch: Yeah, Eddie called me later. He called me, (and talked about the situation between himself and David) when we got to the fight and he said David was calling me (Eddie) this and that. I called Mike right after that, and I said, "Mike why did you do that with David?" I told him it was big mistake and that they had just made it nearly impossible for me to come in the band. Because now everyone thinks that David is back in the band? So I said, I will be hang now! (Laughs). There is no way that fans would accept me now. I said to him, 'Even if Elvis come back from the dead, people will kill him! (Laughs). People want David Lee Roth in Van Halen, period! And it doesn't matter what I'm gonna do, it's not gonna work. And so that was it. Hum, it was kind of situations when I wrote them a letter to tell them that I didn't wanna be in the band.
HRH: I am sure they did apologize to you later?
Mitch: Yeah, sure. What Eddie told me at the time was that he apologized to me because Ed didn't tell me that they wanna go and appear with David. I was shocked when I saw them on stage with David together. Eddie got back to me and apologized. He said to me, "MTV told us if they gonna support the new version of Van Halen," which was with me, "they should go along with the concept of appearing with Dave." And at that time no one knew that I was with the band yet, because I was told to keep it very quit … so they had to do the announcement or the introduction and present with David Lee Roth. And then it backfired on them! So MTV knew what they were doing. (Laughs) MTV knew would it be a circus and it was.
HRH: Many of the VH fans would arguing that if they took you in, you would bring a new level of excitement vocally and sure visually … something that they never really ultimately reached with Gary Cherone or Sammy Hagar.
Mitch: The last time Eddie called me and ask me, "What do you think I should do?" this was right after they took in Gary Cherone. So basically, I said to Eddie, "I think you should get David back in the band. That's what I think!" I don't know if he did expect me to say that I wanna be in the band?
HRH: Maybe he was just testing how much is your heart in it?
Mitch: Yeah, maybe he did expect me to say that I wanna be in, maybe, but I didn't say it because I honestly didn't think that it would be the best thing for him and the band. He said, "What do you think I should do Mitch"? He didn't ask me, what's best for you Mitch? And I was right, best for them, David Lee Roth, period! I love Eddie … so I want what's best for him.
HRH: How nice and how fare of you Mitch.
Mitch: (Laughs).
HRH: What do you think about their current situation? They are about to release a new record with Dave, something that they haven't done together for almost 27 years?
Mitch: I like it. At least someone listens to me! (Laughs).
HRH: Being in this business naturally there is always something going on and out of the norm. Would you share with us any interesting or bizarre stories that happened with your fans?
Mitch: Well, I don't have any wild or bizarre stories really, sorry, by far the most interesting and partly bizarre stories I have is the Van Halen stories which I have shared and discussed with you and many others before. (Laughs).
HRH: Your big hit, "Anything At All," sure put you on the map of rock music worldwide and according to some of your European fans, one of the songs and videos they mostly know you as an awesome singer, and talented musicians? What is your take on that?
Mitch: Well, I cannot speak to how other people feel or think. I'm glad the fans like it but I don't know why. Just lucky I guess.
HRH: You mention before that your earliest music influences were from the hard rock bands. Which bands in particular?
Mitch: Bands like, Led Zeppelin, Cheap Trick, Heart, Aerosmith, Bad Co, Kiss, Ted Nugent's first CD…
HRH: For over the last decade the music industry has presented many challenges to musicians/bands and as a results many music artist have become bitter on the subject of new technology…social network/Internet. What is you experience?
Mitch: Love it! My studio is super high tech as well as being old school and the social media has put me in touch with my fans and I love my fans! It's awesome! (Laughs).
HRH: Great solo artist, incredible vocalist, award winning songwriter and a producer, what is the driving force in your work?
Mitch: The music and the passion for it! And always wanting to get better.
HRH: What would you say your greatest strength is as a singer?
Mitch: Hum. I was born with a natural ability to sing and I am a very deep-feeling-emotional-person … so maybe that combination is what people feel when they hear me sing. But I think that's true of any great singer. I'm nothing special in that regard.
HRH: What was the first and most significant breakthrough of your career as a singer and songwriter?
Mitch: Meeting Richard Sanders, my first manager. He later went on to run Sony International. The guy is genius!
HRH: With you first record you shown a great potential and talents and by many, you haven't been credited for what you really are an incredible singer and songwriter/producer. I read one of the British critics saying that he was surprised why you haven't reached the Bon Jovi stardom, considering how talented and how brilliant singer you are…
Mitch: That's nice to hear and I would say thank you for saying that, but I have to work harder I guess. Hmm. Pure luck. I didn't have any. (Laughs).
HRH: Do you think if you started out a bit earlier, you would enjoy bigger success?
Mitch: No question! When I got to Germany on my first tour the executives from my label BMG said, if I had come out 3 years earlier I would be the biggest thing ever! So maybe that is true. I was trying to get out sooner but they wouldn't let me in till I got in and then they wouldn't put it out till they were ready. I was ready to go 10 years before I came out. Oh well.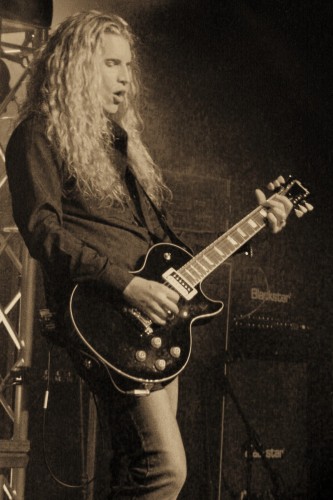 HRH: Beside the Van Halen experience, are there any other bands you would like to join, if you have the chance to choose- and do you consider integrating a permanent band anytime soon?
Mitch: I always wanted to be in a band. From the beginning, I became a solo artist because the band I had the Label didn't want them. If I was partnered with a Ritchie Sambora or someone like that I think it would have been different. But I'm wide open to joining a great band. Has to be great though, as being a solo artist you get very spoiled working with the best musicians in the world. (Laughs).
HRH: You once said that music is your life. What makes you the happiest in this business?
Mitch: When I'm singing for my fans- and then meeting my fans!
HRH: Following the recent release of the 'forgotten album' Infinity, by many this record been classed as a little gem, and with the good reason to! Why 20 years later?
Mitch: It was supposed to be 17 years, but Andrew couldn't get it together till my "MM II" CD came out. Nice timing Andrew! Hum … I was the singer and songwriter of the songs.
HRH: What next we can expect from Mitch Malloy, this and next year?
Mitch: Hopefully just more of the same … I always have hope that I will gain ground and gain new fans and that my career will become something bigger than it is now. Without hope I'm not much fun.
HRH: Any more gigs/tour dates on the horizon? Maybe,Sweden Rock Festival 2012?
Mitch: Maybe. Just planning on coming back to Europe in the spring. Let's hope!
HRH: You often been described as one of the finest AOR vocalists, with the good looks to go along with it. Brilliant songwriter and producer and one of the nicest guys you wanna meet. Can you describe Mitch Malloy in your own words?
Mitch: (Laugh). No! That's not my job. And I have many, but that's not one of them. That is for other people to say!
HRH: Thanks Mitch once again, for taking time for HARDROCK HAVEN. May we see more of you back here in Britain and Europe!
Photos appear courtesy of Jadranka Jade