by Nikiforos Skoumas
Staff Writer —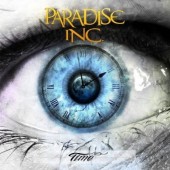 Time is the debut album by newcomer Brazilian melodic-hard-rock, AOR group Paradise Inc. The band's core comprises of guitarist Marcos Peres, bassist Rick A. and drummer Allan Juliano. You would expect that, having been signed by German AOR label Avenue of Allies, Paradise Inc would enjoy the support of the German melodic rock scene; well, it seems that band and label management have agreed to make an all-star project out of this debut.
For starters the band is fronted by Carsten 'Lizard' Sculz of Midnight Club and Evidence one laying lead vocals throughout the album. In fact, Carsten co-writes a few songs on Time with Evidence one founder and guitarist Bobby Boebel (also of Frontline and State of Rock). Paul Logue of Eden's Curse produces and mixes the album while mastering is handled by studio authority Dennis Ward.
Having established the musical network responsible for the completion of Time, Paradise Inc is bound to sound like a combination of the bands mentioned above. You are treated to explosive choruses in "Midnite Club" and up-front rhythm guitars totally reminiscent of Evidence Once plus a rhythm section that has Frontline written all over it.
Music wise Time is quality melodic-hard-rock and AOR, through and through, with the Lizard leading the group through the first couple of melodic hard rock tunes putting across his characteristic intensity and swagger. The seasoned vocalist is proven just as effective on the more adult-oriented tracks much like "Who's Fooling Who" and the up-lifting stadium-sensation that is "I Will Wait." Another composition effectively standing out is "No More Mistakes" clearly the most climactic moment on the Paradise Inc debut.
It is unlikely that any fan of AOR and melodic hard rock would be anything less than pleased with the final product of Paradise Inc, unless of course you would expect to hear some kind of exotic Latin-American melodic rock. Paradise Inc is built on the high standards of German melodic hard rock and, for that matter, does come out as a German hard rock album. Fans of Jaded Heart, Frontline, Midnight Club and Shylock are expected to make the most of this stellar, if not totally original, melodic hard rock album.
Genre: Melodic Hard Rock / AOR
Line up:
Carsten "Lizard" Schulz: Lead & backing vocals
De Grigo: Guitars
Marcos Peres: Guitars
Rick A.: Bass
Allan Juliano: Drums
Track List
1. Time (Live And Learn)
2. Close Your Eyes
3. Who's Fooling Who
4. I Will Wait
5. Wait And See
6. No More Mistakes
7. You
8. Set Me Free
9. Steel Or Stone
10. Not In Paradise (feat. Doogie White)
11. Steel Or Stone (Acoustic – Eur. bonus)
Label website: http://www.avenue-of-allies.com/News.html
Hardrock Haven rating: 8.5/10