Queensryche | Mindcrime at the Moore
by John Kindred
Staff Writer —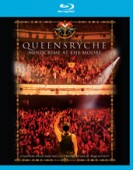 Queensryche's Mindcrime at the Moore was originally released in 2007 on CD and DVD. Eagle Rock Entertainment has just re-released the live concert on Blu-ray, tapping into the mediums lavish sound and video capabilities. Mindcrime at the Moore was originally recorded over a three nights at The Moore Theatre in the bands hometown of Seattle, Washington, supporting the recently released Operation: Mindcrime II.
Performing their '88s conceptual studio album Operation: Mindcrime and Operation: Mindcrime II in their entirety to packed house of Queensryche fans. Both releases tell the story of Nikki, "junkie, political revolutionary and assassin and his relationship with two key characters Sister Mary and the manipulative Dr X." Bringing the music from both albums to the stage for the first time in an elaborate show that included actors, staging and prerecorded films Queensryche deliver the story of Nikki to their fans combining the stage show with theatrics following the path of bands like Alice Cooper, Pink Floyd or KISS.
The quintet of; Geoff Tate , Michael Wilton, Mike Stone, Eddie Jackson and Scott Rockenfield, are joined by Pamela Moore who plays the part of Sister Mary as well as video footage of Ronnie James Dio performing "The Chase" who plays the part of Dr. X. The ensemble of actors and staging gathered together for the event is quite impressive. Performing every song from both albums, 47 to be exact. They deliver one of their best performances captured on video. From the music, to the visuals, to the stories the band creates a trippy, yet thought provoking atmosphere for their fans to enjoy and contemplate. Queensyche close the show with two encores, performing "Jet City Woman" and "Walk In The Shadows."
The Blu-ray delivers an audio and video experience in widescreen format and provide three choices for listening; Dolby Digital 5.1, DTS HD Master Audio, PCM Stereo. Bonus feature also included are: tour documentary , live video of the "The Chase" performed with Ronnie James Dio and Queensrÿche and Queensryche Rock and Ride. The package includes a full color booklet (this is becoming rare these days) with photos of the band and the specific details on the concert and the musicians, actors and supporting crews that made the concert possible.
Genre: Heavy Metal / Progressive Metal
Band:
Geoff Tate (v)
Michael Wilton (g)
Mike Stone (g)
Eddie Jackson (b)
Scott Rockenfield (d)
Track Listing:
1. Remember Now
2. Anarchy-X
3. Revolution Calling
4. Operation: Mindcrime
5. Speak
6. Spreading The Disease
7. The Mission
8. Suite Sister Mary
9. The Needle Lies
10. Electric Requiem
11. Breaking The Silence
12. I Don't Believe In Love
13. Waiting For 22
14. My Empty Room
15. Eyes Of A Stranger
16. Freiheit Ouverture
17. Convict
18. I'm American
19. One Foot In Hell
20. Hostage
21. The Hands
22. Speed Of Light
23. Signs Say Go
24. Re-Arrange You
25. The Chase
26. Murderer?
27. Circles
28. If I Could Change It All
29. An Intentional Confrontation
30. A Junkie's Blues
31. Fear City Slide
32. All The Promise
33. Walk In The Shadows
34. Jet City Woman
35. The Chase
36. Open
37. Freiheit Ouverture
38. Revolution Calling
39. Speed Of Light
40. Suite Sister Mary
41. An Intentional Confrontation
42. I'm American
43. One Foot In Hell
44. The Hands
45. Revolution Calling
46. The Chase
47. Anarchy-X
Label: Eagle Rock Entertainment
Hardrock Haven rating: n/a