This Uneven Sky | This Uneven Sky
by Joe Mis
Staff Writer —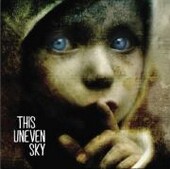 Simple and very human classic rock is probably the most apt description of the music made by Manchester UK's This Uneven Sky. This five member collaboration of veteran musician blends together elements from a number of straight up rock genres to create a warm and accessible sound on its self-titled debut release.
Together since 2009, This Uneven Sky is fronted by singer, songwriter Noel Fraser. While almost, but not quite, an entry in the "singer/storyteller" genre, the music of This Uneven Sky can at times be compared to the works of Bruce Springsteen, Tom Petty and Eric Clapton. Unlike other bands of this sort, lead vocalist Fraser (who also contributes guitars, keys and mandolins) does not hog the spotlight and allows the other members of the group to have their own say in the performances. Fraser's open and sincere voice is able backed up by the drums and vocals of Andy Chemney, the fine guitars and backing vocals of Steve Ferguson and enthusiastic bass of Mark Murray. Adam Wardle contributes some great slide guitar, Tony Marshall adds a lively but not overdone saxophone on two songs, and Stephen Boyce-Buckley provides some keyboards as well as production talent.
This Uneven Sky is a warmly engineered and produced album. Despite many modern touches, the music sounds open, comfortable and almost old-school. Solid and sincere vocal performances, mature songwriting and top quality musicianship make the album a winner in all aspects. The band refuses to allow itself to be limited to a single genre, so the listener will pick up many influences from; modern rock, country, blues, gospel and folk, all nicely balanced and performed with enthusiasm.
"Starting Out" is an appropriate opening track with a nice rock bass line and some mature lyrics, and the theme of starting over seems fitting for the veteran musicians of This Uneven Sky. A very gritty guitar line and some biting words delivered with passion make "Best Of Friends" a cynic's delight. Nicely done acoustic guitars and mandolins make "How Does It Feel" a nice mix of modern and blues rock. Fraser's vocals are outstanding on this track, as are the guitar solos. "Famous When I'm Dead" has bit of modern country rock flair, amusing lyrics about a frustrating career and some really great guitar work – probably the most solid of all tracks. Murray's driving bass and Chemney's intense drums push "Hope You're Happy Now" into real old-school hard rock territory, and it is knocked over the edge by the awesome twin guitars of Ferguson and Fraser. For some odd reason this track has a rather abrupt fade-out that is a bit distracting. "In Good Time" is a classic blues track with a powerful rhythm line and expressive vocals.
A bit of country style shows up in "Another Bar," but some grit comes right back in the neatly done anti-war rocker "Indifference." The later track contains not only poignant and timely lyrics, but a great sax solo courtesy of blues man Tony Marshall. "Heaven's Waiting Room" is a touching acoustic rocker about life and death – nicely done guitars and a simple mix make this track a light but pleasant listen. A neat blues piano riff, hints of gospel influence and excellent vocals highlight "Promise Not To Cry" while "Thru And Thru" is an upbeat bluesy rocker with a great bass and rhythm line. "You & Me Against The World" wraps the album with a mid-tempo rock beat and good vocal performances.
If you are into classic or blues rock you can't do much better than This Uneven Sky. There is no bubble gum here, just well-written, well-performed mature music filled with intelligent and timely lyrics – with lots of little nuggets of wisdom buried therein. Extremely melodic, musically diverse and sometimes thought-provoking, This Uneven Sky is a recommended release.
Genre: Classic Rock
Band:
Andy Chemney (drums. backing vocals)
Steve Ferguson (guitar, backing vocals)
Noel Fraser (vocals, guitar, keyboards, mandolin)
Mark Murray (bass)
Guest musicians: Adam Wardle (slide guitar on 9), Tony Marshall (saxophone on 8 &10), Stephen Boyce-Buckley (additional keyboards)
Track Listing:
1. Starting Out
2. Best Of Friends
3. How Does It Feel
4. Famous When I'm Dead
5. Hope You're Happy Now
6. In Good Time
7. Another Bar
8. Indifference
9. Heaven's Waiting Room
10. Promise Not To Cry
11. Thru And Thru
12. You & Me Against The World
Label: Deepdark Records
Website: http://www.thisunevensky.co.uk/
Hardrock Haven rating: 8/10