by Nikiforos Skoumas
Staff Writer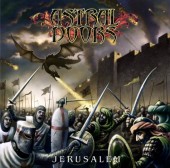 Swedish heavy metal band Astral Doors have returned with their 6th studio album Jerusalem. Astral Doors play classic heavy metal, not to be confused with the 'New wave of traditional heavy metal' trend. It is all about heaviness, precision and impeccable production for the Swedish gang.
Astral Doors are built around vocal powerhouse Nils Patrick Johansson (Lion's Share, Wuthering Heights) who has often been compared to Ronnie James Dio due to his vocal range and singing style. The line up features guitarists Joachim Nordlund and Martin Haglund, keyboardist Joakim Roberg, drummer Johan Lindstedt and bassist Ulf Lagerstorm. Music wise you can expect thick guitar riffs cleverly harmonizing with the vocals and keyboards, devastating rhythm section, twin guitar leads, extensive solos and, of course, Johansson's unsurpassed vocal performance.
The musical standards by which Astral Doors write and perform music are obviously out of reach for most heavy/melodic metal bands; especially when considering that the group delivered a landmark in classic heavy metal with their previous album Requiem of Time and in comparison Jerusalem is bound to fall short.
Eleven tracks featured here as opposed to its predecessor that brought forward fourteen songs; though perhaps it does come down to the quality of the material. One has to comment that some songs are actually better crafted than others. "Seventh Crusade" and "With a Stranger's Eye" which open the album leave quite a bit to be desired; followed by the first ray of light, the predictable but musically impeccable "Child of Rock 'n Roll" featuring the catchy rhythm parts, the forceful chorus, consistent keyboard harmonies and twin guitar solos. One happily realizes that the following track raises the artistic bar even higher- "Pearl Harbor" is a historically-inspired metal tune opening on a furious riff, followed by crystal clear guitar harmonies and immense vocal performance by Johansson who once again proves quite the narrator. The mid-tempo "Lost Crucifix", as heavy as it is, does not quite sustain the level of intensity having peaked with "Pearl Harbor". Then we are treated to another couple of powerful songs in "Babylon Rise" and "Suicide Rime" the latter having "Grim Reaper" written all over it, including the trademark phrase "See you in Hell" at the peak of its chorus.
That is pretty much the picture one gets having played Jerusalem over and over; by industry standards it is not a bad album, not even an average one, it is one of the best heavy metal proposition of this fall. However by comparing Jerusalem to the previous album Requiem of Time, long-term admirers of "Astral Doors" will clearly identify that their new effort has a handful of weaker moments scattered amongst new greats such as "Pearl Harbor," "Child of Rock 'n Roll", "Operation Freedom" and "Suicide Rime."
Genre: Heavy Metal
Line Up:
Nils Patrik Johansson – vocals
Jocke Roberg – keyboards
Joachim Nordlund – guitars
Johan Lindstedt – drums
Ulf Lagerström – bass
Track List:
01. Seventh Crusade
02. With A Stranger's Eye
03. Child Of Rock 'N' Roll
04. Pearl Harbor
05. Lost Crucifix
06. Babylon Rise
07. Suicide Rime
08. The Battle Of Jacob's Ford
09. Operation Freedom
10. The Day After Yesterday
11. Jerusalem
Band website: http://www.astraldoors.com/
Label" Metalville
Hardrock Haven rating: 8/10