Beggars & Thieves | We Are the Brokenhearted
by Justin Gaines
Staff Writer —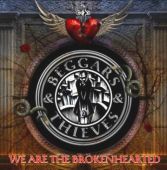 After more than a decade-long absence, Las Vegas-based melodic rockers Beggars & Thieves – whose 1990 debut remains one of that era's most overlooked gems – are back with a new album. The band's fourth studio album is titled We Are the Brokenhearted, and if you think the years that have passed since 1999's The Grey Album have made the band rusty, We Are the Brokenhearted quickly puts that idea to rest.
What immediately stands out about We Are the Brokenhearted is how polished and mature the album is. Even in the beginning Beggars & Thieves was noticeably more melodic and emotional than their Sunset Strip counterparts, but at this point in their career the band has taken that melodic polish and heartfelt lyrics to a new level. There's still a rock n' roll energy and some sweet guitar hooks, but by and large this is a smoother, more subtle album than most Frontiers releases. It's got heart and soul to spare, that's for sure, and it's hard to tell who gets the most credit for that – Louie Merlino with his emotional vocal performance or Ronnie Mancuso and his soulful guitar work.
We Are the Brokenhearted is a very solid album overall, and while the harder-rocking songs like "Seven Seconds" and "Midnight Blue" (sadly, not a Lou Gramm cover) are fun enough, it's the more relaxed songs like "We Come Undone," "Beautiful Losers" and the title track that really showcase just how good Beggars & Thieves are at this kind of melodic rock.
If you're one of the faithful who have followed Beggars and Thieves throughout the years, you already know We Are the Brokenhearted is well worth picking up. If, like a lot of us, you lost track of this band in the decades since their debut, now is the perfect time to catch up with one of melodic rock's best-kept secrets.
Genre: Melodic Rock
Band:
Louie Merlino (v)
Ronnie Mancuso (g)
Erik Gloege (d)
Blake Newman (b)
Track Listing:
1. We Come Undone
2. Oil & Water
3. Innocence
4. Never Gonna See You Again
5. Beautiful Losers
6. Seven Seconds
7. Stranded
8. Wash Away
9. Midnight Blue
10. We Are the Brokenhearted
Label: Frontiers Records
Website: www.myspace.com/beggarsandthieves
Hardrock Haven rating: 8/10