Cornerstone | Somewhere in America
by Justin Gaines
Staff Writer —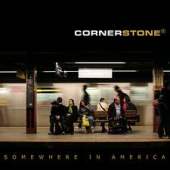 Just to clarify, this is not the now-dormant Danish band Cornerstone that featured Doogie White and Steen Mogensen. This Cornerstone is an Austrian band that plays a brand of melodic rock that's somewhere between AOR and alternative rock. The band impressed a lot of people (including us here at Hardrock Haven) with their 2008 debut Head Over Heels, and now they're back with a follow-up, titled Somewhere in America.
Cornerstone has such an interesting sound. They've got one foot in melodic rock territory, appearing at the 2009 Z Rock Festival alongside AOR mainstays like John Waite and and Ted Poley, but they'd also be right at home on college radio. There's a lot to Cornerstone's sound that's reminiscent of the '90s alternative bands like Belly and Throwing Muses, but they also recall The Pretenders and even 10,000 Maniacs at times.
Somewhere in America (a title inspired by their brief US tour, perhaps?) continues along the same path as Head Over Heels, though there's one very noticeable change. Previous vocalist Anja Schirmer has been replaced by Patricia Hillinger. Hillinger's voice is similar to Schirmer's, though perhaps a bit deeper and more soulful, which is definitely a plus given the personal and emotional nature of the lyrics. The album shifts from alternative ("Breathing for You") to commercial ("Right or Wrong") and back, but the gorgeous melodies and sheer emotion running throughout gives Somewhere in America a cohesive atmosphere that's easy to relate to and hard to resist.
If you're one of the lucky few who picked up Cornerstone's debut, you will not be disappointed by Somewhere in America at all. If you're new to the band, but have an appreciation for melodic rock and an open mind, Cornerstone should prove a very pleasant surprise. This is a band that has a huge crossover potential. You listen to an album like Somewhere in America and can absolutely imagine them being profiled on NPR. Hopefully they'll get the attention their music deserves.
Genre: Melodic Rock
Band:
Patricia Hillinger (v) (g)
Michael Wachelhofer (b) (k) (v)
Steve Wachelhofer (g) (v)
Mike Pawlowitsch (d)
Track Listing:
1. Stay
2. Rise and Shine
3. Breathing For You
4. Right or Wrong
5. Like a Stranger
6. Follow You, Follow Me
7. Being Unaware
8. Oblivious
9. High and Low
10. Strut
Label: ATOM
Website: www.cornerstone.co.at
Hardrock Haven rating: 8.5/10